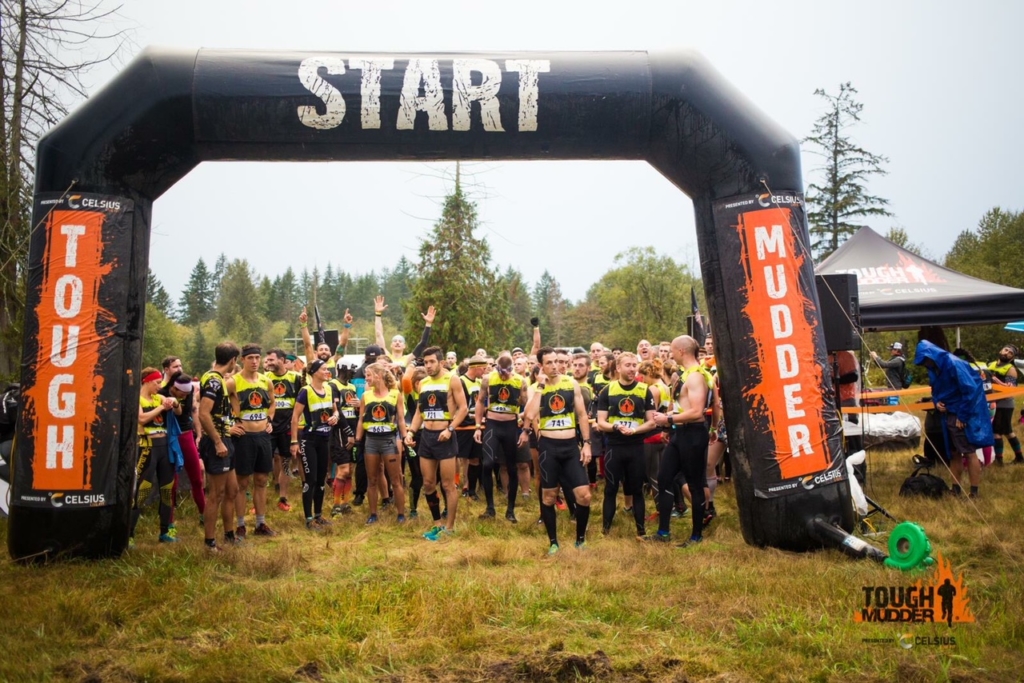 It all came down to the rainy Pacific Northwest, as a group of tremendously talented and badass OCR athletes toed the line for the 2018 Tougher Mudder Championship – the culmination of qualifiers in Philadelphia, British Columbia, London and Chicago. Black Diamond, Washington was the home of this championship race, which offered the first-place man and woman a large novelty check worth $10,000.
Located about an hour Southeast of Seattle, the Palmer Coking Coal Company's grounds delivered participants of all abilities a fast and flat course. The legendary Northwest rain was relatively cooperative as the 30 or so qualified Tougher Mudder Championship participants took off at 7:45 am, ready to take on two 5-mile laps and 24 obstacles. Note, there were nearly 200 participants in the regular Tougher Mudder heat, but they were not eligible for the cash prizes.
Before heading into the race details, the following participants earned their place on the Tougher Mudder World Championship podiums. Second and third place finishers earned $2,500 and $1,000 in prize money, respectfully.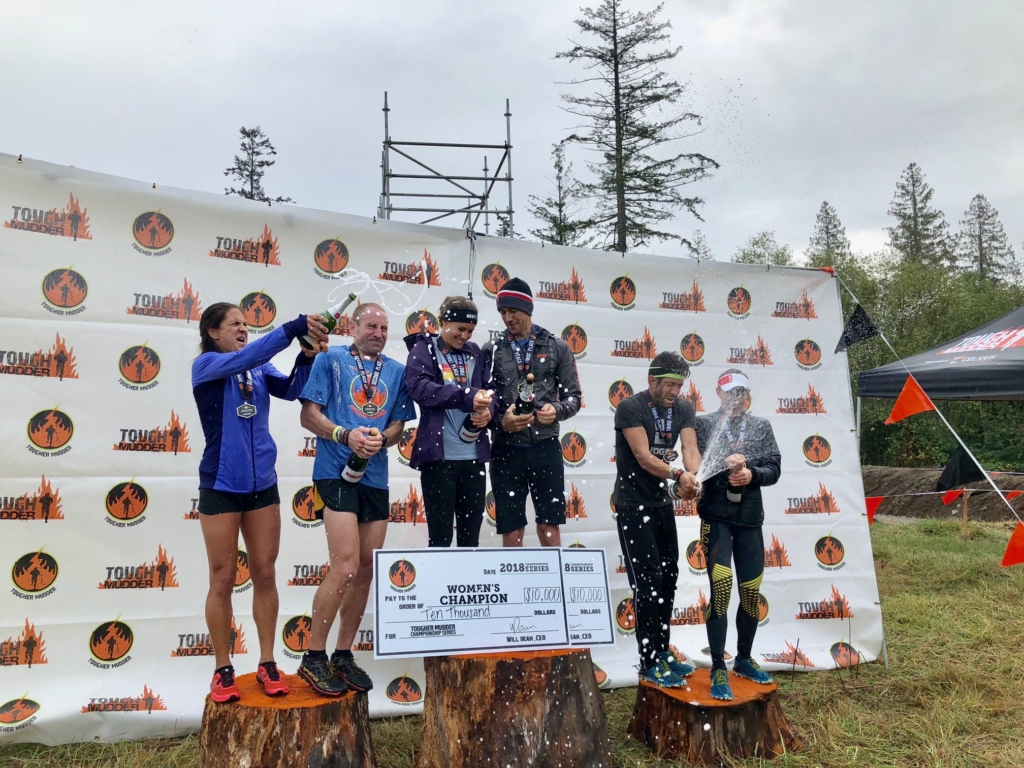 Women's Podium:
First: Lindsay Webster
Second: Nell Rojas
Third: Rose Wetzel
Men's
First: Jon Albon
Second: Ryan Woods
Third: Mark Batres
Taking a page from the World's Toughest and Toughest Mudder competitions, Tough Mudder laid out a course that was based on a 5-mile loop. However, there were instances where obstacles did not repeat, and participants were pointed in different directions throughout the second lap. A majority of the trails repeated, but a few of the more difficult, trademark Tough Mudder obstacles were only a one-time pass. For instance: Everest, Kiss of Mud, Arctic Enema, Cage Crawl, Kong Infinity and Funky Monkey, were one-timers.
The course was absolutely beautiful, with little elevation gain throughout the two laps. From gravel-scattered roads, to slick muddy areas and soft single-track trails, the technical running was more than enough to challenge racers, even without obstacles. Light rain leading up to the event certainly provided a muddier experience, especially on lap two.
There wouldn't be a championship OCR event without controversy though. Many competitors had issues with course markings and volunteer instructions. It seemed as if some of the volunteers were unaware of the World Championship's stakes. From personal experience, I went off the course twice, went through an obstacle twice (Funky Monkey), effectively missing another (Blockness Monster), and had to go back to complete an obstacle due to lack of volunteer instruction – Arctic Enema, where participants were supposed to carry their own bag of ice, sandbag carry style. I approached the obstacle, only to have volunteers send me back a few hundred feet to retrieve an ice bag, where a volunteer was standing, tasked to tell competitors about the required carry.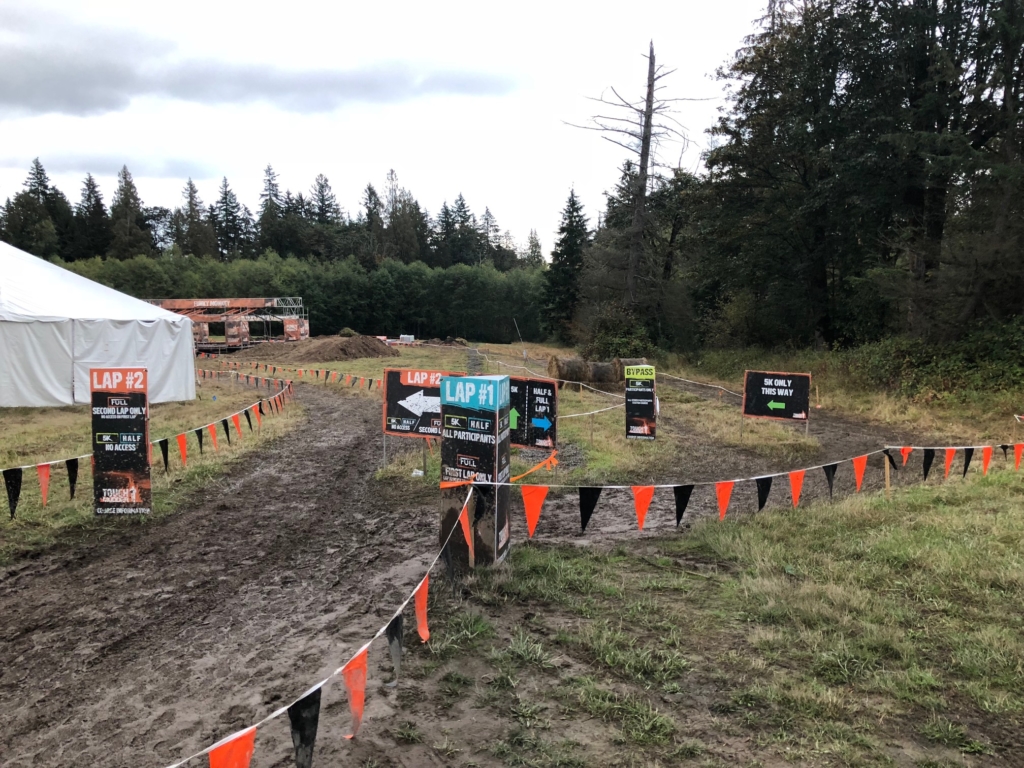 While I wasn't up for the championship money, there were contenders who also misread or misunderstood the course markings, resulting in missed opportunities and back tracking on the course.
At each exchange or split, there were a variety of signs, showing which way competitors should go, whether they're running a 5K, one lap or two laps. From what I saw, many of the volunteers were standing in front of the signs, trying to direct competitors, or simply not paying attention. With thousands of dollars on the line, there should have been paid marshals at each exchange or highly attentive volunteers to ensure racers were on the right path.
Tough Mudder joined me in an Instagram Live following the Tougher Mudder World Championship and these issues were addressed. They stated, "Yes, we've heard [the issues]. The volunteers are being re-briefed as it was a communications issue. We are working with the ops team to improve the course markings in 2019."
Most obstacles were mandatory completion, but Funky Monkey, Kong Infinity and Just the Tip had penalty loops in case of failure. Hero Carry and Electroshock therapy were NOT required for the championship event or Tougher Mudder.
As a championship course with high payouts for the winners, it's my opinion that the Tougher Mudder could have been handled better, logistically. The course itself was fantastic and I really enjoyed the two-loop map. I also ran the Tough Mudder Full on Sunday and it was a great experience.
Due to the markings and volunteer issues, I rate this event a 4 out of 5.
Rating: 4/5
---
Have you done an Tough Mudder?
Leave your own Tough Mudder review and feedback...