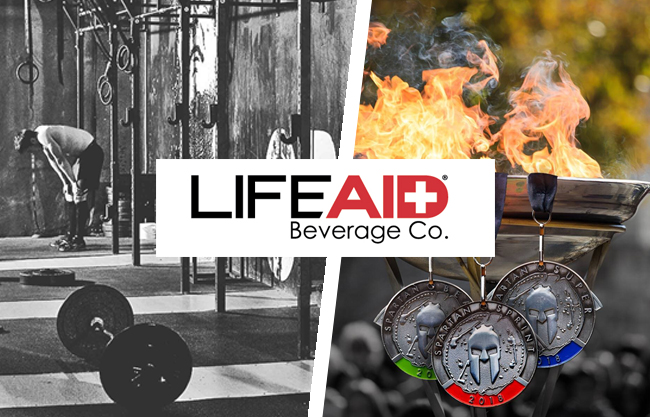 FITAID and it's parent company LIFEAID are celebrating the upcoming Spartan World Championship by giveaway an exclusive prize package with partners; Spartan, Assault Fitness, and Power Systems. You can enter to win a chance at a prize package worth nearly $10,000.
At a prize value of approximately $10,000, the Grand Prize winner will be receiving a year supply of FITAID, a coveted Assault Airbike, a wide array of Power Systems premium equipment, exclusive training sessions with SGX-Certified trainers, and free Spartan race entries. An additional 10 runner-ups will receive enviable packages of FITAID product, Spartan race entries, and Power Systems prizes.
The celebratory sweepstakes concludes at Spartan's World Championship event in North Lake Tahoe, CA. The epic venue, once the site of the 1960 Olympic Winter Games, is a stunning backdrop to a challenging weekend of competition with some of the world's most elite athletes. Beginning on September 29th and ending on September 30th, the weekend is filled with races and family-friendly activities for spectators.
The Spartan World Championship, the pinnacle event of the obstacle racing season features a field of male and female elite athletes from more than 50 countries battling the mountainous terrain at Squaw Valley during the 12+ mile (20+ kilometer) "Beast" race for more than $120,000 in cash prizes. The event is the final stop on Spartan's Global Championship Series, which features events on five continents, with the National Series leading to Regional Championship events. To qualify for the elite heats in World Championship, racers must finish top 10 in a National Series event or a Regional Championship event. In addition to the elite competition, the event offers opportunities for athletes of all ages and skill levels to hit the race course with open heats and Spartan Kids races. When claiming their hard-earned medal, more than 15,000 finishers will receive an ice-cold FITAID, which has been a finish line reward for hundreds of thousands of racers at hundreds of races over the past 2 years.
Earlier in 2018, FITAID, of LIFEAID Beverage Co., upgraded their strategic alignment with Spartan as the brand's "Official Recovery Beverage" in an extended multi-year partnership; one which is proving to be a win for not just the partners, but for the race attendees.
"We listened our racers, who desire nutrient-rich, natural recovery drinks and we've received overwhelmingly positive feedback since adding ice cold FITAID to the finish line," Said Spartan VP of Global Partnerships Ian Lawson. Our expanded partnership with FITAID helps our racers live the cleaner, leaner healthier lives they aspire to, and we're excited to bring the brand together with Assault Fitness and Power Systems to offer this special prize package."  

"If there was ever a race where someone missed their cold can, we were sure to hear about it. This has proven both the need and efficacy to these Spartans for an ice-cold FITAID."
This true 'Recovery Blend' provides high quality, clean nutrients to help your body recover after intense activity or exercise. FITAID delivers BCAAs, L-Glutamine, L-Arginine, Vitamins C & D3, B Complex, Glucosamine, Turmeric, CoQ10, Omega 3. The raw organic agave accommodates the glycogen window and provides active bodies with a complete and clean recovery.
"From every-day warriors, to the highest elite Spartan racer, we are thrilled to have our product as the 'must-have' reward their body needs after such a grueling, yet exhilarating race," LIFEAID President Dr. Aaron Hinde states, "The feeling of that ice-cold FITAID only comes second to the enormous feeling of success when you cross that Spartan race finish line!"
The sweepstakes is live on the LIFEAID website and winner will be announced on September 29th in North Lake Tahoe, with winners also contacted via email the same day.