So before I get into this article I am going to preface this by saying most of my review of Terrain Race DC is coming from a competitive racing standpoint. This is the second time I have done a Terrain Race, last being in 2016. My general impression of that race was that I was unimpressed but being that they were a newer race they had room to grow. Now being 2018, I heard that Terrain Race is undergoing changes. So, I decided to give them a shot and my opinion remains about the same.
Obstacles
They have a few new obstacles that are reminiscent of stuff we have seen at other races. They had a version of Tip of the Spear or Olympus. It is short and easy to traverse across but could challenge a newcomer. But a lot of the other obstacles were what you expect from a mud run. You have some muddy water to get in and out of, tire flips, and very short 20lb wreck bag carry, A-frame, rope climb, you get the picture.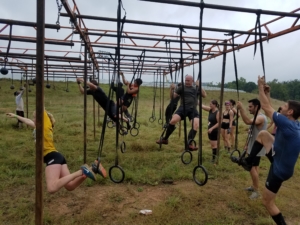 They had two rigs, the first is Tarzan swing that is an alternating rope to ring holds. It does have a significant gap between each hold. The other rig was something that stumped me for a couple tries due to being tall. Their rig was three-foot rings, then a ball, a handle, and then another ball. After I finished I went back on course and noticed this obstacle was giving a lot of people problems and they were determined to finish it.
Overall Impression
I had a hard time coming to grips with how I felt about the race. I think it is because I was looking for something a little more challenging and I barely even felt like I did anything. So I defer my thoughts and decided to ask my friend what she thought of the race, "It was ok…the obstacles weren't great and there wasn't a lot of them," which is a fair assessment but it is only a 5k course. When I asked if she considered the obstacles hard, she simply said, "No, I even got the bell on the rope climb." My friend is no obstacle specialist, this is her third obstacle race. So the fact that she got the rig and Tarzan swing speaks of the level of difficulty Terrain Race is offering.
Her final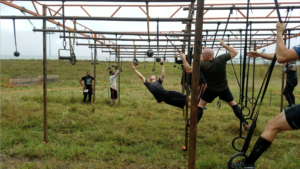 comment on the race perfectly sums up what Terrain Race is,
"I would do it again but only because it is cheap. I wouldn't pay more than $30 for an entry."
It is not a race for frequent obstacle racers to go and be physically challenged by. It is a race that offers simple obstacles at a low cost. It is more of a race for those looking to get out of their comfort zone. Those who like to get friends and co-workers together and have some fun. But if you are a podium chaser then give Terrain Race try because the big names rarely show up.
If you're looking to do your first OCR or get friends together to run a race and have drinks after, then Terrain Race is the race you are looking for.
Rating: 3.5/5
---
Have you done an Terrain Mud Run?
Leave your own Terrain Mud Run review and feedback...