Rugged Maniac returned to the DC area for the first time in several years.  The race took place at the popular Budds Creek Motocross Park in Mechanicsville, MD. This venue has hosted a fair number of OCR races, so it was interesting to see how Rugged Maniac was going to make the event unique. Luckily, in true Rugged Maniac fashion, they did not disappoint. Race day conditions were good, with day-time temperatures in the low to mid-80s. Though it was a little humid, there was plenty of cloud cover to prevent it from ever feeling too hot.
Parking and Festival Area
The parking situation for the event was fantastic. Not only were you quick to park, but the parking area was also very close to registration. In fact, if you splurged and purchased the Rugged Maniac VIP parking you literally parked right in front of the registration tent. Registration was also smooth and fast. There were plenty of volunteers ready to check you in and the process was quick and painless. Even as the number of racers checking in increased there were never any substantial lines at registration. Fast check in with an easy and free bag check made getting race ready a breeze.
The festival area was a little narrow, but it was well laid out. The vendors were all lined up down the length of the festival area, like the way you'd see booths at a Fair. Due to the layout of the festival area, you would have to walk all the way to the end and back to see everything. For spectators that could end up being a lot of walking, if they had to make several trips.  Despite this, the festival area layout was clean and had plenty of covered seating for the spectators. The view from the festival of the course was great as you looked out over a good portion of the race course. The organizers even did a great job with the bathroom situation.
The course
The race was exactly what you'd want from a Rugged Maniac. They offered 25 obstacles, spread out over the 3.1-mile course. There was enough elevation change through to course to make your quads burn a little bit, but never so much that you felt exhausted from it. All of the significant hills were found in the Motocross section of the course. The rest of the course was mostly flat and took you through some open fields and wooded trails.  While most of the course was dry, there were several occasions where it was inevitable that you got wet and muddy. The obstacles were well spaced apart, and while most weren't overly difficult they are diverse enough that they remain interesting. One thing I really like about their obstacle line up is that it isn't all about carrying something heavy or being able to hang from a bar. Sure, there are some of those obstacles as well, but they also feature some balance obstacles like Frog Hop, The Gauntlet, and Antigravity. None of these are going to stop a skilled OCR racer in their tracks, but they do require enough skill that in a tight race they could be the difference in who stands on the podium.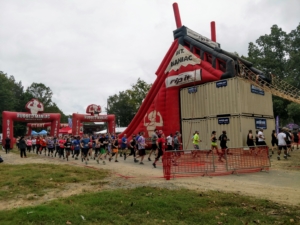 The Negatives
In such a well-run event it is difficult to pick out anything negative to say. I had two thoughts on how they could have improved. The first is that the narrow festival area, while it had a good presentation, made it feel a little claustrophobic. It seemed there were as many people were hanging around just outside of the festival area as there were inside. It wasn't so narrow that it got congested, but with more room, I think people would have been more comfortable hanging around. The second issue was the showers. Rugged Maniac tends to send you through a water pit at the finish which cleans you off pretty well. But, the option to clean up more when it's over would be nice. The "shower" was nothing more than a trickle of water that barely had enough pressure to clean the superficial dirt from your shoes. While it helped, it felt mostly useless. Also, the shower was running constantly even if there were no racers present, which meant that a lot of unused water was being wasted.
Conclusion
More than anything else Rugged Maniac puts on a fun event. From the course to the festival area you are pretty much guaranteed to have a good time. You can tell Rugged Maniac has been in the game from some time as they do a really great job organizing their events. They had great vendor support (Quest Nutrition, Bai, Rip It Energy Fuel, Body Armor, and more) who were more than generous with full-sized products to sample. I left the event with a banana, 6 bottled drinks, 3 protein bars, a Dude Shower wipe and I didn't even stop at every booth. Quest Nutrition even had a masseuse on site to give you a sports massage after your race! Overall, this was an amazing event and Rugged Maniac really knocked it out of the park.
Rating: 4.5/5
Rating: 4.5/5
---
Have you done an Rugged Maniac?
Leave your own Rugged Maniac review and feedback...