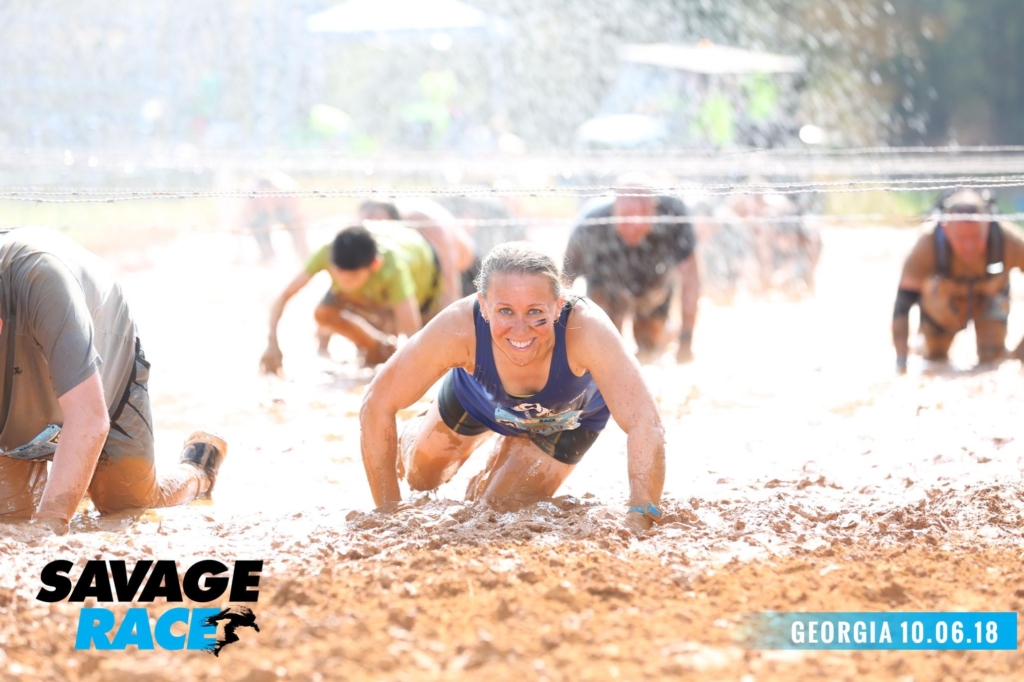 The build from my Social Misfit buddies touting their pleasant experiences with Savage Race and my personal goal of 100% obstacle completion on my last scheduled OCR for 2018 meant this race had a lot to live up to. After a rough commute south eased by an amazing AirBnB stay the night before, I approached the course in Dallas, Georgia with an optimistic fierceness ready to slay all 33 obstacles standing in my way.
Organized AF
Finally, a race series has successfully streamlined the registration and check-in process. Things ran so smoothly at check-in that I actually had time to kill before hopping in the first of the open waves.  Volunteers were abundant and knowledgeable enough to actually be helpful. Further, the festival area touted proper space, vendor distribution, and a reasonable layout (start/finish, bag check, wash area, etc.) that encouraged me to explore both before and after my heat.
Appalachian Terrain
The keen foreshadowing on my commute through the Great Smokey Mountains of Chattanooga, Tennessee signaled loud and clear that the foothills of the Appalachia would play a huge part in the Savage Race. The course design team did a killer job running athletes ragged up and down the often shaded paths. To add punishment, some of the more difficult obstacles appeared at the pinnacle of an ascent. Ouch. In fact, a friend of mine referred to the course at Moonlight Farms as a "mini-[Spartan] Asheville."
Obstacles: Trial & Tribulation…and an Abundance of Water
As a direct result of my first Savage, I learned the important lesson to prioritize research before running a new race series. I had hints on how to tackle some obstacles, and I studied the map beforehand, but I earned a big, fat F when it comes to true preparation. I failed to notice that water traps commonly cushion the blow of failure at the majority of the grip-intensive obstacles, and we all know a wet grip does not improve the chances of success in future attempts. Honestly, between failure dunks, repeated attempts, and actual water obstacles such as Davy Jones' Locker, Shriveled Richard, and the Colossus Slide, this was the wettest race I've ever competed. At least failure didn't feel so terrible on the balmy and humid 88 degrees October morning.
Spacing of obstacles along the course was perfect. While I could discuss the successes many of the obstacles, here are highlights of the extra special goods:
Twirly Bird: This one marked my first fight (minus the mental struggle at plunging into the ice bath that is Shriveled Richard). The 'Bird is a genuine test of upper body strength, proprioception, grip integrity, and sheer willpower if you, like me, found that you might nail it with just one more try [read: 6th attempt]. It was my greatest success and energy suck of the day. Big thanks to Legendary Fitness coach Tony in Wisconsin for tips on nailing this one!
Battering Ram: Please look up a video for this one that competitors commonly refer to as the "air hump." No shame. It works. This was quite tougher than it looks!
Thors' Grundle: First of all, what a name! I'm not much for the mud crawls (which you'd never know looking at the pic above), but this added a fun twist where the crawl was punctuated with two shallow dunks below wooden barriers.
Davy Jones' Locker: The jump from a 15' platform didn't seem like a big deal until I reached the top. I was surprised by my apprehension atop the obstacle since I have never had issues with heights or swimming—cold water need not apply—but I hesitated ever so slightly before taking the plunge.
Holy Sheet: This new obstacle appeared in the last gauntlet before the finish. After making multiple attempts at a number of obstacles beforehand, my grip was simply not up to the task. I was defeated by bedclothes…
Colossus: A huge and surprisingly challenging ramp proved the perfect apex to a tough course. I felt like I earned the final slide and dunk before crossing the finish line. And I can always appreciate a race where the last obstacle features a "pre-wash."
Side note: from one wordsmith to another, kudos to the person in charge of naming obstacles. They are just inappropriate enough without verging on cheesy or gross. Well done!
Overall Opinion
What I found to be most impressive with Savage is that no obstacle felt like filler, which is a hell of a feat given 33 obstacles—many of which were large set pieces–over a 6.4 mile course. Though I'm disappointed that I didn't slay my goal of 100% obstacle completion, that just fuels my fire into the off-season. Mandatory obstacle completion over penalty for failure is right in my lane, so Savage has certainly gained a fan. The series is a must for any competitive OCR athlete, and I hope organizers make a valiant effort to add more events nationwide in the future. (Please, please consider the upper South/Midwest because Nashville/Chattanooga/great Atlanta traffic is a nightmare of a journey!) As team Savage touts, "The best obstacles. The perfect distance." I must agree.
Rating: 5 stars
Rating: 5/5
---
Have you done an Savage Race?
Leave your own Savage Race review and feedback...