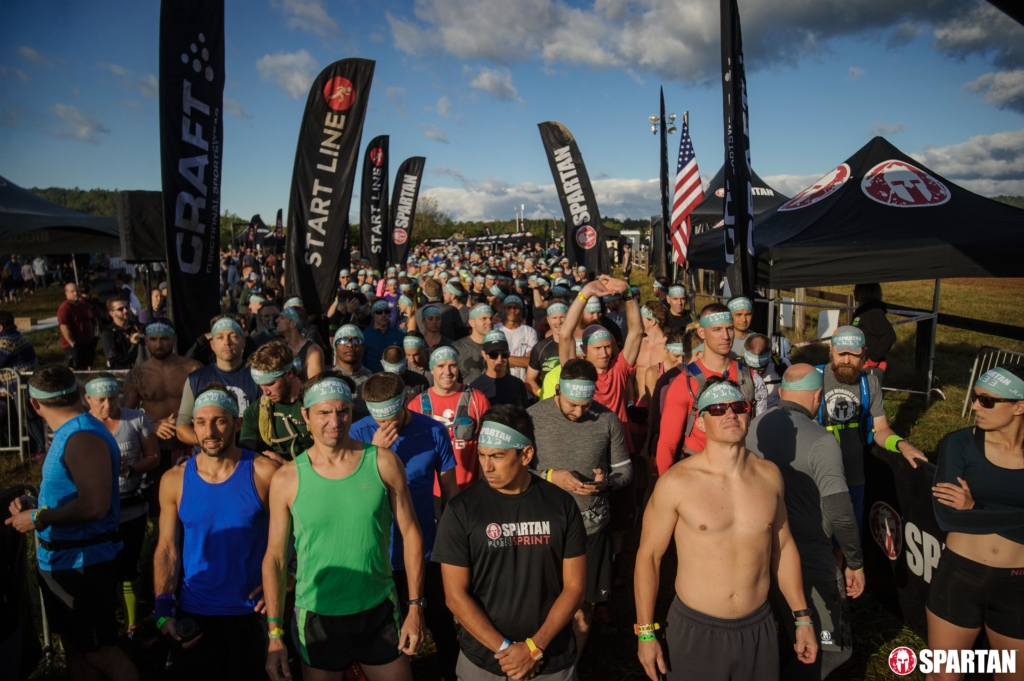 Spartan Race recently announced a new addition to their race line up. Rather than going the typical route of making things longer or harder they decided to try something different: Stripping all of the obstacles. On October 13th, 2019 Spartan Race kicked off its inaugural Trail Race in Arlington, Virginia. No tricks or gimmicks, this race was exactly what they said it would be, which was a Spartan Trail Race
The Event
While this race didn't have any obstacles, per se, it was still a Spartan Race. Getting to the event, parking, and checking in was all very familiar. Spartan was holding other races the same weekend, so all of the Spartan decorations and tents were present. As you approached registration there were many Sprint lanes, but only two marked Trail at the end of the line. 
The Trail heat had a start time of 9 am and at 8:30 there was a line that went well into the parking area. The worst part of standing in that line as the start time approached was watching the volunteers at the Sprint registration. There were significantly fewer people checking in for the Sprint, so many of the volunteers were just standing there with nothing to do. Hopefully, in future races, they adjust that ratio so that racers can check-in and prepare for their race.
Once you were registered there were a couple of nice surprises. First, the Trail racers had a special pale green Junk Band Branded headband. This shade of green seems to be the designated color for the Trail series. All trail runners were also given a free copy of Trail Runner Magazine and a green silicone Spartan wristband.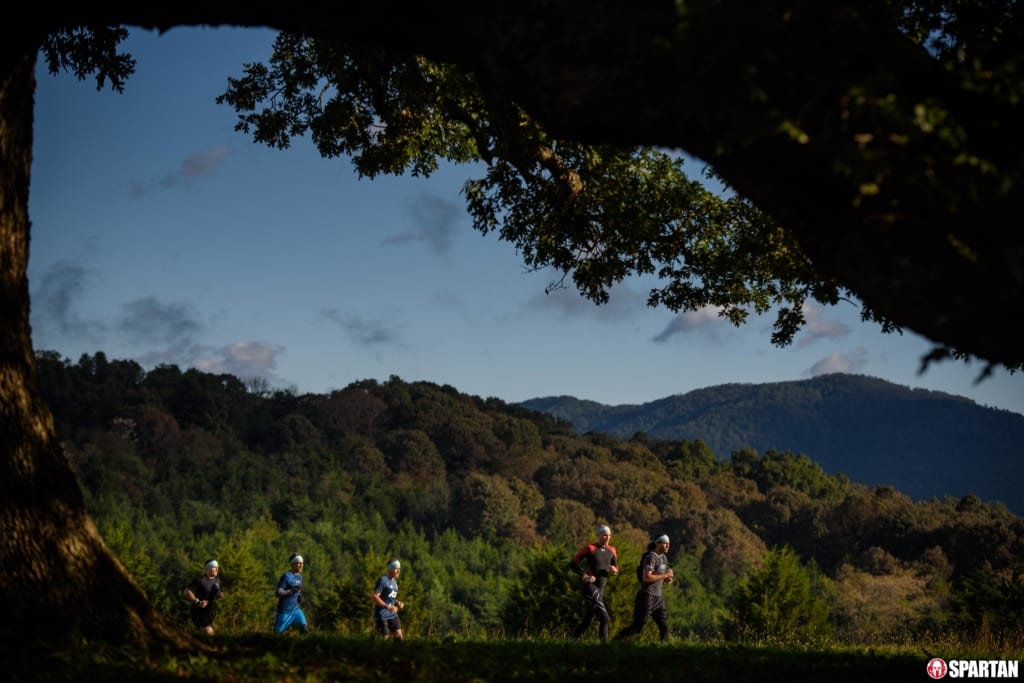 The Course
The Spartan Trail race had two distance options, a 10k and a 21k. Both races shared some of the trails as the Sprint and Super being held that same weekend. You also shared the same start line and finish line as the other races. You did have to jump over that start wall, though I am sure if you asked they would have let you bypass it. The Trail runners had a dedicated heat and the starting corral was packed. During the event introduction we were informed that we would encounter the first obstacle,  jumping over hay bales, and were welcome to skip it if we chose, but as Spartans, we were encouraged to complete it. Also, The event would end with the Fire Jump just like the other races.
Other than the few obstacles mentioned, this race was a pure trail race. The Trail course split from the Sprint course early on in the race. Initially, the course was open fields and a couple of back roads on the property. This section was mostly flat but had a few rolling hills. They had a water station at mile two and then another course split at mile three. The 10k runners went right, which started your return trip to the festival area and the 21k runners went left to go out deeper into the woods.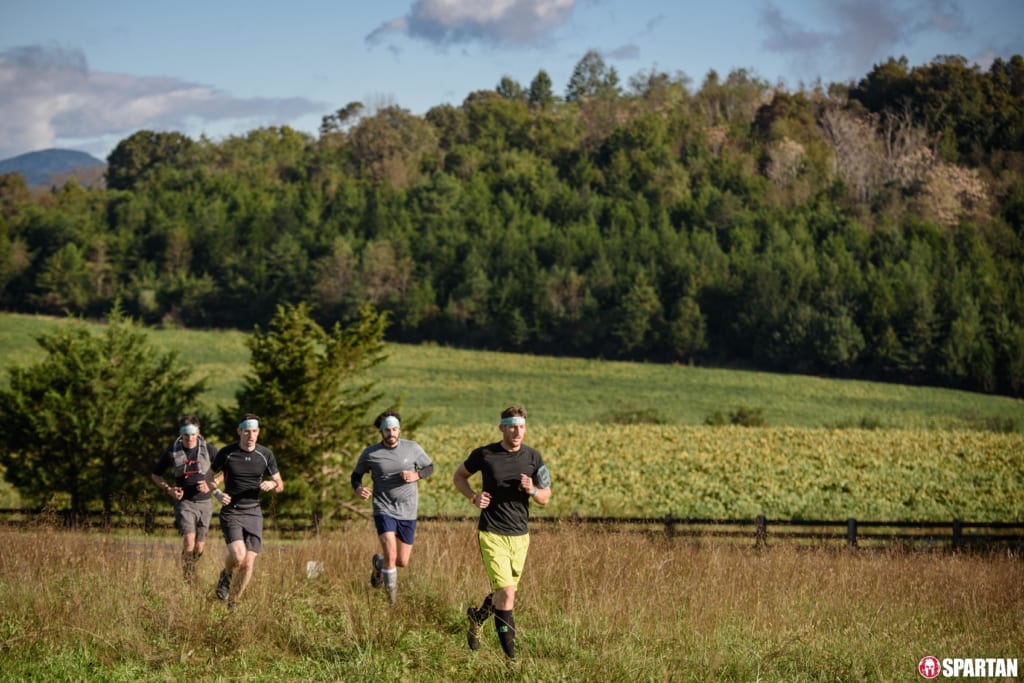 All-Natural Obstacles
The wooded trails began just before mile four for the 21k. Once in the woods, the real trail running began. The wooded portions of the course were much more technical than the first part of the course. The trails themselves were not very well worn which meant it was very important to watch where you stepped. There were plenty of roots, rocks, branches, and stumps to watch out for. Fall was in full effect in the woods, so there were plenty of leaves had fallen to obscure your view off of the ground. Some portions of the trails were brand new and not worn at all, so if it were not for the course markings there would have been no indication where the actual course was. I will add here that this was the best-marked race I've ever done. There was never any question where the course was; They had plenty of signs and marking-tape. 
There were more than a few patches of mud, but very few of them were thick enough to slow you down substantially. If the mud didn't slow you down the water crossings might. You had to cross several small streams, the largest was easily 8-10 feet in width and probably around a foot deep, so there was no jumping over these! Most of the water crossings were smaller but still required you to get your feet wet.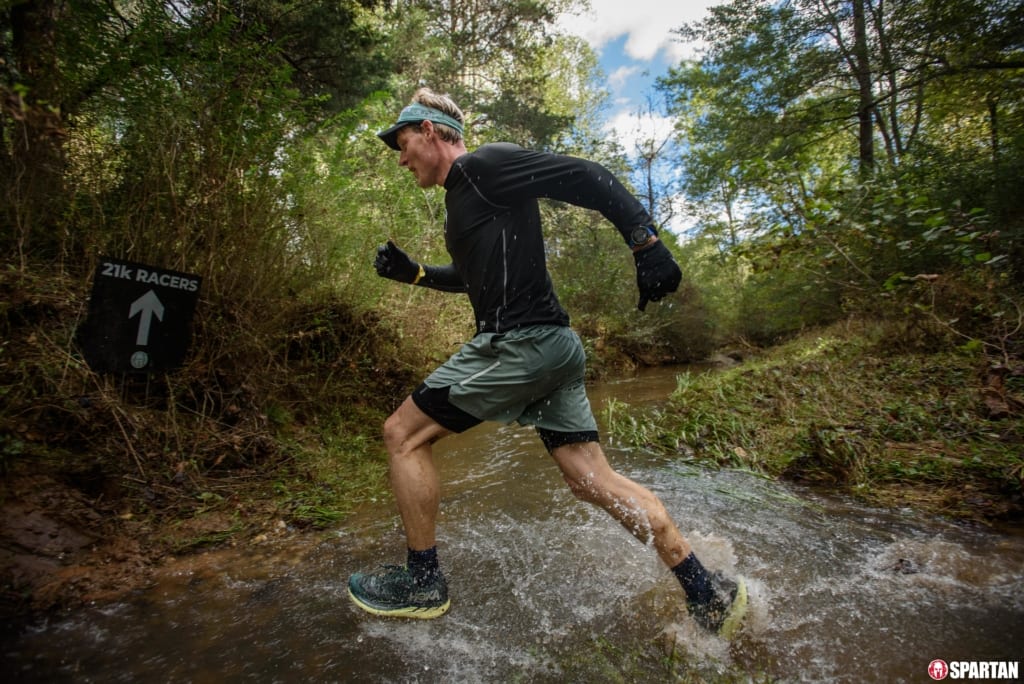 If you've raced a Spartan at this venue before you'll know that this area is really quite flat. There are many gradual, rolling hills, but you don't see any significant climbs. It was a pleasant surprise to find that there are actually some larger hills on the property. Most of the steep hills weren't too large, but it was nice to have them in there to break up the course a little bit.
Thoughts
Spartan Race tried something new with this race, and new creations tend to have their hiccups. It was really refreshing to see how well put together this event was. With the exception of the registration wait times, this event went very smoothly and was a great experience. There was a welcoming feeling at the event. It was a trail race but it still maintained a very Spartan-like feeling. There were no real obstacles in the event, but Spartan treated every racer just like their OCR counterparts with exclusive trail course water stations and photographers. The Trail Racers got their own distinctive headbands and finisher shirts. Unfortunately, medals were not available at the event but will be mailed to all participants at no charge. While I know some people would miss the obstacles, it was actually quite nice to take some of that obstacle pressure off and just enjoy the race itself. I highly recommend anyone interested sign-up and give these trail races a shot!

Rating: 4.5/5
---
Have you done an Spartan Race?
Leave your own Spartan Race review and feedback...