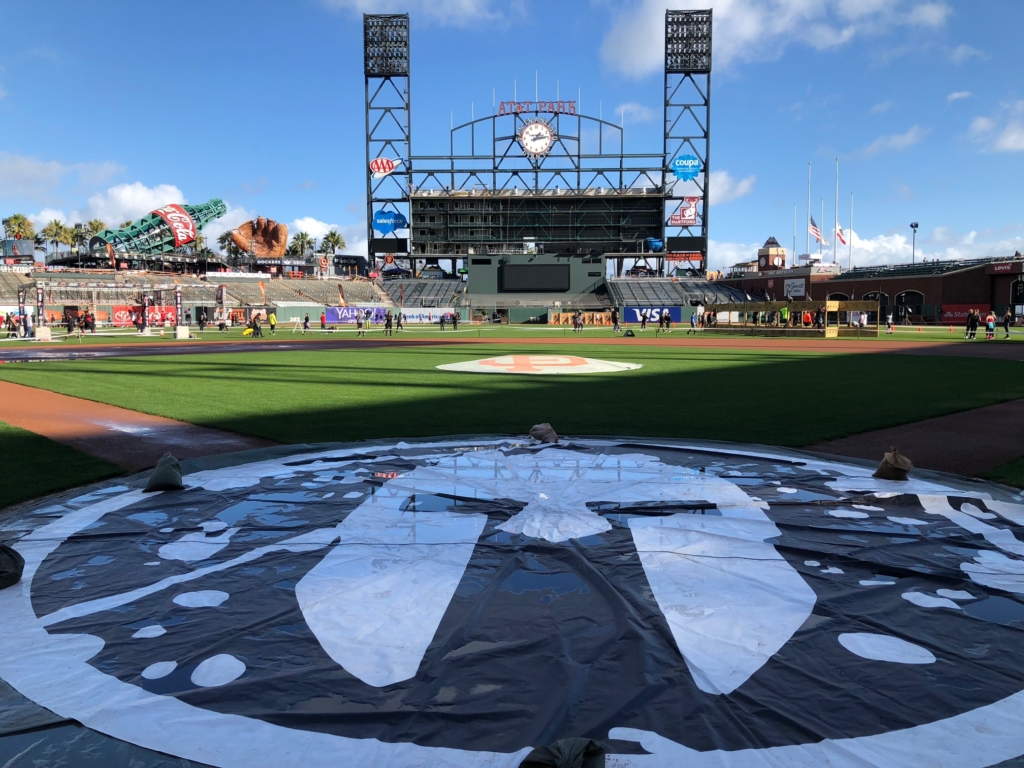 Obstacle course racing and attending baseball games are two of my favorite things. Unfortunately, in December, there simply aren't many opportunities to participate in either of these wonderful pastimes. Luckily for me, Spartan held one of its coveted Stadium Sprints at the home of the three-time World Series champion San Francisco Giants on December 1 and 2, 2018.
This was my first Spartan Stadium event, and I approached it with the intention of just enjoying myself and taking in all of the beautiful views of one of my favorite ballparks. I only ran Saturday, but finished three laps (one AG and two open), despite the miserable weather.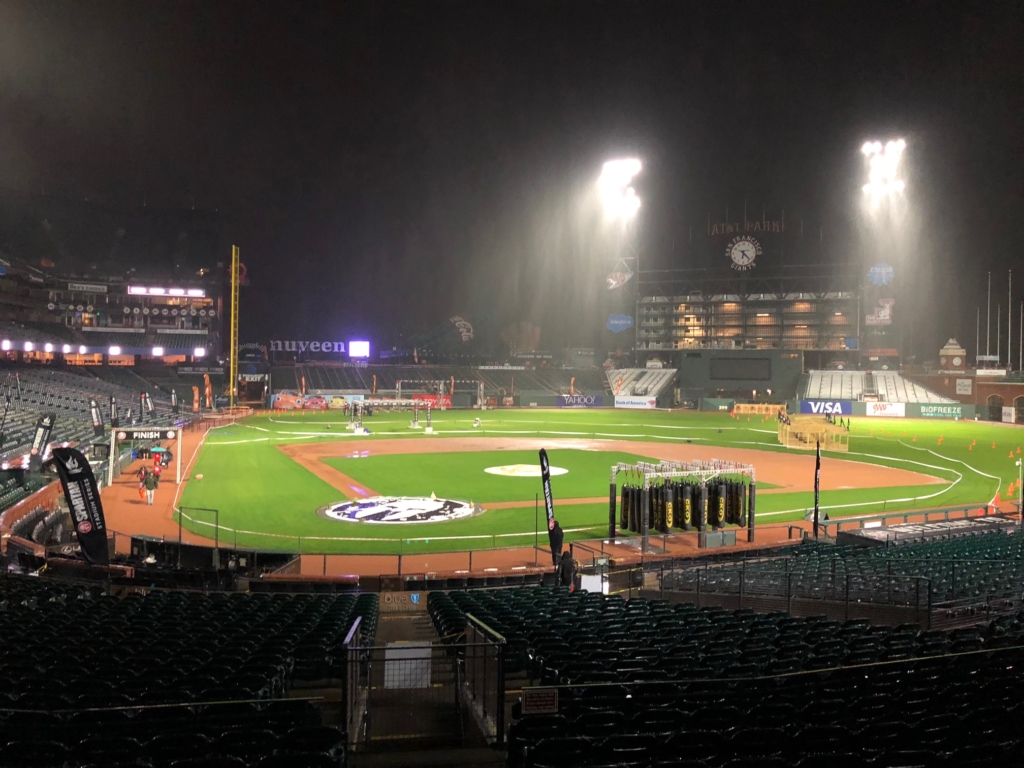 Pre-race, athletes lined up outside the home plate entrance of AT&T Park, ready to take on the seemingly countless stairs that waited for them inside the stadium. Light precipitation showed up early, generating a slight fear in those who recalled the Fenway Park sprint only a month ago, where injuries caused by slippery concrete plagued some of the top elite athletes. Remember, high-grip shoes won't help you on wet, hard flat surfaces! I saw a lot of people wearing trail shoes for this event. Regular running shoes are perfectly fine and a much safer bet when taking on a course like this.
The rain didn't seem to be much of a problem for those looking to compete for a podium spot. Isaiah Vidal, the reigning Stadium Series champ kept his winning streak alive by taking home the gold on Saturday and Sunday for the men's elite, followed by Daniel Grady Jackson and Cole Schwartz on Saturday, and Ian Deyerle and Jackson on Sunday. The women's title went to Rebecca Hammond both days, followed by a double-silver performance by Kelly Sullivan, and Ally Reite and Emilee Smith taking home the bronze on Saturday and Sunday, respectively.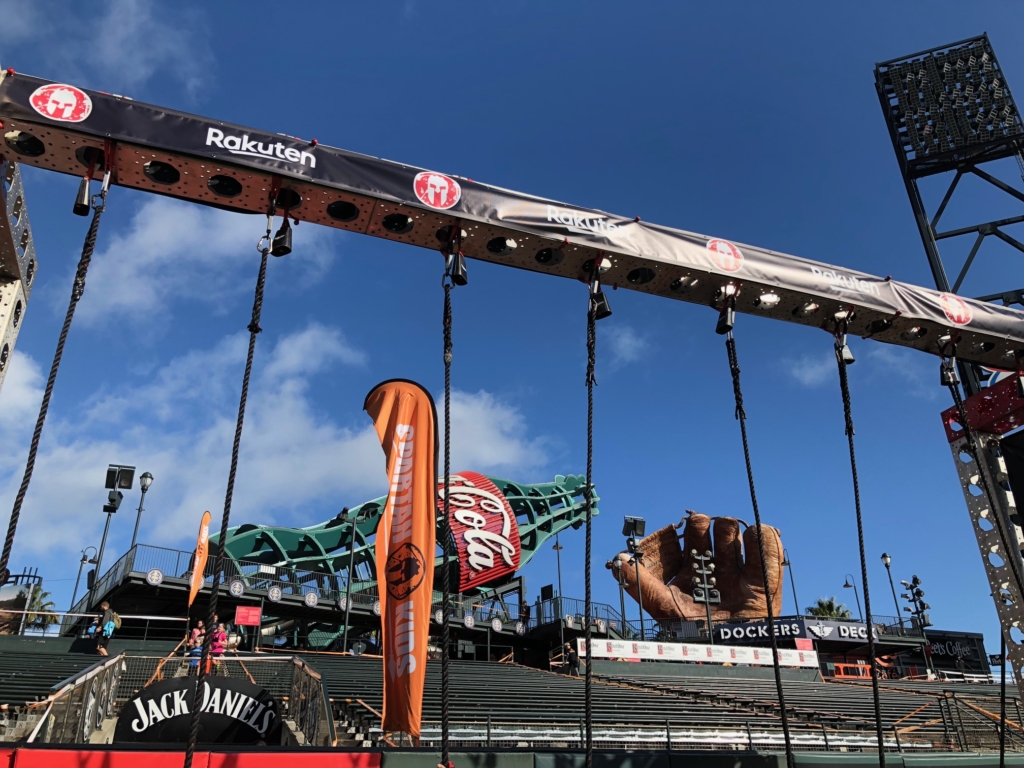 The Course
The starting corral for a stadium race is different. Smaller heats of 15 racers, sent off every few minutes, resulted in late starts and backed up lines. However, once you crossed the timing chip pad, it was non-stop, heart-racing action until you battled the gauntlet of heavy bags behind home plate, just before finishing in front of the Giants' home dugout.
Running up the first base line and around the right field warning track, racers hopped hurdles before passing over the legendary spot in center field where Barry Bonds' record-breaking 756th home run landed. Cutting back, runners trotted through center field to find the first non-traditional Spartan obstacle: box jumps. After 15 full extensions, it was on to the visitor's locker room for 15 hand-release pushups. Soon, participants found themselves bear crawling up stairs, under bungee cords, running through suites and taking on a PAC-MAN-style maze of stairs, which was a repeated occurrence throughout the three-mile course.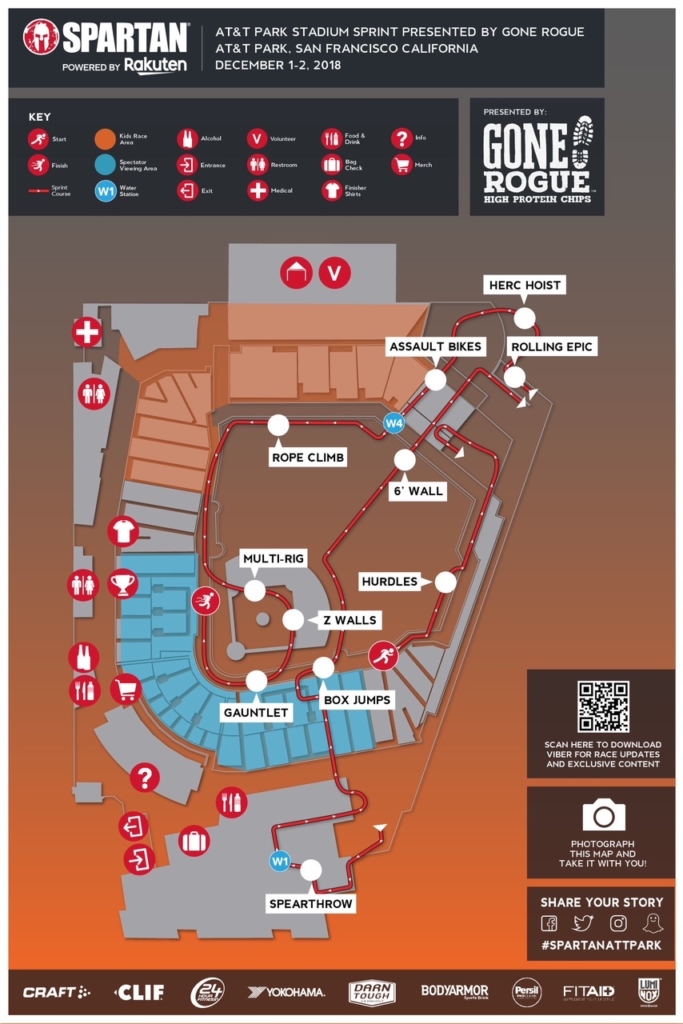 Most of the upper deck was filled with narrow paths between seats. There were multiple options to consider when running across the rows and up the stairs, but only select lanes had clear paths without handrail obstructions. Strategy was key to winning this race!
Other non-traditional Spartan obstacles included the assault bike ride to 15 calories, a short plank walk with rollers on your feet, 15 reps of a heavy jump rope with resistance bands around your ankles, 15 ball slams, and the heavy bag gauntlet mentioned above.
Those unable to complete obstacles were penalized 15 burpees – half the normal Spartan number, which helps ease traffic throughout the stadium's tight corridors.
If you're one of the people who beg for a course map days before the event, you definitely were in for a surprise when Spartan released this one! There are plenty of obstacles, including the challenging sandbag carry and the tremendous number of stairs tackled, that are not represented on the map. I can assure you that anyone with a GPS tracker during this event will laugh at the comparison of the map released before the event.
Overall
The Spartan Stadium Series is great! It's a nice change from the trails and even more exciting to be in such a gorgeous ballpark. Yes, it's challenging, but the race is over so quickly you might miss the opportunity to look up and enjoy your surroundings. I told myself to enjoy the views on my second and third lap and completely forgot in the heat of the race. Luckily, I was able to walk the venue all afternoon to let my inner baseball fan out.
If you're thinking about attempting a Spartan stadium race, do yourself a favor and sign up!
Rating: 5/5
---
Have you done an Spartan Race?
Leave your own Spartan Race review and feedback...