If you are looking for a one of a kind Obstacle Course Race, then Hammer Race is it. The 10k course is run with an 8lb sledgehammer. The race is BYOH, Bring Your Own Hammer, and obstacles are often "hammer themed," making it an experience unlike anywhere else in the world.
Thanks to a change in my schedule, I had the opportunity to make it to another Hammer Race in Zumbro Falls, Minnesota, so I jumped at the opportunity. I did their fall event in 2018 (read about it here), which I loved, and was excited to run it again, this time as a team. Here is what I thought of my second Hammer Race experience and if it lived up to the first:
Parking/Check In:
Parking and check in were super quick. No lines, registration opened early (930 AM for a noon start time) and the start line was close to check in. Since there is sometimes cold weather for the race, having the check-in indoors was a nice touch so families and racers could wait in a comfortable environment. The check-in area also had an indoor bathroom and shower (with hot water) for post-race.
Terrain:
The course followed what felt like the same path the last time I ran it. Lots of uphill, downhill and technical trail running over the course of the 10k of the race. Thanks to snow in Minneapolis in mid-April (for the second year in a row), the course had between two and four inches on it. This made for a fun experience as you clawed your way up hills carrying your hammer in the 37-degree weather.
Last year I made the mistake of wearing short compression pants and came out of the race with lots of scratches on my legs. I adjusted my outfit for this race to long Marena Compression pants with a pair of MudGear socks for extra protection.   However, since this race occurs just after winter, or in weather that I still consider winter, the brush wasn't nearly as thick as the fall race.
Obstacles:
When I raced last year, the majority of the obstacles were strength based. It was nice to see them add a couple of upper body technique based ones this year. Included in the new obstacles was a rig (monkey bars that were on different heights and distances) and Gravity! (a vertical inverted ladder). Both had obstacle attendants making sure proper completion.
If you failed an obstacle, it required bangers, hitting a block of wood down a roughly 12-foot section of board. What I really liked about this was that failed obstacles required a substantial penalty (5x down/back for a failed obstacle), which encouraged completion to do well in the race.
Additionally, they had lots of other unique obstacles like a tire drag (placing your hammer into a hole cut in the tires), a hobo carry (carrying a tire on your shoulders at the end of your hammer), low crawls, bangers, tire bangers (hitting a tire like it's a hockey puck), tire flips, Atlas stone carry, log carry and more.
All obstacles had clearly written instructions on signs at each one for both individuals and teams. If you are looking to do well, want to see previews of the obstacles or are just interested in the race, join their Facebook group, since they put out a lot of the race day relevant information through it.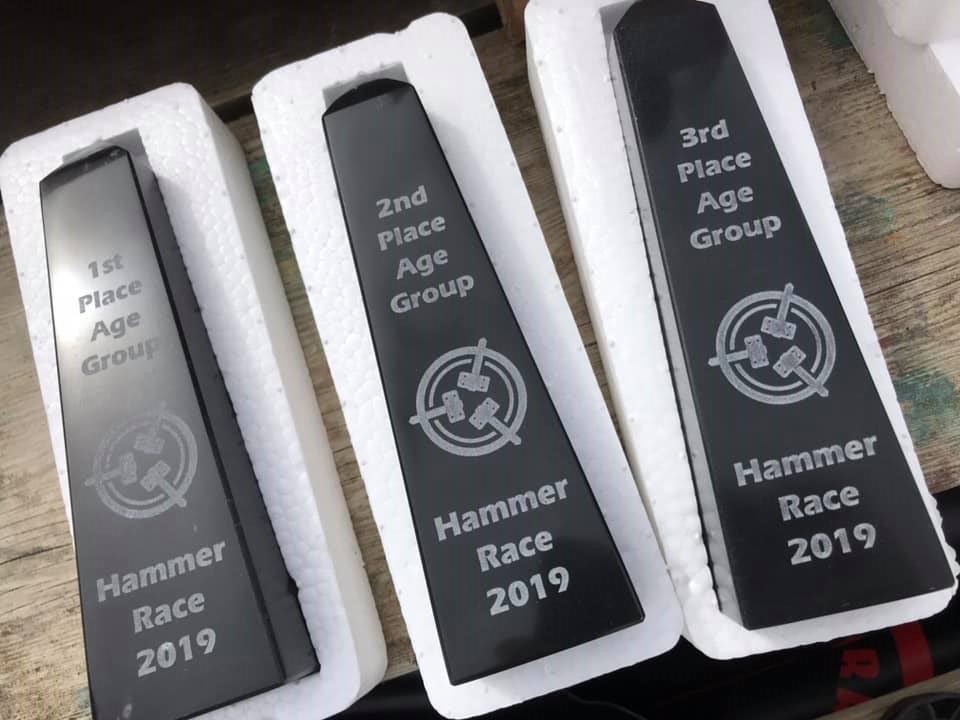 Awards/Swag:
One of the changes from the last race was the addition of age group winners. This was a nice touch to recognize those athletes who are crushing it for their age/gender but are not in contention for overall awards.
Just like the last race, prizes were given to 1st place male, 1st place female as well as 1st place team, which consisted of a legit Thor's hammer.   The hammer must weigh around 16 lbs. and is high quality, making it one of the coolest looking awards in all of OCR.
Team Aspect:
The big change in experience for me personally was running as a team. Four of my friend and I teamed up starting in a separate wave from the rest of the individual elites. As a team of five, you had to stay in general proximity of each other and complete modified versions of the obstacles, which were sometimes harder like the Burden Carry (heavy railroad tie up a hill). It was super fun motivating each other, planning pacing and obstacle strategy as well as helping some friends get their first OCR win.
Overall:
I can't say enough good things about the Hammer Race. It is a local event unlike any other. The atmosphere that surrounds the event is fun with the owners/race directors sending athletes on each wave. The course layout meant you came back to the festival area several times during the race allowing spectators to see their favorite athletes around five times during the race.
I encourage every OCR athlete to try and fit the Spring or Fall Hammer Race into their schedule. The 8 lbs. sledgehammer doesn't seem too heavy when you pick it up, but after a couple of miles, you'll start to feel the added weight. This unique event is a perfect example of what makes OCR great. It's a fun event with unconventional challenges in rugged terrain making it a must add to your personal OCR bucket list. #HammersUp
If you want to read more about the Hammer Race or other local events that bring their own unique twist to the sport of OCR, pick up a copy of Mud Run Guide's Ultimate OCR Bucket List.   The book includes over a hundred different race variants and has contributions from more than a dozen Mud Run Guide contributors.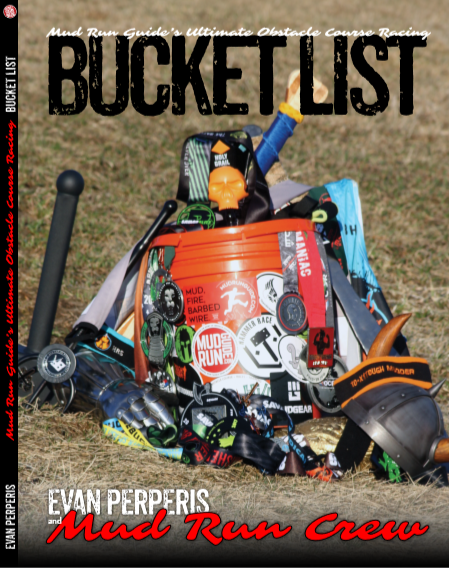 Roadkill and Gravity! pictures provided by Lisa Jo
Tire Flip and Tire Drag pictures provided by Jeffrey Zei
Start line and age group awards pictures provided by Joshua J Grenell
Hammer award picture provided by Jacob Stone
Team Strength & Speed pictures provided by LuAnn Wierzycki
---
This author is part of the Mud Run Crew and received a free race entry in return for an independent review. All opinions are those of the author and were not influenced by the race sponsor or Mud Run Guide.
---