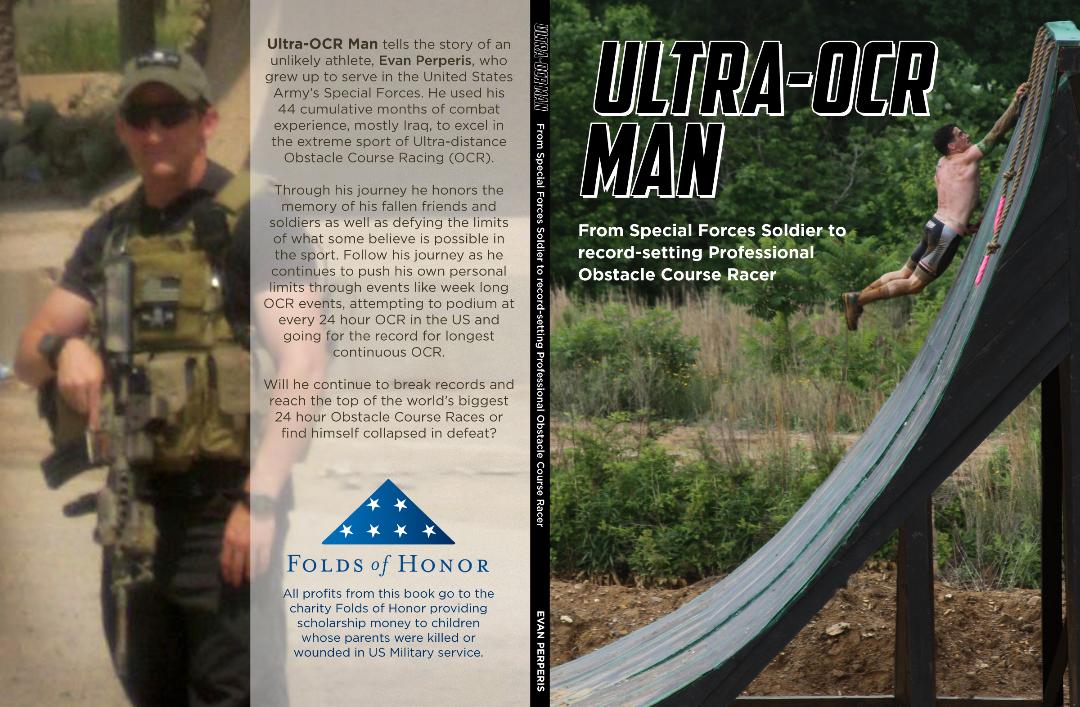 I've always been a fan of reading books by athletes.  I find them motivating, educational and entertaining.  As someone who has read books by athletes like ultra-runner Dean Karnazes, overall winner of Badwater 135 Pam Reed; Navy SEAL and extreme athlete David Goggins; and the Ironman triathlete Iron Cowboy James Lawrence, I thought the Obstacle Course Racing (OCR) world was missing their share of narrative non-fiction stories, so I decided to share mine in my latest book.
Ultra-OCR Man: From Special Forces Soldier to Record-Setting Professional Obstacle Course Racer is a non-fiction book that covers some of my military service then dives into the most extreme Ultra-OCRs I have completed.  The majority of the book is fitness focused, covering how a diverse background led to success in Ultra-OCR and lessons you can apply to your own training.  I like to think of the book as 80% story and 20% training book that uses real-life examples to drive home points about training, racing and recovering from endurance sports.
The book briefly covers the early years of my life as an un-athletic child before quickly jumping into my time in the military.  Including stories from training like the severe sleep deprivation of Ranger School, the extreme effort of Special Forces Selection that made me lose twenty pounds in ten days and blacking out at the bottom of a pool twice while preparing for dive school.  There are also some funny war stories from my cumulative 44 months of combat deployments and some serious war stories like finding a mass grave in Mahmudiya. My favorites, though, are the ones that are scary at the time and funny in hindsight like almost running over a roadside bomb that would have set our vehicle on fire.
My favorite part about the book is that the proceeds from the book go to charity. 100% of the profit from the hard copy book sales will go to the charity Folds of Honor.  Folds of Honor provides scholarship money to children whose parents were killed or wounded in US Military service.  It is a great charity that I have supported the last couple of years through Ultra-OCR challenges that are talked about in depth in the pages of the book including the 7-day ultra event OCR America, 48 hours of Endure The Gauntlet and 24 hours of treadmill/OCR this past February.
Although my book is the first narrative non-fiction OCR book by an athlete, I certainly hope it is not the last.  There are a ton of athletes who have incredible stories including World's Toughest Mudder Champion and creator of BleggMits Deanna Blegg fighting HIV and breast cancer; Spartan Pro Jesse Bruce overcoming addiction in his youth to become a successful athlete and owner of the OCR gym One Academy; and Former Spartan/Tough Mudder Pro Allison Tai overcoming a serious accident to being one of the best Ultra-OCR athletes in the world.  These are just a few off the top of my head.  I would love to read stories like theirs or a biography of Jonathan Albon or the dominance of Ryan Atkins and Lindsay Webster.  I hope my book starts the ball rolling on getting others to write down their experiences and grow our sport.
Whether you are an OCR athlete, a fan of endurance sports, a reader of non-fiction military books or someone who just enjoys some good stories, I think you will find something in this book.  I specifically wrote it so even someone with no understanding of OCR can learn more about our sport, what makes it great and take away lessons that are not only good for fitness but good for life in general.  If you want to learn more about me, more about the military, more about Ultra-OCR or just want to support a great cause, pick up a copy today.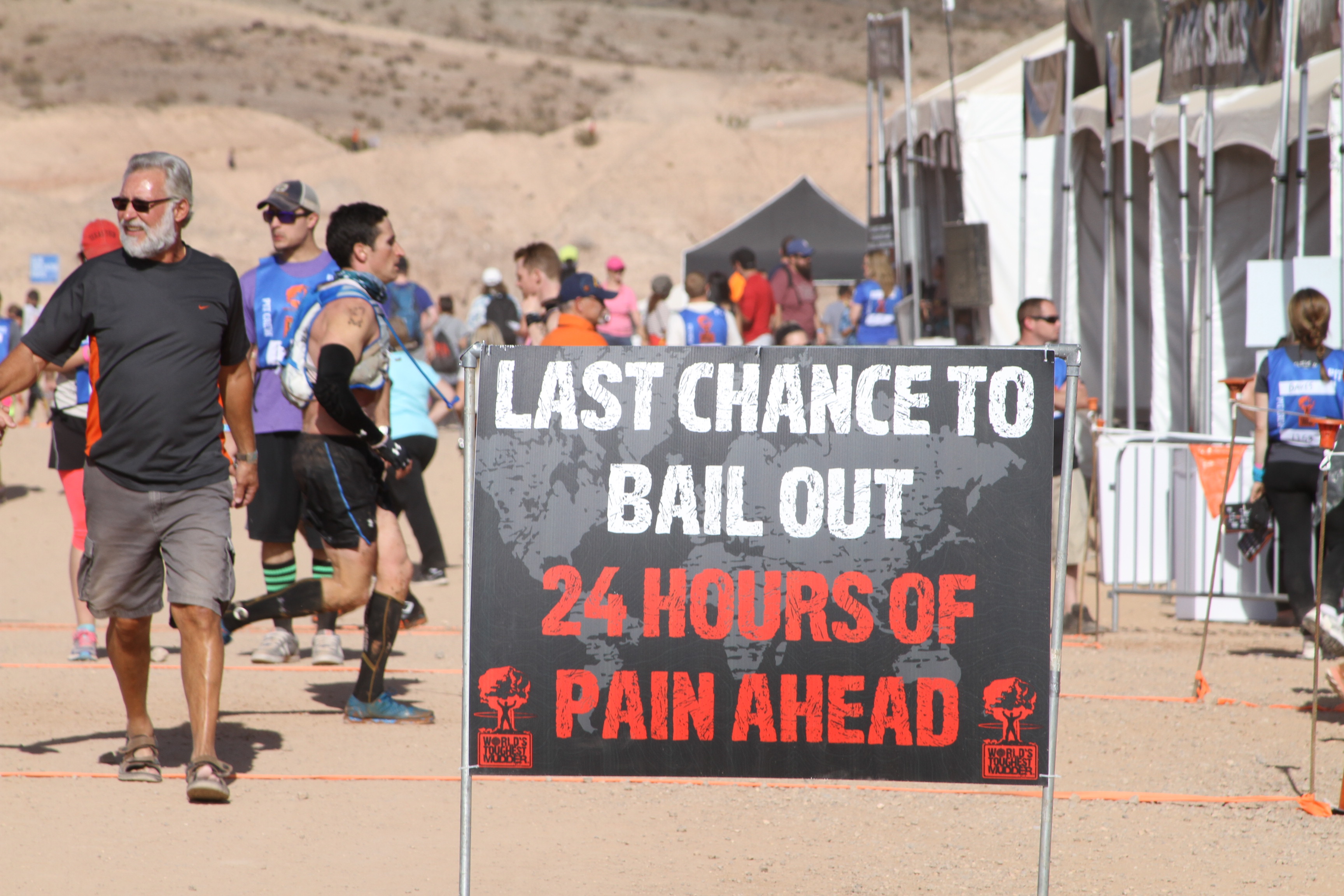 Hard copies of Ultra-OCR Man:  From Special Forces Soldier to Record Setting Professional Obstacle Course Racer is now shipping exclusively from the online store at Strength & Speed.
Digital copies for you Kindle are now exclusively available from Amazon.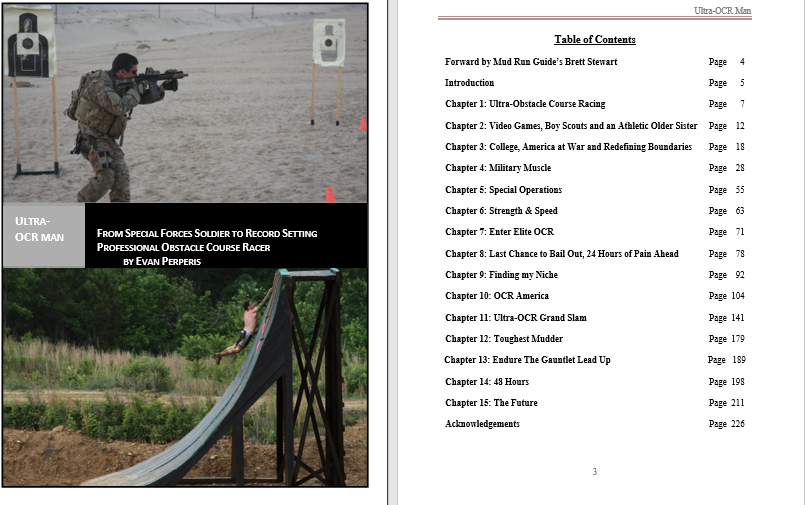 Thanks to Mud Run Guide's Brett Stewart for writing the forward of the book and designing the cover.
Thanks to Conquer The Gauntlet Pro Amy Pajcic for editing an early draft of the book.