Team,
So, the good news is that I didn't die.
That's how I started the message I sent to friends and coworkers after I completed my first World's Toughest Mudder in Atlanta on Saturday/Sunday, November 16/17.  That's also the message I always text my wife whenever I finish an OCR and she is not with me.  When she is with me at a race, she is "base camp" and holds all of my stuff and makes sure I know where the beer tent is located after the race.  I was very lucky to have her with me at WTM as my official one-person pit crew.
Before going into details about the race, the following provides a little insight into my race credentials and why I wanted to do WTM.  I am 55 and the OCR bug bit me back in 2014 when I ran my first Tough Mudder.  Since then, I have dabbled in trail running, triathlons, road races, and rucks; but I always come back to OCR.  For the past few years, I have run about 15 races a year, as time allows balancing work and family life.  I spread it around and have run Spartans, Savage, BoneFrog, Tough Mudder, and others.  People always ask me why I do this, and my simple answer is "Because I can."
I am by no means fast and consider myself to be a "grinder".  I fail very few obstacles, but I will never catch those rabbits that can post sub-8-minute trail miles.  I run not because I enjoy it, but because it is how you make it to the next obstacle.  "Durable" is probably a good description.
The Race
It was a fun, but challenging experience.  I had a goal of 50 miles but had to settle for 35 because of the cold conditions.  I don't like being cold, and being cold and wet is even worse.  I made it from noon on Saturday to just after 1 am on Sunday when I completed my 30th mile.  But, after being constantly wet and cold from 5 pm to 1 am, and being submerged in less than 40-degree water just one too many times for my wetsuit to help my body heat back up enough to feel "comfortable," I decided to take a break.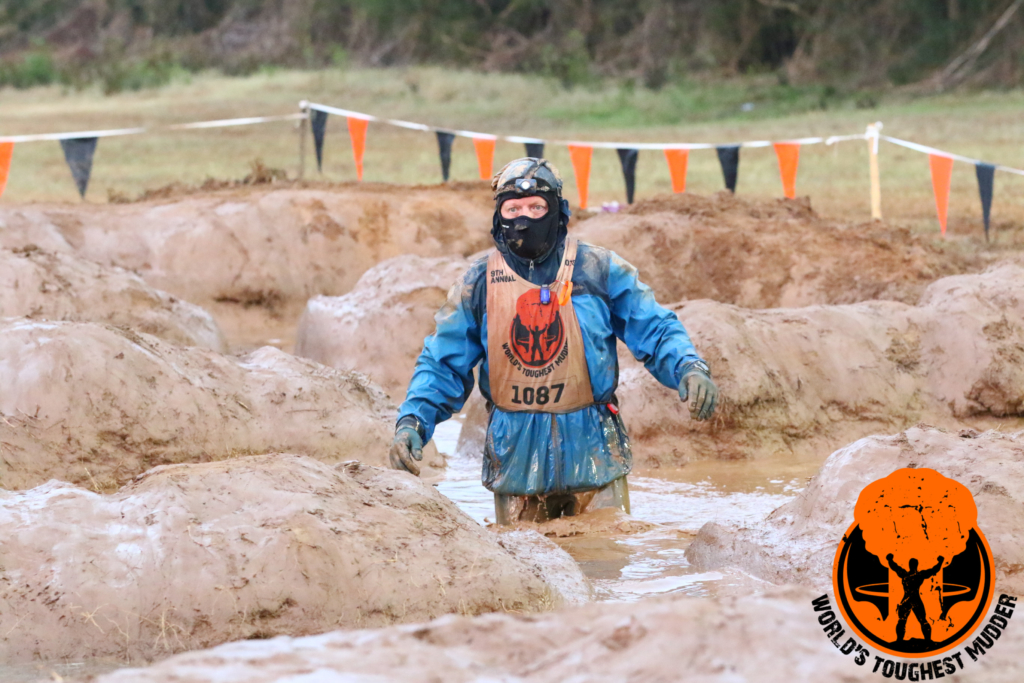 What is also challenging is pulling off a wetsuit and stripping down to your underwear at 1:30 in the morning in 40-degree weather.  I put some warm clothes on and crawled into a sleeping bag and awoke by 6 am.  What is even more challenging is putting on a 40-degree wet wetsuit at 6 in the morning in 40-degree weather.  I went back out to get wet and cold again so I could finish one more lap and officially finish the race.  According to the rules you had to finish one lap past 8 am in order to be considered a 24-hour finisher.
The winner of the race completed 105 miles, which is ridiculously unbelievable.  I give all the credit and respect in the world to anyone who made it to 50 miles or more.  I probably could have toughed it out overnight, but decided not to put my body at risk and end up not finishing the race, or worse.  Super wife agreed.
The Course
TM made the course a bit different this year and while stamina and running ability are always key components, they took out some of the "strength" obstacles and replaced them with water, water, and more water, and of course MUD.  Out of the 21 obstacles on the course, 12 featured water.  Two of those required you to be completely submerged.  The worst was Cage Crawl, which had you in water with only your face showing.  You had to navigate about 70 feet under chain link fencing with only about a 4-inch gap above your face to breathe.  If there ever was nightmare fuel for someone who fears cold, darkness, and/or water, this was it.  Plus, it is damn near impossible not to have cold, muddy water slosh into your mouth and nose because others are splashing through it with you.  For Arctic Enema, you had to fully submerge yourself under a cross beam in water that was even colder because they added ice to it.  You then had to climb out of that container and into another container and go under another small chain link fence in that same cold water.  Cage crawl was about 1/3 mile from the finish line and Arctic Enema was about 200 yards from the finish line, so they intentionally made you as cold as you were going to be when entering the pit area if you needed to eat or drink anything.  That design made it harder for you to generate heat and forced you to pit quickly or keep going.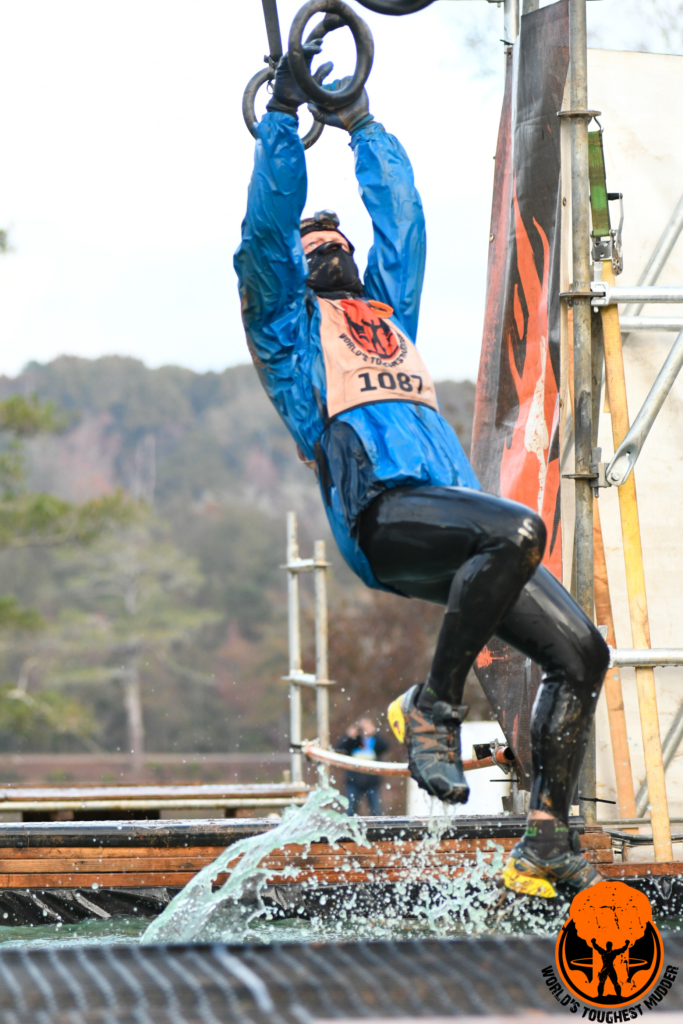 The very first obstacle was a grueling slog through thick mud under an oppressively heavy mud-coated cargo net that had you crawl in and out of a 4-foot deep water trench.  So, they made sure you were fully wet and mud-coated from the first obstacle until you were dunked in near-freezing water at the end, only to have to crawl up, over and back down a 35-foot cargo net to reach the finish.  Whoever designed this course definitely made sure this was truly the World's Toughest Mudder.
Logistics
Registration:
I registered for this event nearly a year ahead of time when they ran their Black Friday deals. I found it easy and had no issues.  Upon arriving at the venue on Friday, on-site registration was also very easy.  I cannot comment on anyone who may have rushed in on Saturday just prior to the race, but I TM made registration a very easy experience for me.
Parking:
According to others, parking was a little further away than prior years, but they had shuttle buses and pick-up trucks to help carry gear to the pit area.  They would not allow you to drive up close to drop off gear.  I understand the safety issues, but they really should look at some way to facilitate easier gear drop-off at least prior to the race.  Because the actual race course crossed the road access to the pit area, it was completely understandable why they did not allow vehicle access to the pit area on Sunday morning.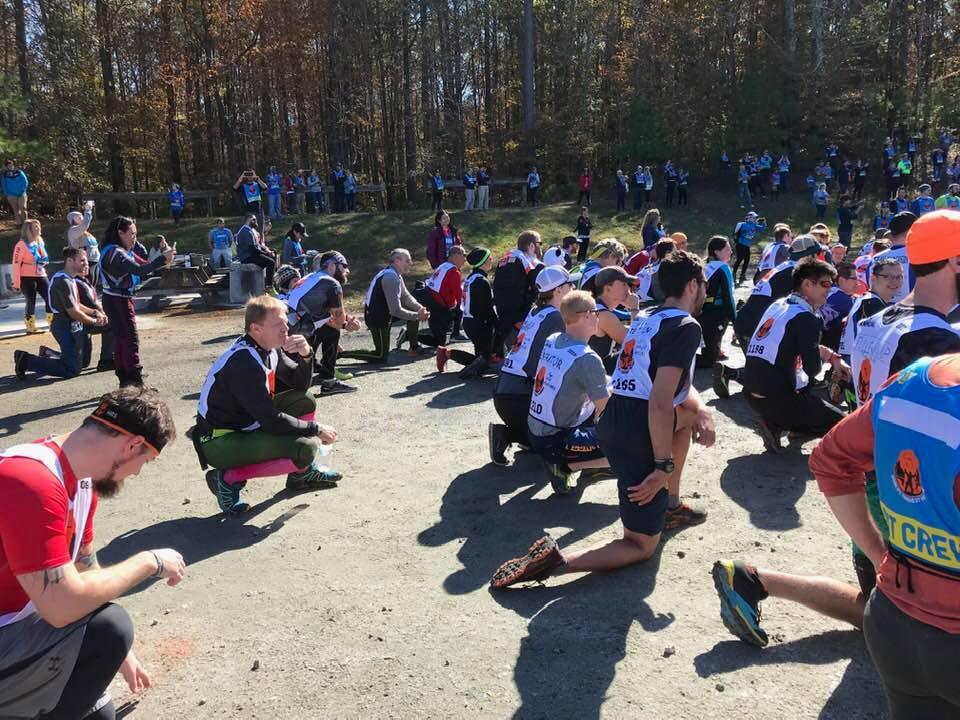 Pit Area:
The pit area was on mostly level ground and no matter where you were, you were no more than a couple hundred yards from the start or finish line.  It was much easier to navigate this pit area than the Philadelphia Toughest Mudder pit area in May.  You pre-selected your pit spot based on a ranking system, so for me, the best spots were already taken, but we managed fine.  Actually, when we arrived on Friday the weather was awful and it had rained all morning.  Our pit area had standing water, but one of the volunteers helped us switch out to a better spot.  Many of the spots were soaked and had standing water, so I am sure this hampered some of the racers.  Luckily, on Saturday, it was a clear day and much of the standing water had disappeared.  The biggest disconnect was the stables.  This venue was on an equestrian facility and the contenders and legacy racers were able to select pit areas in sheltered horse stables.  It may sound like sour grapes, but my belief is that all races should be treated equally.  Maybe the dry sheltered areas did not provide any extra benefit in the end, but it certainly looked nicer over there than in the general area.
Mudder Village:
Mudder Village was no so much a village, but rather a few areas of focus.  There was, of course, a big merchandise tent and they really should consider some reasonable pricing.  Only one food truck came on Saturday versus the three they had planned.  I am not sure why they were not able to find any alternatives, but this made for some very long lines for the dedicated pit crew members.  I realize that this race is geared to the more serious mudder, so it is not going to be as much of a party atmosphere, but there really was not much to offer the pit crews.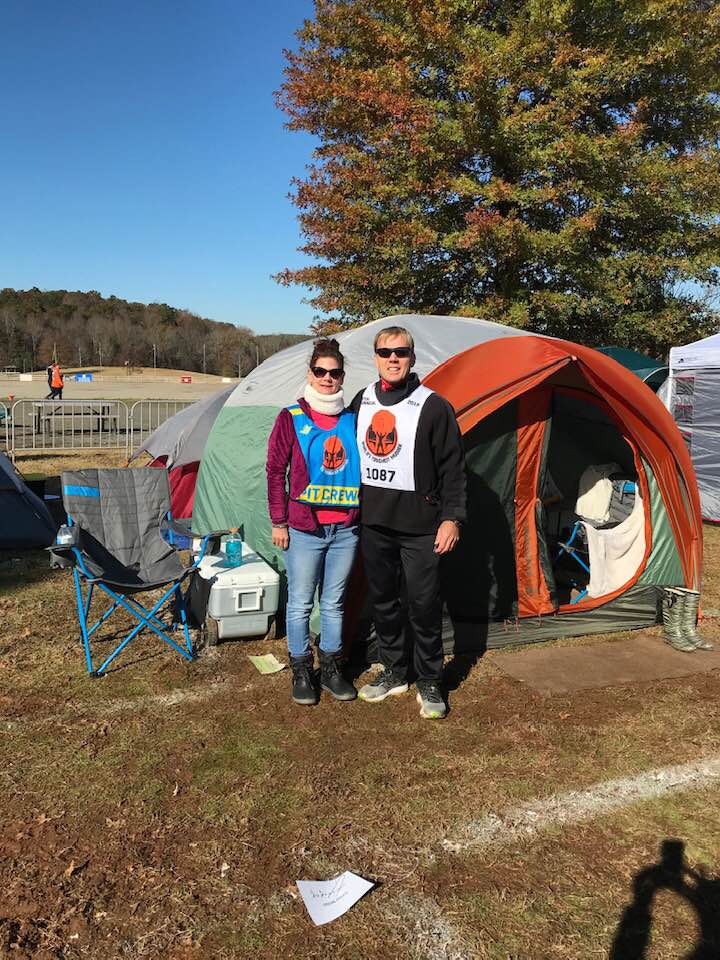 Obstacles:
Following is a list and description of each obstacle:
Devil's Ta*nt:  Crawl through mud, into and out of a water-filled trench, through more mud, all under a heavy mud-covered cargo net.  Unnecessarily obnoxious obstacle.  Everyone hated it.
Kiss of Mud:  Crawl though mud and about 1 foot of water under barbwire.  This was more of a wriggle than a crawl because the barbwire was low.
Pyramid Scheme:  Enter a knee-deep water pit to make sure your feet are wet and scale up a slick, slanted incline.  They had a rope, but it was too far away to grab it without help from other runners.  Once one person had the rope they could reach back and help pull others up the ramp.  This is a classic example of a TM obstacle in that they intentionally design obstacles that cannot be completed individually.  And, of course, they actually poured vegetable oil on the ramp to make it even more challenging.
Spread Eagle:  Balance yourself on two slacklines across a water pit.  Think downward dog.  Hands-on one line and feet on the other and shuffle across.
Everest:  This is basically the warped wall from American Ninja Warrior, but slicker and covered in mud.  Without helpers at the top, it is damn near impossible.
Skidmarked: 8-foot tall wall that is slanted back to you.  Either muscle over it or have help. Granted, you can also use the support beams and TM is not as strict as Spartan, so however you get over it is fine.
Berlin Wall: 8-foot wall with an overhanging ledge back toward you.  Same as above, either do a "muscle up" pull up to get over it or have help.
Black Widow:  Slackline walk across a water pit with a slackline above you.  Think tight rope walk, but with something you can hold onto.  Actually, one of the easiest obstacles. However, if you were 5'5" or shorter, I am sure you have a different opinion of this obstacle.  At maybe 5'9", some of the lanes had me stretched all the way out to hold onto the top slackline.
Mud Mile:  Crawl into and out of a series of 6 waist to chest deep trenches filled with water.
Mudder Press:  Crawl under drain pipes through mud and water.
Blockness Monster:  Another obstacle you generally cannot complete without help.  You jump into chest-deep water and have to crawl over a large rotating block, but it requires several people to push on it to rotate it.  Once it starts moving you can grab the edge and pull yourself up and over.  When you have several people working together it can go well.  If you are by yourself, you have to wait for someone to join you, unless you are really tall and can jump up to reach the edge.  Once you cross the first block, there is a second one and then you have to crawl up a cargo net to get out of the water pit.
Funky Monkey: 20-foot monkey bar, transition to a horizontal metal wheel, transition to a large vertical wheel, transition to a small vertical wheel, transition to a straight bar to cross the water pit.  This is actually my favorite obstacle.
Statue of Liberty:  Walk about 50 yards through waist/chest deep water carrying a tiki torch.  If you slip and your torch goes out, go back, relight it and try again.  This was funny because they have the little "snuffer" to put out the torch one you cross.  On one crossing I evidently had my torch slanted and did not notice it.  When I was near the end I could see from the volunteer's reaction that something was different.  My tiki torch had caught fire so I was carrying a tiki inferno.  Go big or go home!  They could not use that one again.
Waterworks:  Crawl through a 20-foot long drainage pipe that tilted down into a pit of water.  They also pumped a menthol "tear gas" through the pipe.  It wasn't harmful but just added some annoyance.
The Gauntlet:  20 foot upward slanted balance beam to a spread eagle pipe cross (see above, but using two pipes instead of slacklines), and then transition to a series of 6 gymnast rings to cross a water pit.
King of the Swingers.  Climb up a 15-foot platform.  Jump to grab a T-bar about 5 feet away from you.  Swing out and try as hard as you can to hit the bell that is at least 20 feet above the water.  Even if you are successful, which few people are, you drop 20 feet into the water and are completely submerged and then have to swim 30 feet to crawl out of the water.  If you miss the bell you have to do a penalty lap where you carry a log up and down a hill for about ¼ mile.  Tough to decide if I hated this obstacle more or less than cage crawl.
Augustus Gloop:  Scale up a 20-foot wall using a rope while showers pour down onto you.
Cage Crawl:  Pull yourself through 70 feet of water under chain link fencing with only a small space to breathe.  Most demoralizing obstacle ever.
Lumberjacked:  A series of 4 "saw horse" style hurdles using the trunks of large trees.  Climb/push yourself up and over each one.
Arctic Enema:  Jump into freezing water, go under beam fully submerged, jump out of freezing water into freezing water again and go under 8 feet chain link fence, jump out as quickly as you can.
Mudderhorn:  Climb over a 35-foot cargo net structure.
They also had an optional "Electric Avenue" course.  This course would bypass Everest, Skidmarked and the Berlin walls.  You didn't save much distance, but it was easier than exhausting yourself on those strength obstacles lap after lap.  However, you risked getting shocked at each.
Electroshock Therapy:  Crawl through mud under a series of dangling wires.  You could walk through it, but stood a better chance of getting shocked.  Made it through this without any shocks each time.
Electric Eel:  Similar to above but you had to crawl through about 50 feet of water with dangling electrodes above you.  I also did not get shocked, but if someone near you did, the shock would transfer through to you.  I only felt that a couple of times and it was very mild.
Operation:  Stand in a puddle of water.  Poke a 10-foot long, 1-inch diameter steel pole through a 4-inch hole.  About 5 feet away are little rubber bracelets on pegs.  Use the hook at the end of the pole to grab a bracelet and pull it back through the hole.  If you touch the sides of the hole, you get shocked.  I was shocked twice and you definitely feel those.  It was actually funny watching others get shocked because everyone reacts a bit differently.
For many of these obstacles, if you failed them, you had to do penalties which usually consisted of some extra distance and some kind of physical test like climbing over or under something or carrying something.  The only obstacle I ever failed was king of the swingers because if you weren't at least 6 foot tall or a gymnast, you weren't ever going to reach that damn bell.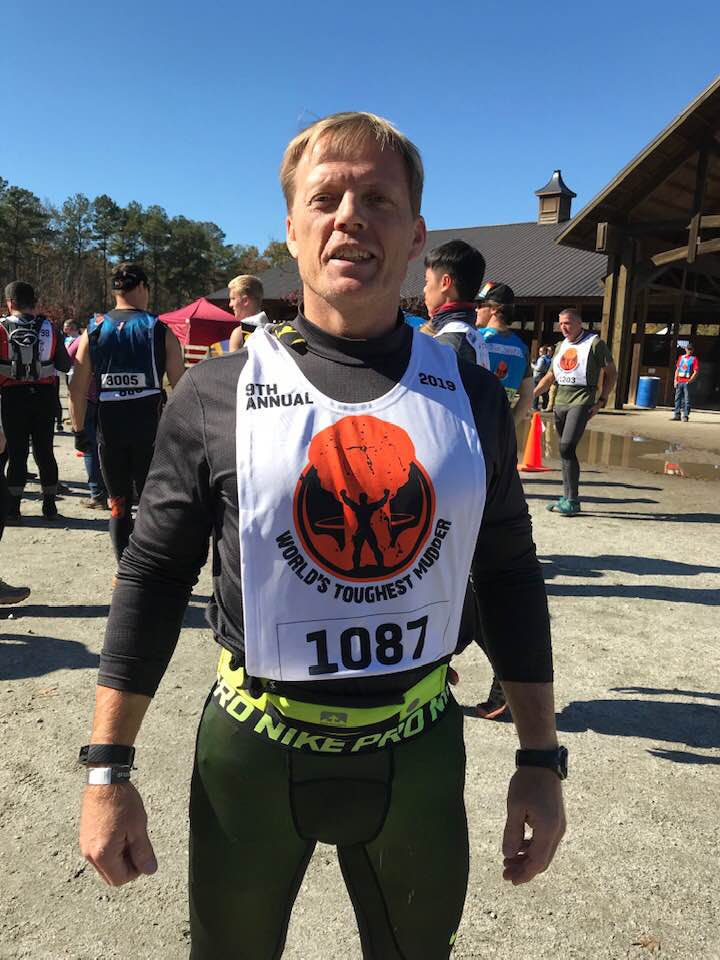 Golden Carabiners and Orange Bands:
TM also gave you the option to earn an orange wrist band once you completed 6 laps and for every lap after that.  The orange bands could be used to skip any obstacle on your next lap.  You could also earn golden (actually little red) carabiners throughout the race.  This is my biggest disappointment about the race.  There were few set rules about how to earn a carabiner.  I earned one by doing the Level Up Lane on Funky Monkey.  I saw no opportunity to earn a carabiner on any other obstacle.  At times they would throw carabiners into obstacles like arctic enema or kiss of mud.  This resulted in the carabiners being more of a game of chance than an earned award.  I learned after the race that some racers would ask the volunteer at each obstacle if they could do anything to earn an obstacle, which could vary based on the volunteer.  This also made earning a carabineer very subjective.
I know this sounds like sour grapes, but earning those carabineers allowed you to skip obstacles such as King of Swingers, Augustus Gloop, The Gauntlet, and especially Cage Crawl.  Skipping those obstacles could really change your race strategy and eliminate a lot of stress, cold, and fatigue.  When I finally had the chance to redeem my carabiner to skip Cage Crawl, the price was 3 carabineers.  If there was only one change I could recommend, it would be a very specific set of rules to earn those carabineers.
Overall
In summary, a week after the race I feel great but still have a little soreness in a few areas.  I am also battling a cold which may or may not be related to incredibly nasty, cold, muddy, and who knows what else kind of water flooding my ears, nose, and throat.  I learned a lot and look forward to my next WTM, but may not justify the cost to fly to Dallas to do it next year.  I also learned from my wife that some of the racers came into the hospitality area and poured warm water into their wetsuits after each lap.  Had I done that, who knows, maybe I would have made it to my goal.  I will definitely be "carabiner-focused" the next time I do it.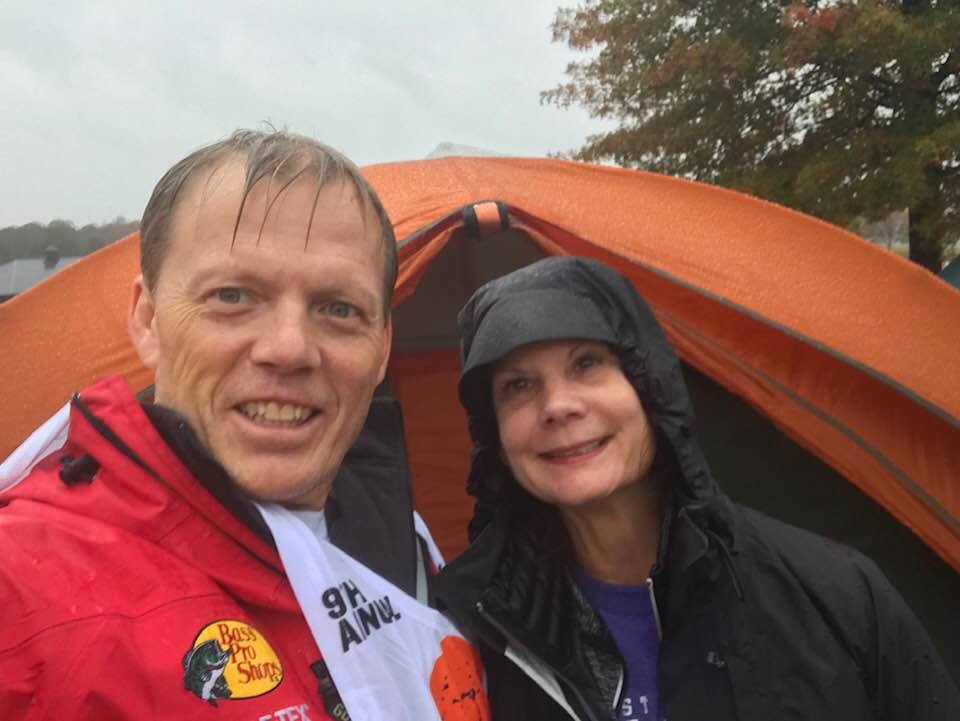 Suzanne wins the awesome wife award for staying out in the cold and making sure I had hydration and hot food during the night hours.  It's not something I normally eat, but a little microwavable container of Dinty Moore beef stew is freaking awesome at 1 am when you are standing in 40-degree weather soaking wet.
Already looking forward to my next challenge and I hope you are too.