The Conquer The Gauntlet Pro Team is back in 2020 for its 5th year of Obstacle Course Racing (OCR) as a team.  With minor adjustments each year, here is who is on the team for 2020 and some new exciting things that are in store for the brand.
Added in late 2019, the 2018 North American OCR Championships 20-29 Age Group champion in the 3k and 15k, Ashton Abraham is one of the newest additions. He took 1st place wins at both Conquer The Gauntlet OKC and Conquer The Gauntlet Little Rock in 2019 and was also one of two males to appear on the CTG Elite podium more than once in 2019.  After suffering a minor injury in 2019, he hopes to continue his amazing results like in 2018 when he ran 10 OCRs with 10 podium finishes.
The other male to appear on more than one CTG Elite podium in 2019 was Scott Wierzycki.  Scott is the 2017's US OCR Championship 15k AG gold medalist and recently became the first athlete to triple podium in a single CTG race (CTG Little Rock: 3rd Elite, 1st Masters and 3rd Continuum).  With 31 OCR podiums, Scott has been involved in the sport since 2012 showing both his constancy and commitment to the sport.
New to the female side is 2019 North American OCR Championship 35-39 Age Group gold medalist Jenny Overstreet.  A rock-climbing instructor who has never lost a belt/band on any mandatory obstacle completion course managed to win almost every OCR that came through Kansas City in 2019 including Warrior Dash, Rugged Maniac and KCOCR Feel The Burn Challenge.
Back for another year is TV regulars and our ninja warriors Michelle Warnky and Amy "Magic" Pajcic.  Michelle recently became the 2nd woman to finish a City Finals course and made it to the Las Vegas national finals for her 6th time in 7 appearances on the show in addition to winning her first CTG race.  Amy also appeared on Ninja Warrior for the 6th time plus won her Age Group at 2019's North American OCR Championship, finished with a gold and silver in her age group at 2019's OCR World Championship (OCRWC) and finished 3rd Pro Coed Team at OCRWC.  With results like that it's not surprising she became the first athlete to finish in the cash prize podium of both CTG Elite and Continuum in one race.
On the OCRWC team with Amy was CTG Pro Matt "The Mudder" Willis, who was featured on Spartan's Ultimate Team Challenge a couple of years ago.  In addition to earning a bronze medal at OCRWC Pro Coed Team, which goes nicely next to his silver from 2018's North American Championship Pro Coed Team medal, he finished his year with a podium finish at Spartan's Ultra-Beast Dallas.
However, the athlete with the most TV time is Jay "Captain Puerto Rico" Flores, who spent most of the year on Exatlon: Estados Unidos, a show that aired for two hours a night six times a week on Telemundo.  Jay spent most of his season (12 weeks) on the show so his 2019 race schedule was light but he's back in 2020 with more discipline and more motivation ready to add to his 51 lifetime OCR podiums.
Jay wasn't the only one with a light 2019 season, both Ashley Samples and Lisa Nondorf had light 2019s.  Ashley gave birth to her second child this year but still managed to make a rapid comeback to squeeze in one podium before the end of the season.  Lisa tore her bicep at the end of 2018 and has worked hard to return to form recently earning two podium finishes at ninja competitions and keeping her band at Savage Run on her way to 1st place Masters finish.  Joining Lisa on the team for his 2nd full year is master's athlete Doug "TheDougg" Snyder.  Nominated for best master's athlete on MRG for the 2nd year in a row, Doug has 13 overall podiums in addition to 33 master's podiums.  Five of those Masters podiums were part of his undefeated streak at CTG in 2018.
CTG Pro Team originals Nathan "NaPalm" Palmer, Evan "Ultra-OCR Man" Perperis and Randi Lackey are all back for their 5th year.  Nathan became the first male to win Continuum and finish on the Elite podium at the same CTG race this year and spent most of his other free weekends supporting the CTG kids event Conquer Youth, inspiring the next generation of athletes.  Evan had a monster season with 14xOCR podiums including an undefeated streak (4x) at CTG Continuum, a 24 hour treadmill OCR for charity, the release of his new book Ultra-OCR Man: From Special Forces Soldier to Record-Setting Professional Obstacle Course Racer and a 6th place finish at World's Toughest Mudder with 90 miles.  However, the team wouldn't be complete without the Queen of Conquer, Randi Lackey who now has a lifetime 12 CTG Elite Wins, 1 Continuum win, 2 CTG Team event wins and another 2 CTG Elite Podiums.   She manages to squeeze all that in between qualifying for Boston, leading workouts at her local gym in Fairview and teaching middle school students.
The team is supported by a whole host of sponsors to help you train, race and recover better including:
Train: Atomik Climbing Holds (grip strength), Elite Ops Energy Strips (caffeinated strips), Juice Performer (cherry/beet juice), Luc Labonte Nutrition (team nutritionist), HYLETE (warm ups/training clothing)

Race: RockTape (a mobility company), Stoke Shed (photo/video), Squirrel's Nut Butter (anti-chaffing), BleggMit (bad weather OCR gloves), MudGear (OCR socks/apparel), Enchanting Getaways (travel agent for races), Mud Run Guide (race discounts/race finder)

Recover: Rapid Reboot (compression boots), Compex (EMS and massage gun), Ambari Nutrition (healthy food on the go), dryrobe (pre/post-race change robe), OOFOS (recovery shoes/sandals), InsideTracker (blood test for precision diet/training)
We hope to see you at one of seven Conquer The Gauntlet locations in 2020.  CTG is going back to all their usual spots (Oklahoma, Iowa, Texas, Arkansas, Kansas) and recently added Kansas City back to their list of venues.  Don't forget to head to one of their events and take your kids to one of the nearly two dozen Conquer Youth events for ages 5-17.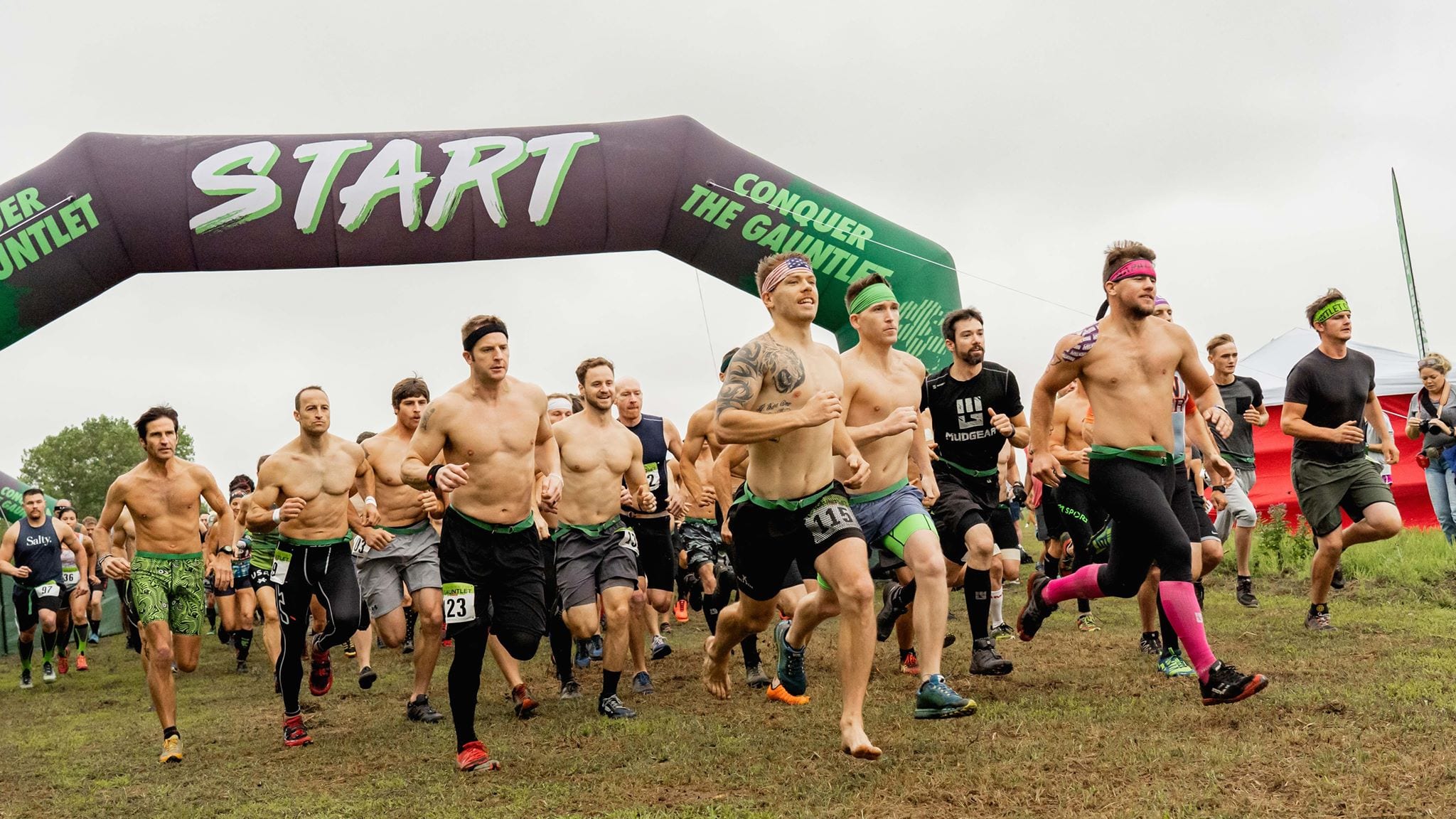 To see all our athlete's accomplishments check out their profiles on the CTG Pro Team Website:
Click here Historic Rosters 2016-2019

All Conquer The Gauntlet photos provided by Stoke Shed

Michelle Warnky NORAM picture from OCR Nation.

Scott W. picture from LuAnn W.