Members of the OCR community are on the front line serving during the COVID-19 crises. Mud Run Guide would like to honor these amazing individuals and thank them for their service by sharing their stories. If you or someone you know is serving in an essential role during this time please email bonnie@mudrunguide.com.
My name is Ande' Wegner, and I'm a small animal veterinarian in north-central Illinois.  I am an owner and the medical director for South Creek Animal Hospital, and Daniel asked me to describe what's going on in the world of pets and veterinarians right now during the COVID-19 pandemic.  So, here you go:
About my job and my part in the pandemic:
Veterinarians are essential workers during this trying time.  We certainly are not on the front lines like our human medicine counterparts, but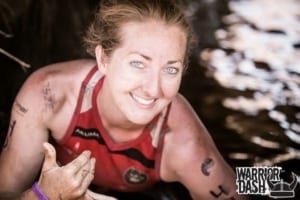 we are doing what we can to assist everyone we can during this crisis.  The vast majority of veterinary hospitals have ceased wellness visits and elective procedures (such as spay/neuter surgery) until further notice, in an attempt to both minimize unnecessary contact with people and to conserve PPE.  We are still very busy with sick appointments and urgent care surgeries, however.    In order to minimize person-to-person contact, we have implemented curbside service; one of my veterinary nurses obtains a medical history over the phone and then retrieves the pet for a veterinarian to examine, and then the 
vet
 will call the owner with recommendations on diagnostics and treatment.  My entire staff are protected with PPE, and an overwhelming majority of my clients are very understanding and appreciative of the work we are doing to keep everyone safe while still attending to their sick pet.
I have been so proud of my staff for stepping up to the plate and taking charge alongside me to implement a drastic change in our day-to-day protocol, almost overnight.  Our patients have been very cooperative with the process, despite not having their "mom or dad" with them — many of the pets we see really enjoy all the extra special attention they are getting, actually!
Many have asked me, "Can my pet get sick with COVID-19?"  The best answer I can provide at this time is no; while there have been a rare few cases of dogs who have had the virus cultured from their mouths, it appears dogs are not falling ill due to the virus.  There have not been any reports of house cats becoming infected with the virus to date — although a tiger in the Bronx zoo was confirmed to have the virus, its clinical signs were fairly mild and it seems the tiger is not infectious to other cats or to humans.  What we do know is that all of these aforementioned animals were in direct contact with a human who was infected with COVID-19.  Because we cannot confirm how long the virus can survive on a pet's fur or in its mouth, it has been recommended to wash your hands before AND after petting or playing with your pet, as well as not playing with animals who are not your own.   Also, if you are showing signs of COVID-19, you should isolate yourself from all living beings in your home, including your pets, to try to minimize transmission of the infection.
As a means of trying to help our human medicine colleagues, many of us 
vets
 have listed ourselves on a volunteer registry in our respective states to assist in human hospitals if we are needed.  We are comfortable operating ventilators and assisting with treatment administration.   Even more, many specialty veterinary facilities have offered to send their ventilators to human hospitals for their use during this period.  We've even sent our own PPE such as masks, gloves, and disposable gowns to hospitals so doctors and nurses can continue to be protected.
While human doctors and veterinarians have always had a symbiotic relationship, this is the first time in my career where I am witness to a true "One Health Initiative" in which MDs and DVMs are coming together worldwide to achieve a common goal of stopping this viral threat.  Seeing this collaboration between us all is both inspiring and empowering, and gives me hope that we will be triumphant over this pandemic sooner rather than later.
About my background in OCR/Endurance events:
I've been competing in endurance sports since 2002.  While my passion is triathlon, I've competed in numerous OCR and adventure-style races.  Some notable races I've completed are the Vermont Spartan Ultra Beast, Battlefrog BFX in Ohio, The SISU IRON, The Mojave Death Race, and The Gauntlet.  I am also a 2 time Death Racer and have competed in Fuego Y Agua in Nicaragua.  My longest event to date was the Virginia Triple Anvil, a triathlon consisting of a 7.2-mile swim, 336-mile bike, and 78.6-mile run.  I have served as a staff member for the SISU IRON for the past 4 years and enjoy giving back to the endurance community by helping to put on events that inspire and encourage personal growth.