In light of these difficult times around the world facing the Covid-19 crisis, we're committed to bringing you positive stories of people, companies, and events overcoming the obstacles of 2020.
New England Spahtens Co-Founder, Paul Jones, and his wife Bee have been working around the clock to create comfort "mask extenders" for healthcare workers on the front line battling Covid-19 and risking their lives every day to save others.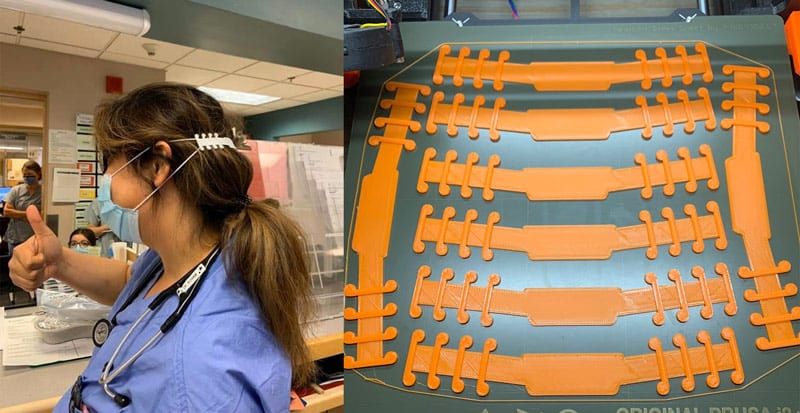 From Paul:
"I'm creating "ear savers" – 3D printed brackets, or clips, to hold the elastics of face masks off the ears of the person who is now having to wear them. Elastics rubbing against a nurse's ear for a 12h shift are incredibly uncomfortable, and this holds them away from the exposed skin, making them just a little more bearable.
They are being printed on a Prusa i3 Mk3s 3D printer in PLA filament. Each clip costs approximately 10c in raw filament costs, and a bed of 8 is a 2h print. With shipping, the ballpark cost for shipping 8 to a nurse to share with her colleagues is a little under $10. Some people are requesting 20, 50 or even 100 for wider distribution – and when printing 8 at a time, those larger requests take a while! Fortunately, I have two friends with printers who are able to pitch in and have also been printing and shipping to people in the queue.
"3D printing allows people to create solutions to problems. With the Covid-19 crisis, we had a lot of new problems without solutions. Many 3D printer owners have been focusing on masks or face shields, which both require additional tooling or materials I just didn't have access to or time to get – so I looked for something I could print in its entirety, and this 3D model felt like a good solution – I now have requests for well over 600 of them, with 300 already delivered, and more come in daily. It's the least I can do for anyone who is exposing themselves to this virus in an effort to keep us safe, or who are particularly vulnerable to it."

While some people have offered to help cover their, or other people's shipping costs, there is NO CHARGE for these. If I somehow end up with more donations than I spent shipping, I will be donating the extra to my favorite dog rescue – www.safewithusanimalrescue.org (where I got my dog, and happen to volunteer covering their IT / social media needs).
Osprey's Pack Repair Team Transitions to Sew Fabric Masks for Healthcare Workers During COVID-19 Pandemic
Osprey, makers of innovative carry solutions, announced that their Cortez, Colorado-based warranty and repair team will now work exclusively sewing fabric masks for healthcare workers and front-line responders in and around Cortez, CO. The masks are being distributed to Southwest Memorial Hospital and the local health department. MORE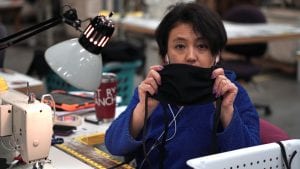 MYSTERY RANCH Sews Face Masks for Medical Personnel on the Front Lines of the COVID-19 Pandemic
MYSTERY RANCH, the industry-leading pack company, shared in a community-wide effort to build personal protective equipment for medical personnel in the Gallatin Valley. MYSTERY RANCH has donated and is utilizing available materials from its US production floor to build protective face masks for the Bozeman Health Deaconess Hospital. MORE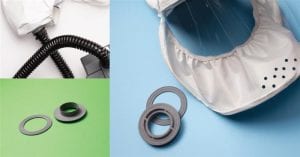 Superfeet to Produce 30,000 Respirator Masks for Local Healthcare Workers and Hospitals
A week after a national announcement opening their doors to help those needing access to personal protective equipment (PPE), Superfeet and sister company Flowbuilt Manufacturing have started production of PPE masks with 3D-printed elements. Approximately 30,000 of the masks will be produced and distributed to hospitals in the Pacific Northwest immediately. MORE
Good News? Share it with us!
As we fight this pandemic, one thing is more clear than ever before, we're all in this together – all over the globe – and working together to overcome the challenges in our way is what the human spirit (and OCR) is all about. If you find stories of hope, triumph, or good people doing good things to help others, share 'em with us: social@mudrunguide.com