With a safe, muddy, and fun time had by all at our Jacksonville event last weekend, we're back! The whole Spartan team is looking forward to joining you on an epic return to live racing for the rest of 2020. Here is the remaining 2020 schedule that we have high confidence in as of today.
Spartan 2020 Race Schedule & $1 Down Entry
New 2020 race schedule can be downloaded here: https://spartan-email-cdn-sp.s3.us-west-2.amazonaws.com/RaceSchedule-2020%20copy%20%281%29.pdf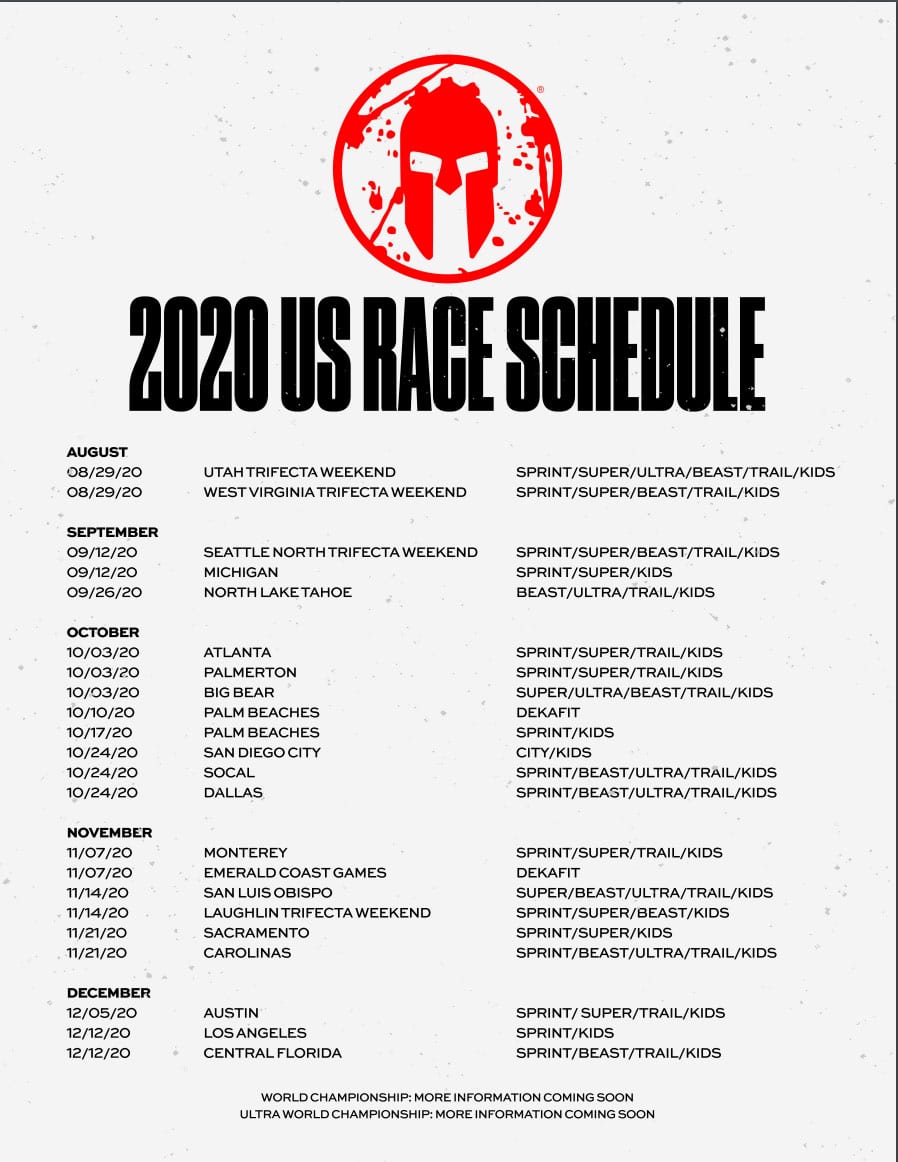 UPDATE: Utah 50k, 21k Beast, 5k Spring Weekend
We're excited to announce a confirmed date and venue! In addition, we've got an extra surprise – this Utah event will now become a Trifecta Weekend event, allowing you to earn a full trifecta over the course of the weekend. 

August 29-30, 2020 – Soldier Hollow, 2002 Soldier Hollow Ln., Midway, UT 84049 (New Venue)

Friday Trail, Saturday Super and Sprint, Sunday Ultra and Beast
Please note, due to space constraints, the Ultra event will be 5 full laps of the Super course and the Beast will be 2 full laps of the Super course. 
Your registration has been automatically moved to the new event date. No further action is required.


Race For $1 Down
Plus, we're launching a new way to secure a spot at the start line without the upfront commitment. Pay only $1 when you register for any 2020 US Sprint, Super, Beast, or Ultra. Then, 15 days before race day, we'll charge you the rest of the balance. Lock in your spot at any event, stress-free.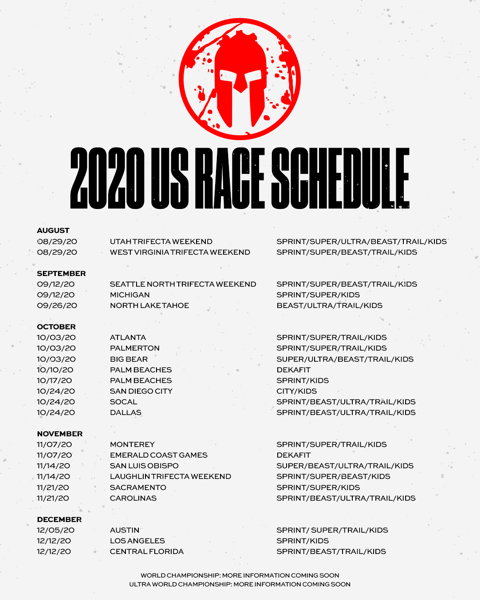 Additional '20 Schedule Adjustments
In order to make these live events happen, we do still need to make a few more adjustments to the current 2020 race schedule. Due to the varying state regulations and guidelines amid the novel coronavirus pandemic, several more events have been canceled. See the event cancellations and postponements below, which includes all affected events through December 2020: 
| Original Race Date | Race | Status |
| --- | --- | --- |
| 5/16/20 | Big Bear Ultra, Beast, Super, and Trail | Postponed- New Date: October 3, 2020 |
| 9/12/20 | Vermont Ultra & Beast | Canceled |
| 9/19/20 | Vermont Ultra World Championship & Super | Canceled, More information coming soon regarding Ultra World Championship relocation |
| 10/3/20 | Citi Field Stadion | Canceled |
| 10/3/20 | Tri-State NJ Trifecta Weekend | Canceled |
| 10/3/20 | Midwest Beast and Sprint | Canceled |
| 10/17/20 | Spartan City – Ocean City | Canceled |
| 10/31/20 | Citizens Bank Park Stadion | Canceled |
| 11/7/20 | Virginia Super, Sprint, and Trail | Canceled |
| 11/14/20 | Fenway Park Stadion | Canceled |
| 12/5/20 | Oracle Park | Canceled |
If you do not see your event on this list, then your race is still on the Spartan schedule, subject to further evaluation as local governments continue to impose restrictions and guidelines on large events amid the Covid pandemic.