As the year has progressed we have all had to realize the season is pretty much done for obstacle course racing in many areas of the US. That has led me to look around for what things I could do near me. Things that might bring me some of the same joy and fun that I normally got from a weekend out on the course.
Blue Mountain ski resort, better known as Palmerton, is best known for its Spartan Sprint and Super every July. It is located in Palmerton, Pennsylvania. What many do not know is that they also offer some awesome classes and activities held on the mountain.
Running The Mountain:
Their signature trail is called the Blue Burn trail. It is a marked out racecourse on the mountain. They offer different passes for this course. You can pay for 1 day and get timing done for 1 day. Or you can choose to get a summer pass. If you are local and can go a few times a month this could be great motivation this year. This chip allows you to track your progress any time you hike or run up the mountain from now till fall. It also will give you access to the leader board. Their website also says that it will be " culminating with our very own mountain challenge where the top athletes will be recognized". This is a great way to workout outdoors and to keep yourself fit while staying socially distant this summer and fall.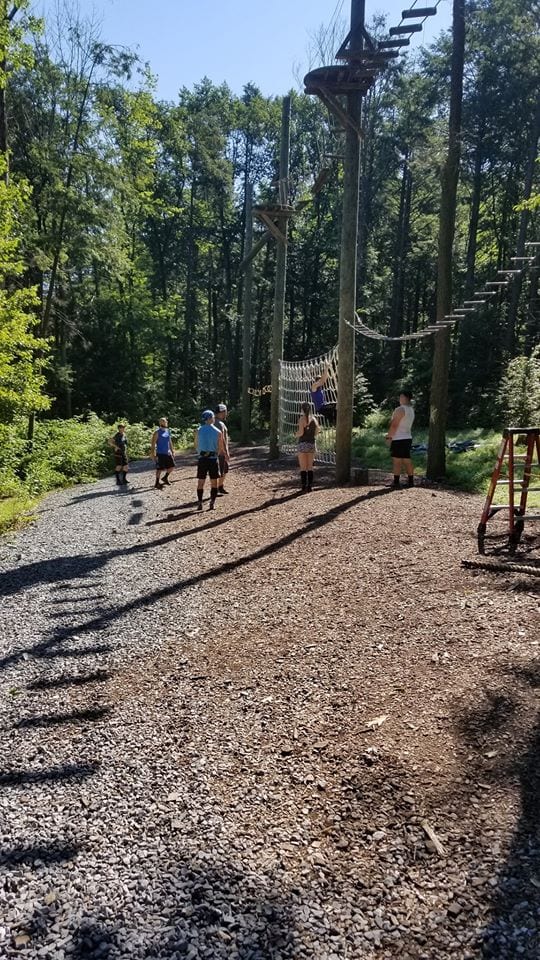 The Obstacle Class:
The OCR Class is held every Saturday and Sunday from 8:30am – 10am.  I went up the other weekend and took a few friends of various skill levels with me. We spent the morning seeing what they had available and compared it to a Spartan event and were pleasantly surprised.  We started out with a short sandbag carry up the mountain. A Palmerton staple. We then used those sandbags as part of a sled drag team activity.
A short jog of varying paces across the hill brought us over to monkey bars, walls, and tires. It was here that we got to work on our skills getting over 4′, 6′, and 8′ walls. One thing said by the staff is that they were harder then Spartans and I would agree. Due to being thicker, it was harder to get a grip on the top which did make them harder to traverse. The monkey bars were standard monkey bars which were nice for the newer obstacle racers with us as they were able to do them. There were 2 tires available to flip, one of them similar to both the men's and women's size/weights at Spartan. They also had just started a challenge for as many flips in 2 minutes.
A short hike up the mountain from there again brought us to another area of obstacles. This time there were various things to simulate Spartan obstacles. They had log lifts like the Hercules hoist. The heaviest lift being so heavy that no one my day there could even lift it. This is one obstacle that I would say was harder then Spartans equivalent. They had a row of rings, rope climb, a cargo net, and an area of wood pegs similar to Z-wall. The rock wall section also had a small area that would work for Olympus style grip work. There also is a rig area with the rope monkey bars that are used at the Ape Hanger obstacle found at Palmerton.  This is all then wrapped up with a short workout followed by a sandbag carry down the mountain.
After Thoughts:
One thing to note is that classes are limited in participants. You sign up online on their website for the date you want to attend. If you pick a date and end up needing to change it all it took was a simple email to accomplish that for our whole group. Check in was simple and painless inside the main lobby.
I went with 2 people who had never been to an OCR before. They came with us as something to do on a weekend and had a blast. Both would do it again. Half of the class were people who had run 25+ races, they also had a blast. This is the type of class that you make the best of it with the skill level you are at. If you are new you can go at your own pace. If you have 1 or 2 things you need to work on then work on them more then other things. Each class is a little different from the photos I have seen online as well which is great.
The next morning I was sore in places I hadn't been in months. I joked about my spartan kisses at work from the 8′ wall the next day as well. If you are local or able to travel safely I would highly recommend making the trip out for the class and a run of the mountain after. It is great as a 1-day trip or something to use a more often workout to keep yourself in race shape.