On July 18-19, southern Ohio was home to one of the first real obstacle course races of 2020. War-X Trilogy Weekend was comprised of three events: Chaos Reigns, an approximately 6-mile long obstacle course in a simulated war zone; Zero Dark Thirty, a one mile long night time survival event, and the Broken Arrow 5k trail race. This was the first year that War-X has ever had all three of their trilogy events in one weekend. This was also their inaugural race at a new location.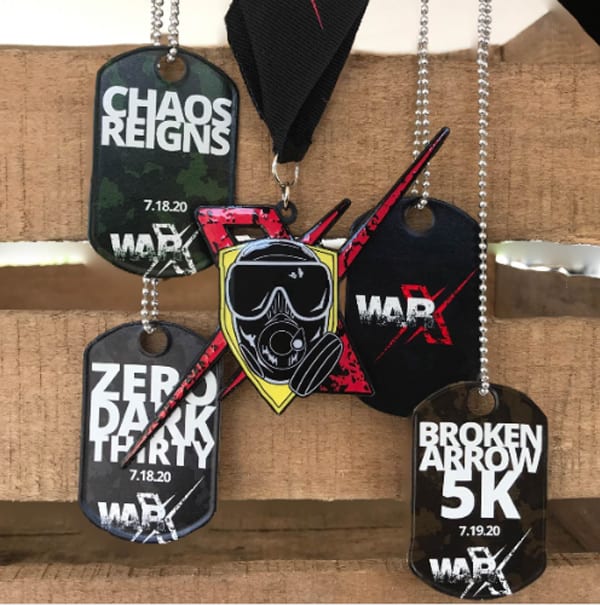 Preparing for War
My GPS couldn't find the exact location, but thankfully there was a large sign up by the main highway pointing the way to War-X. Because they own the hundreds of acres of woods, hills, and ponds that they operate on, they are able to create unique experiences that you won't find anywhere else – like Bailey's Slide, a 350-foot long water slide. They also offer camping on-site, event hosting, survival training experiences, and corporate events throughout the year.
Hundreds of racers traveled from all over the US to experience War-X Trilogy Weekend. I talked to people who traveled all the way from New York, Florida, Dallas, and Seattle to do a real in-person OCR. All weekend long the grounds were filled with an atmosphere of joy and camaraderie.
Chaos Reigns
Jake Moore, one of the owners, started out Saturday morning's Chaos Reigns by explaining that they had based today's race on the Battle of Belleau Wood from World War I. There were more than 50 obstacles spread out along the six-mile-long course. Racers tackled those obstacles with their adrenaline pumping as machine-gun fire resounded and explosions could be seen and heard all around. The hardworking staff and volunteers made sure that the exhilarating environment was safe. The consensus among the participants was that flying down Bailey's Slide into the cool pond water was the highlight of the course. The 100-degree heat index and the elevation gain on the hills were the most challenging obstacles. Joe Stotlar, owner of Iron Rig Gym in Florence, KY, won first overall male. Aliyah Emas won first overall female.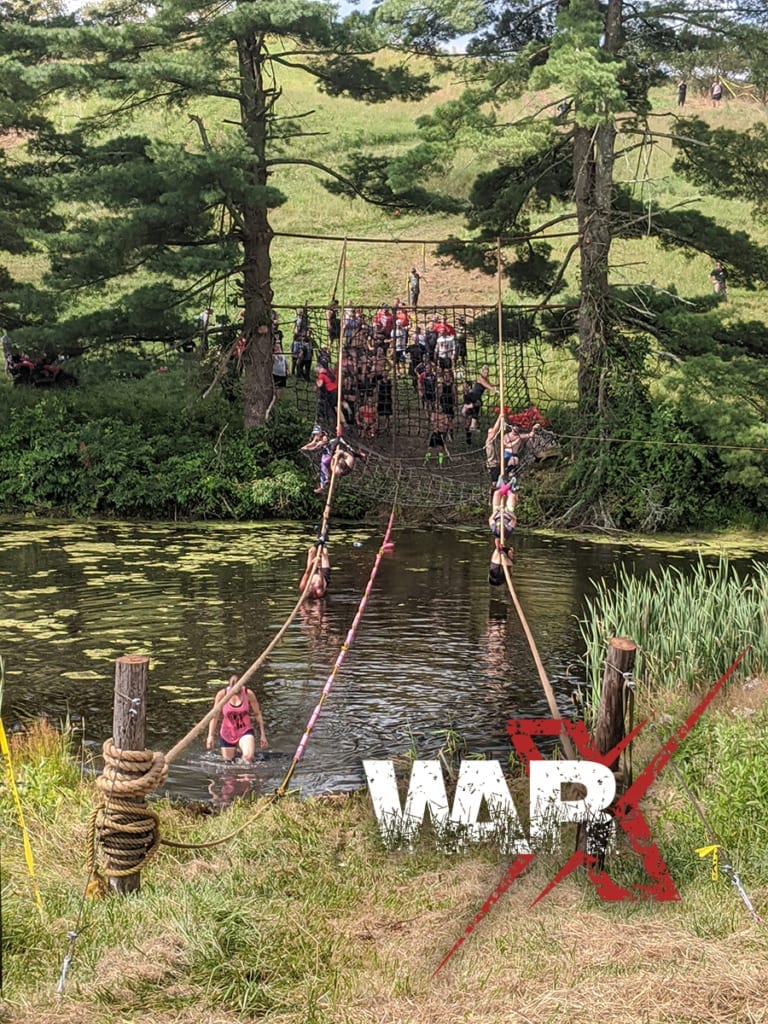 Zero Dark Thirty
Saturday night's Zero Dark Thirty was unlike any event that I had ever done. We were divided into teams of 10, then we were sent out on a mission through the dark woods. We were led by "friendlies," our guides, and we had to avoid enemy combatants who could actually capture us. The goal was to complete our mission with as few POW's taken from our team as possible. We hardly turned on our headlamps at all as we stealthily marched through trails, having to get low and hide in the weeds when enemies were nearby. I'm happy to report that my team survived totally intact, and for the grand finale, we shot artillery across a pond to cause an explosion. This was a taste of their upcoming survival event, Operation Doom Hammer, that will take place on October 3, 2020.
Broken Arrow
Sunday morning's Broken Arrow 5k brought runners out to new trails. Participants raced through narrow paths in thick woods broken up by deserted country roads. Aliyah Emas and Joe Stotlar repeated their first-place finishes.
Everyone that I spoke to was glad that they came to the Trilogy weekend and looking forward to their next opportunity to do an event put on by War-X. Their company is veteran owned and operated. They partner with Operation Enduring Warrior, a non-profit whose mission is to honor, empower and motivate America's wounded military service members. One thing that I loved at the events was how you could always tell when OEW racers were crossing the finish line from the roaring cheers that echoed over the hills.
War-X showed their appreciation on their Facebook page, saying,
"We want to thank and congratulate all the amazing participants that came out this weekend in support of Operation Enduring Warrior and absolutely crushed this year's Trilogy events. Suffering through harsh heat, challenging terrain and unique obstacles, everyone showed unbelievable grit and an even bigger heart."