-How long have you been involved in the sport now? What brought you back year after year?
I have been doing OCR 5 years now! Wanted to get better each race kept me coming back. I had several goals I wanted to achieve including qualify and compete at a world championship and get on a podium at a competitive race. I feel having clear goals helps me train better and keep me motivated.
-Hailing from Ireland, did you compete in any athletics back home? What did you do?
My primary sport growing up and into my early 20s was always soccer. I played for local clubs in Ireland and in Edmonton, AB. I was always lucky enough to be on very competitive teams, winning at provincial levels and getting to represent my county back in Ireland. I've tried lots of sports ranging from rugby to badminton and some martial arts but soccer was always my focus. 
-Do you have a favourite OCR moment?
I have a few that come to mind. I was able to podium at Rugged Maniac in Calgary in 2018 and 2019. Going to Spartan World Championships in Lake Tahoe in 2015 and then OCRWC in Collingwood in 2016, representing Ireland at these events was an amazing moment. 
Then at every race, hanging out with friends, the thing I love most about the sport is the comradery. Shoutout to my OCR race team, Rampage Racing based in Alberta.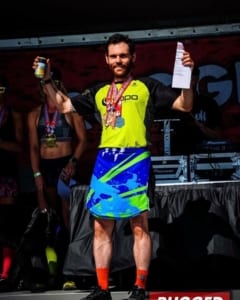 -You have competed at multiple world championship level events. Which was your favourite and why?
I would have to say OCRWC in Collingwood in 2016. The main reason is a lot of my good friends went, so it made it very memorable. I got to meet the best OCR athletes from around the world. Then the race itself was incredible with so many unique obstacles from all races, the challenge and competition were incredible. 
Personally I was able to keep my two bands which were my main goal. This event showed how OCR has reached global levels. 
-You work as a fitness instructor in Canada. Where do you work and why did you become a coach?
I coach at several gyms in Edmonton. I coach at an OCR gym called City Fit Shop, a run/hit gym called Runaway Workout Club and I also coach at F45. 
I love helping other people achieve their goals, sharing knowledge, and seeing the effort people put into their fitness really inspires me. 
-Do you have any advice for new athletes? What about for those who are contemplating entering the competitive field?
In relation to OCR I feel the main things to focus on are running, get a good program, there are several programs online or apps that give good basic programs. If you are more serious you should consider a running coach. Then grip strength is huge, whether you have a local OCR gym you can practice at or going to the local wall climbing gym, working on that grip strength and grip strength endurance will help with those tricky obstacles.
Another piece of advice is to set hard realistic goals. Something that you have to work hard for but it is achievable! It will keep you honest and focused. 
The main thing though is to remember to have fun, we, even as competitive pay for these races so even if it doesn't go your way remember what brought you to the start line! 
-How are you staying in shape during the pandemic?
To be honest I am not really! I took a lot of time off to focus on work and spend time with my boys. I am very motivated by having races and without that, I lost some. 
I'm not frustrated as I mentioned it's a great opportunity to do things I might not of done before! I am looking at this time as an offseason, work on some weaknesses and build a good running endurance base. 
-Anything else you would like our readers to know about you?
I usually like to finish with a quote! My words to live by are "Strive for progress, not perfection".