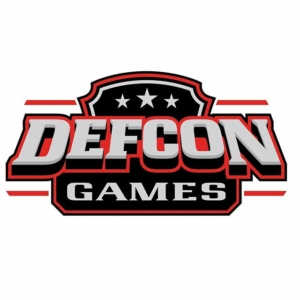 Hosted by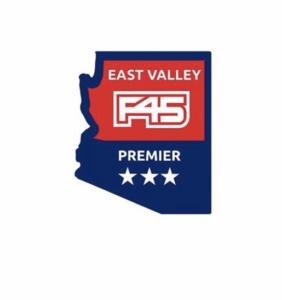 Date of Event: Saturday, September 19th, 2020
Like the rest of the world, Arizona has been on lockdown since March.  Weekend warriors have been anxious to get back to racing and with an amazing collaboration between The Defcon Games and F45 East Valley Premier, which has 3 studios in the East Valley area of Arizona; Tempe, Gilbert, and Chandler, a race series was born!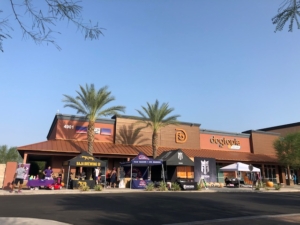 Planning this event was quite the journey!  Would people be ready to race?  How could we keep our athletes and spectators safe?  Would the city allow us to plan an event?  Would vendors be willing to set up?  As the event grew closer, we quickly realized that this was going to be an amazing opportunity to gather together (socially distanced, of course), raise money for an incredible charity, Believe Beyond Ability, and give athletes a chance to race again!
Three local OCR enthusiasts got together to plan this incredible event!  Lashay Marks, Celeste Bottomley and Ashley Ebenhoch worked tirelessly to make sure that this event went off without a hitch!  The event, sponsored by F45 East Valley Premier, The Defcon Games, This is Beyond Fitness, Reign Performance Fuel, and Titan Solar Power, kicked off at 4:45pm.  F45 East Valley Premier provided 14 incredible and motivating coaches to personally coach each athlete throughout the course.  (For those of you who have not heard of F45, they provide innovative small group training  through scientifically designed workouts that are fun, fast, and effective)!   When athletes arrived at the event, they were assigned heats and then they watched a full run through of the course.  56 athletes then competed (in waves of 8) with an average finish of approximately 14 minutes.  Elite athletes finished the course under 9 minutes, with our first place (female) overall winner clocking in at 7 minutes and 45 seconds.
Below is a break down of how the course was set up:
SECTION #1
Start– 200m Run
75ft between each station
Station 1- 15 Snatches 28lb Female/44lbs Males
Station 2– 15 Curl & Presses 22lbs female/ 33lbs Males
Station 3- 15  Deadlifts 75lb Females/115lb Males
Station 4- 25ft Overhead dumbbell lunge, down and back. 20lb Females/33lb Males
(After completion of the overhead lunge, participants will do all stations in reverse with the same amount of reps)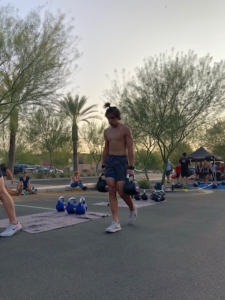 After completion of section 1 participants move to section 2.
SECTION #2
(Deadball Toss)
Females 5x @ 33lbs
Males 5x @ 55lbs
Once participants have completed the Deadball Toss, move on to section 3.
SECTION #3
(400ft Farmers carry) Participants can set the Kettlebells down as many times as needed to complete the farmers carry in its entirety.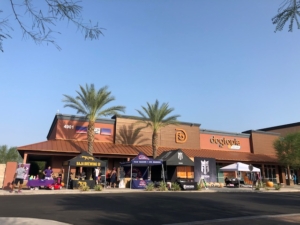 Finish with 200m Lap!
The course was fast and furious and every athlete was completely spent after competing.  However, if an athlete was unhappy with their time, they were given the opportunity to compete again.  Only two male participants took that challenge, and one of them ended up in the finals!  The top 4 men and the top 4 women competed in a head to head battle to the finish.  The top male and female were then celebrated as the Defcon Winners!  They each received four cases of Reign Performance Fuel, a shopping trip to Lululemon, and a few other awesome prizes from local vendors.
This event was such a big success that local studios and gyms are chomping at the bit to plan their own event with the Defcon Games.  F45 East Valley Premier plans on hosting round two on Saturday, November 14th at their San Tan Village location in Gilbert, Arizona.  If you are a weekend warrior in the southwest and you are looking for the opportunity to race, you should check it out!