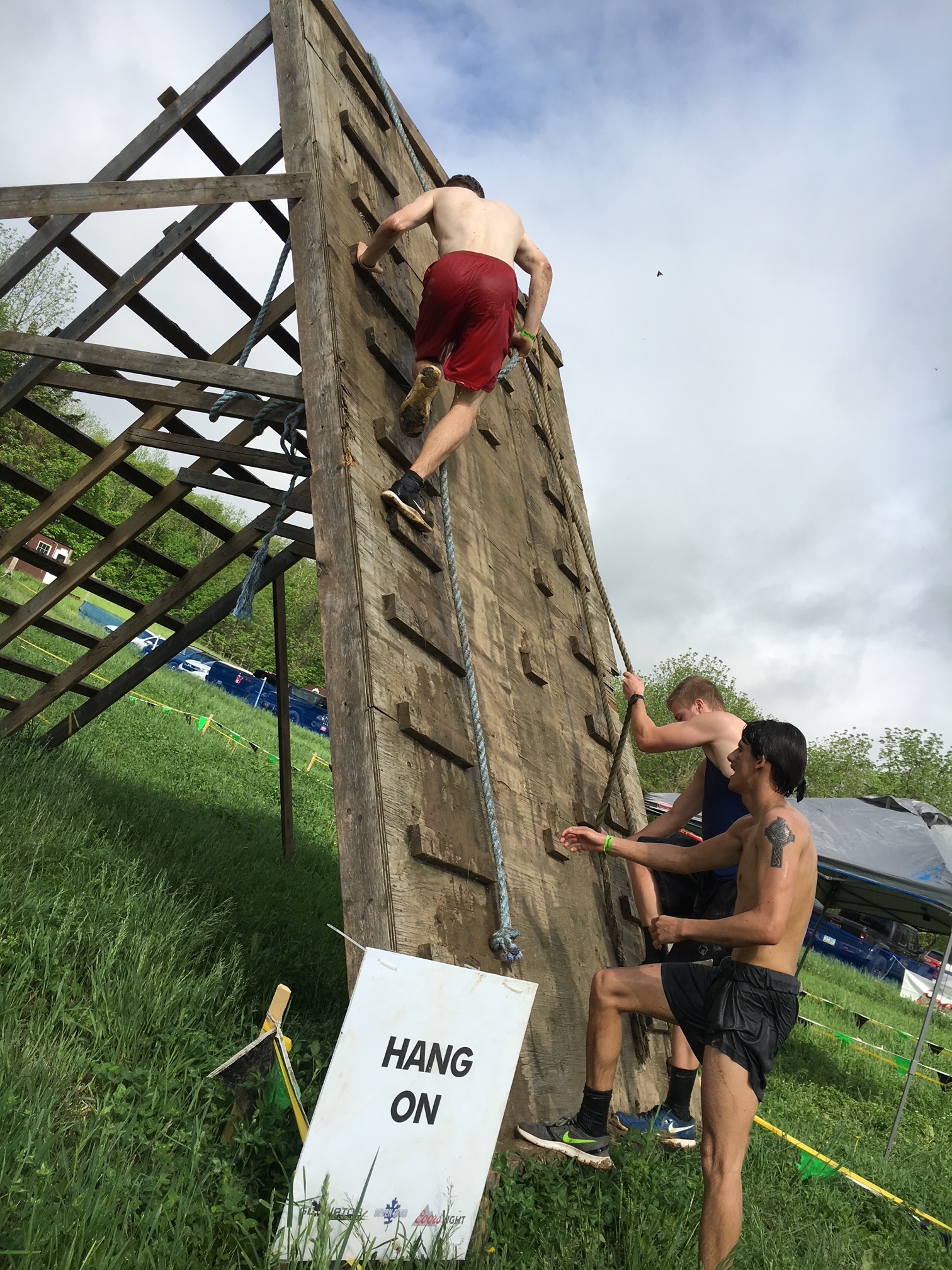 The race I had originally planned for this weekend got canceled last minute and there I was tapered and ready to race with no place to go.  Luckily, I found another one last minute, The Gladiator Assault Challenge.  Sometimes bad news can be a blessing in disguise, here's how my experience went at Gladiator Assault Challenge, a race that has been going on since 2012:
Course:  Iowa, corn fields and flat land right?  Much to my chagrin, the night before the race I looked to see the course and realized it had 2000 ft. of elevation gain over the ~5.5 mile course.  The venue is at a ski mountain (honestly…I didn't even know Iowa had any ski mountains, let alone one within an hour of Des Moines).  To top it all off, the start line was at the top of the mountain, which granted wasn't huge, but it was a nice touch that made for a memorable walk to the start line.  Don't show up late to this one or you'll be starting the race with a pounding heart rate already.
Terrain: As you might expect the course had some pretty significant uphill/downhill sections.  What was really cool was their use of trails that run through the backside of the mountain and off the main skiing trails.  Overall, it was an excellent use of terrain taking your through a little bit of everything including some nice flat stretches where you could open up the pace, short/steep switchbacks with technical footing and some single track.
At the start line one of my friends had mentioned he had run off course in a previous year due to poor course markings.  I can't speak for the past but in 2021, their course marking was excellent.  It goes to show that even if you have a local brand that may not have been perfect in the past, maybe it is time to give them a second chance, especially after the year the OCR industry had in 2020.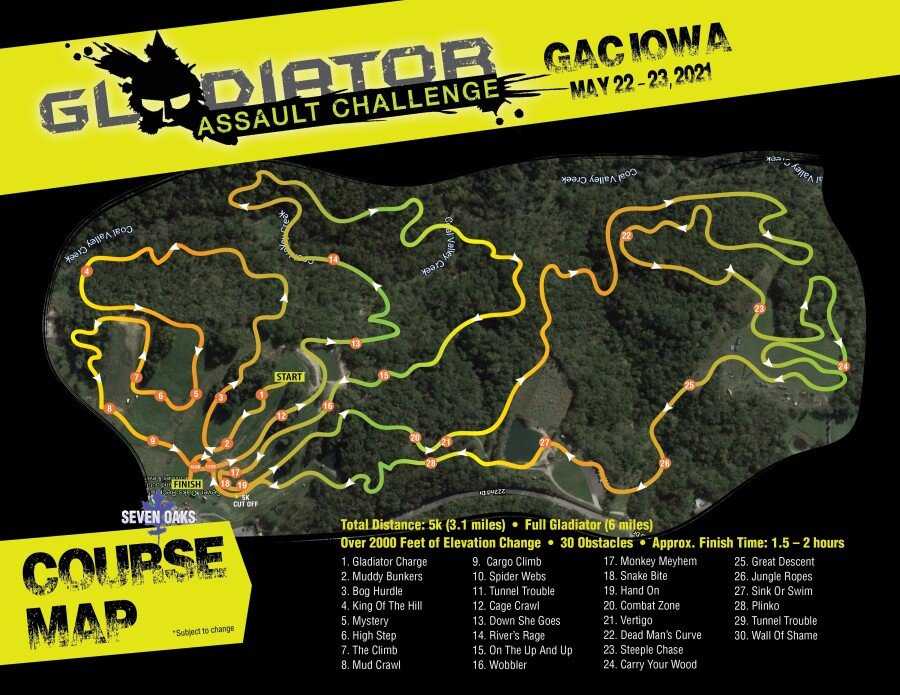 Obstacles:  The Midwest is noticeably a black hole of Spartan races.  If you are a Spartan fan but want lower entry fees with a more intimate atmosphere, this is for you.  Obstacles included things like several giant slip walls, short/tall walls, low crawl, cage crawl, barbed wire crawl, mud pits, vertical cargo net, A frame cargo net, tube crawls, spider web rope maze and some steep ascent/descent trails with ropes to name a few.  The course was a lot of fun and well done.  If you are the type of person who wants technical rigs and a lot of grip strength obstacles, you won't be a fan of Gladiator Assault Challenge.  Bottom line, is it's an Obstacle Course Race (OCR) and variation between brands and events is what makes our sport great.  Gladiator Assault Challenge adds their own unique feel to the overall view of the sport.
Atmosphere:  The atmosphere was great with loud music and lots of obstacles in view of the festival area.  The course was setup in three different loops so spectators got to see their racers four times over the entire course of the event.  In the finishing chute you got your finisher beer, which is something I thought was really cool and added to the party atmosphere.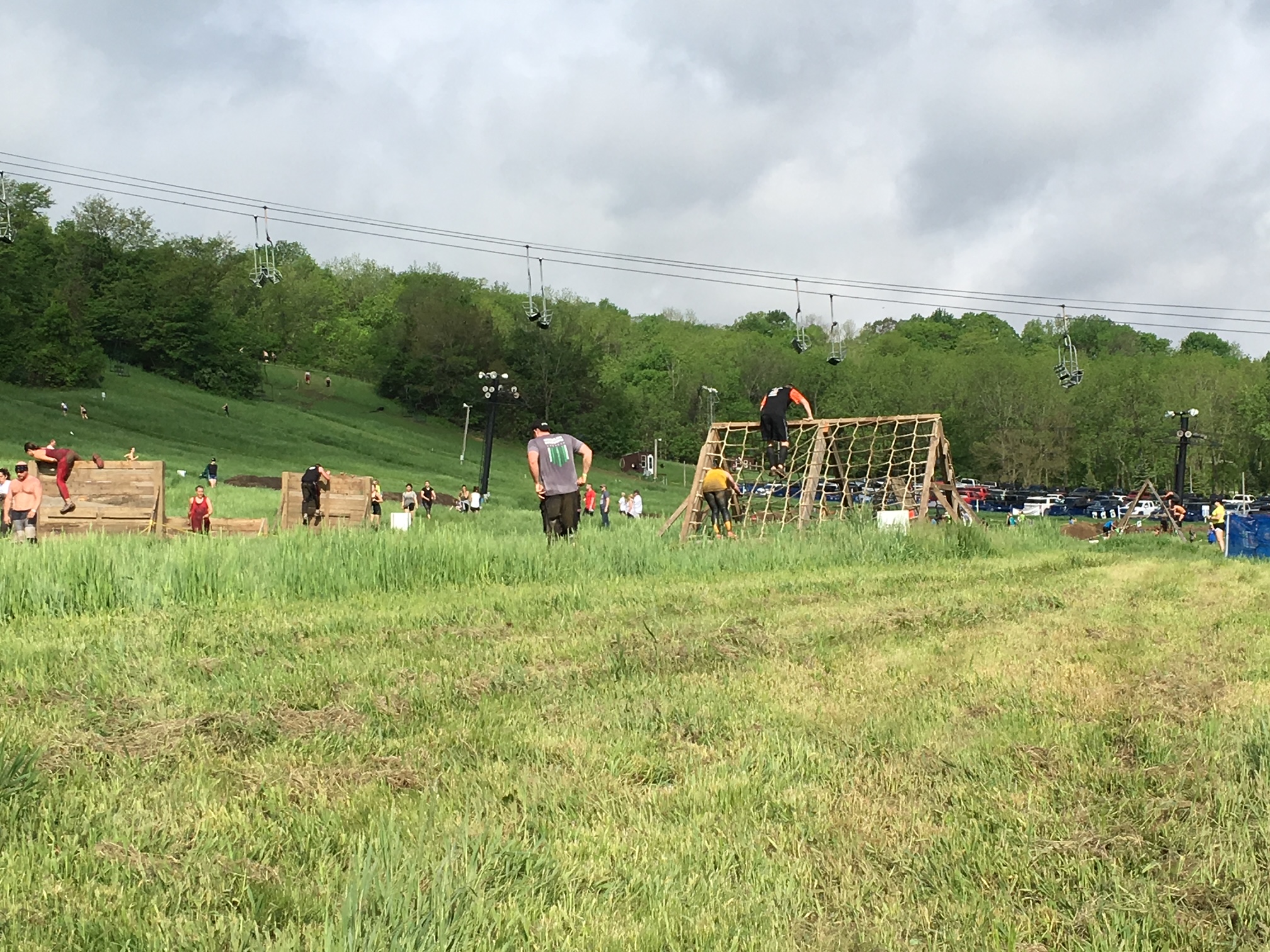 Competitive Portion: The competitive heat went first, as usual and since I wasn't familiar with Gladiator Assault Challenge, I wasn't expecting a lot of competition.  However, with fewer races in the Midwest you never know.  Spartan Pro Mike Ferguson won the event with Andrew Minear coming in 2nd after they smoked the field.  The top female was Margaret Chamas (who finished 4th overall) with Meredith Todd coming in second.  Wooden swords were given to the top two in each gender.  Normally, going three deep is customary for most races, but this was clearly explained ahead of time on their website so no hard feelings when I crossed the line in 3rd.  Honestly, I think I like my finisher picture better with 1st and 2nd with their sword and me holding a banana instead.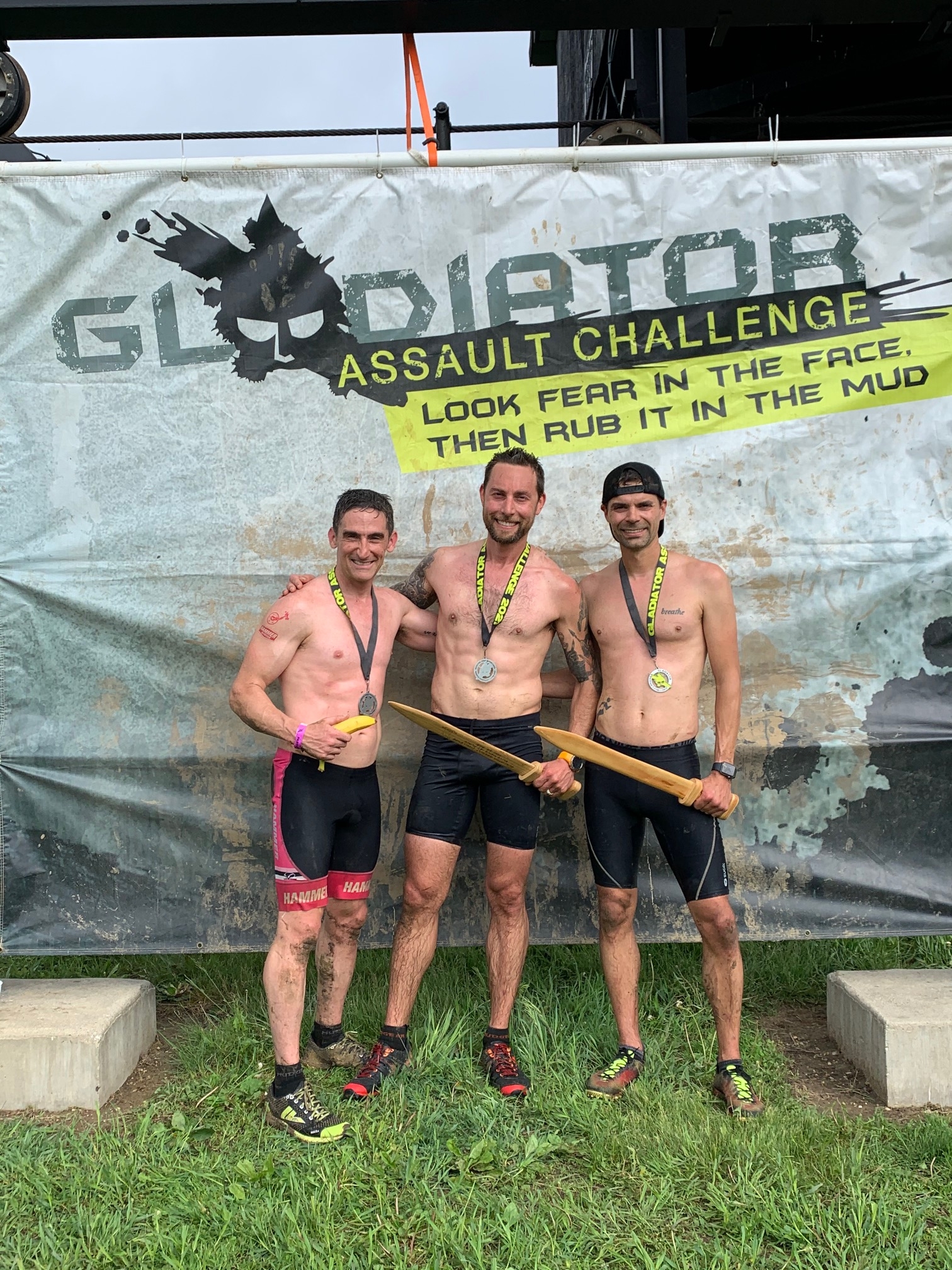 Overall: Gladiator Assault Challenge has been holding races since 2012, making it one of the oldest continuously running OCRs in the nation.  Honestly, I can't believe I wasn't tracking this race before this year.  While the effect of COVID has canceled a lot of my usual races, the benefit is I'm discovering new (to me) hidden OCR gems, like this one.
I was told by a friend they were expecting 2000 people over the two day event, which is an insane turnout for the Midwest with its lower population density.  The event was great, the staff was friendly and the course an unforgettable experience for a Midwest race.  I'm looking forward to next year…maybe with a little more hill training beforehand though.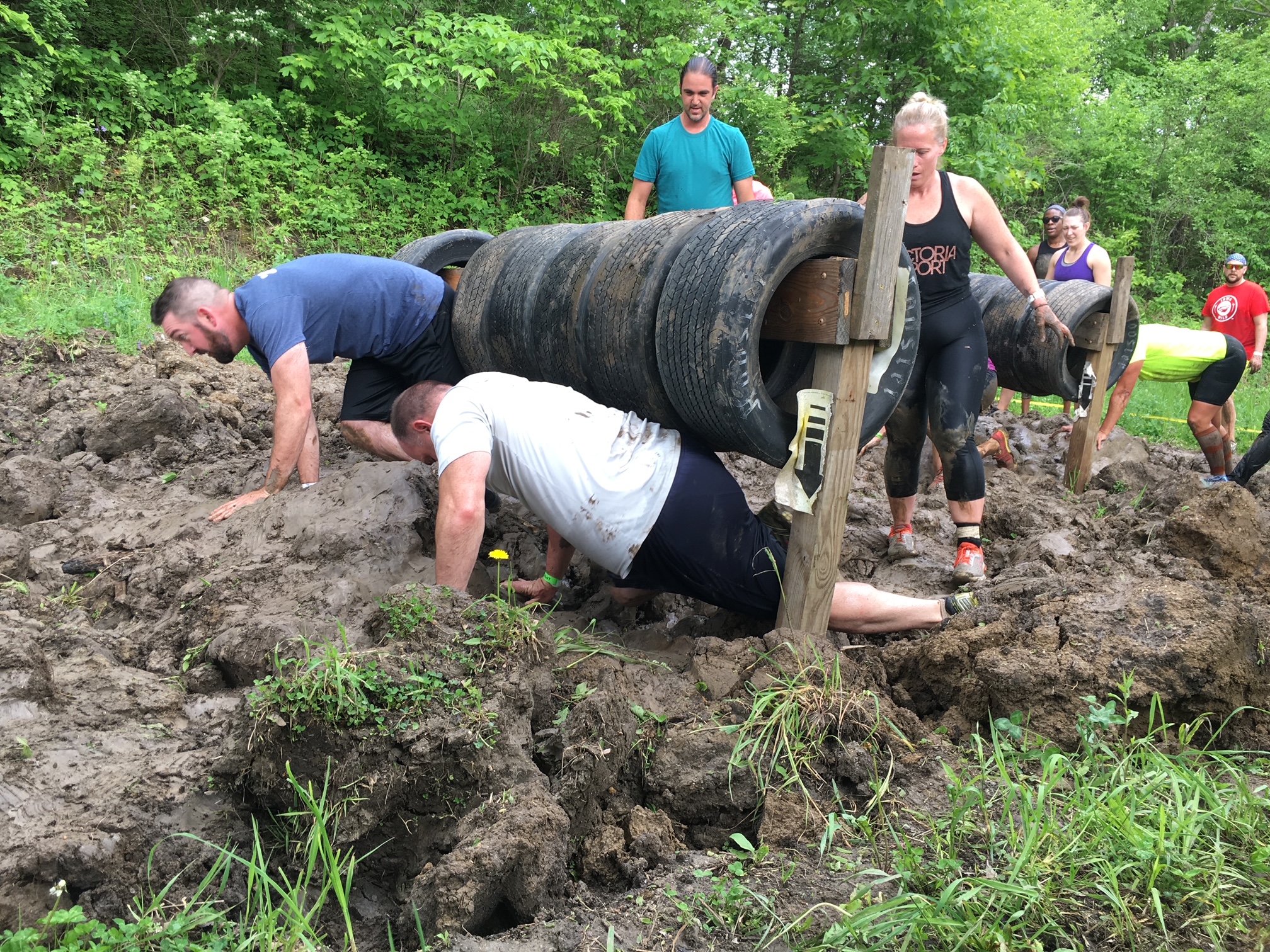 See 2017's video below, which you can see a lot of the main mountain running area.  Many of the obstacles looked similar in 2021.
Rating: 5/5
---
Have you done an Gladiator Assault Challenge?
Leave your own Gladiator Assault Challenge review and feedback...