Rugged Maniac is one of the oldest multi-state brands in the United States and after more than two years since my last one I wanted to see what they are bringing to the post-quarantine 2021 lineup of events.  So…I headed to Oklahoma City to #GetRugged and see if they are still bringing the party that they have been historically known for:
Check in/Parking:  Parking was easy and was close to the start line as well as the festival area.  After a very short walk, check in was fast and efficient with multiple lanes open.  They also had an option for VIP parking and VIP check in, an add on you had to choose during initial race registration (check Mud Run Guide next week for details on "The Rugged VIP Experience" publishing soon).
Terrain:  All of the Rugged Maniac events I've done have been on ski mountains (albeit small ones…but ski mountains none the less).  This event, however, was at Remington Park a horse racing track and casino…which means it was flat and fast.  The course had almost no elevation gain and you got to run on the grass, on stretches of the horse track as well as even a couple of small paved portions.  The final gauntlet of obstacles was in a large grassy field that ultimately finished up right by the start after running by the festival one more time.
Obstacles: Rugged is known for their fun obstacles and, as usual, they delivered.  With four different inflatable obstacles on course you could really toss your body around hard without fear of injury.  However, they did have some challenging ones including Barzan (pipe angled in various ways and some on free swinging wires, like a more challenging version of monkey bars) and an obstacle called Hang Loose (horizontal cargo net traverse that was loose).
My favorite two obstacles (besides Barzan) were Off The Rails (like a mini-zip line) and the final obstacle Mount Maniac.  Off The Rails is quick but fun as you slide toward the bell, splash in the water and continue running.  The final obstacle Mount Maniac is a combination warped wall, into a cargo net climb and then concluding with the largest inflatable slide I've ever seen.  It makes the conclusion of the event one that is hard to forget.
Atmosphere:  Rugged Maniac has always been known for the party (reference Mud Run Guide's Ultimate OCR Bucket List book).  In a post-quarantine OCR world, I wondered if things would still be the same.  Showing up to this event felt 100% normal.  They still did pull-up contests, stein hoisting, the announcer was still lively/funny, the music was still blasting and people were having a good time.  If you are worried about Rugged Maniac not being like they are used to, do not fear.  It is just as epic as always.
Competitive Portion:  As always, Rugged's first wave of the day is competitive with athletes trying to be the fastest to complete the course.  The race recognized top three men/women in a podium ceremony afterwards as well as top male/female that was 50 or over.
Multi-Lap:  Rugged also has a multi-lap option called Rugged X.  Check Mud Run Guide soon for the article "Rugged Maniac Goes Extreme" for details on what that is like.  However, a quick synopsis is that it is not competitive but a fun way to extend your day as well as run additional laps with friends/family and get some of the perks of the VIP experience with less cost.
Overall:  After a year of limited OCR, it feels great to be back racing and experiencing everything that the industry has to offer.  Rugged Maniac maintains its position as one of the most fun OCRs in the country.  A lively atmosphere, beer and obstacles that are unique/fun make this an event you need to fit into your race calendar.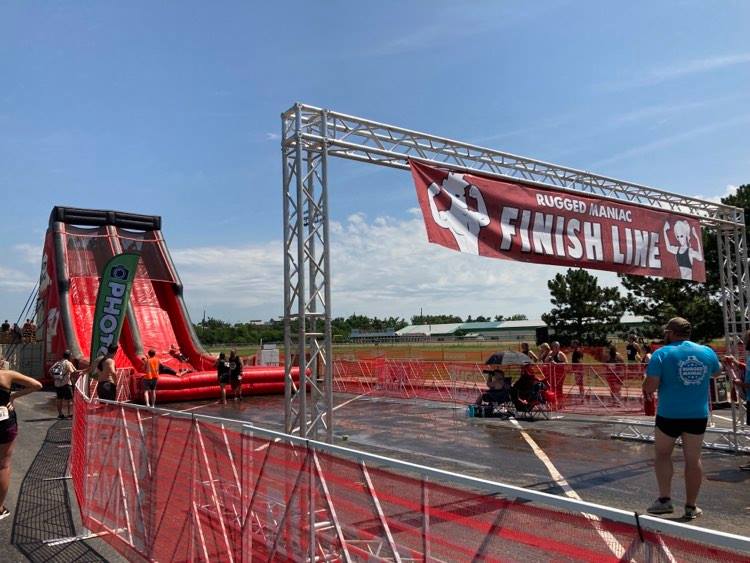 Rating: 5.0/5
---
Have you done an Rugged Maniac?
Leave your own Rugged Maniac review and feedback...
---
This author is part of the Mud Run Crew and received a free race entry in return for an independent review. All opinions are those of the author and were not influenced by the race sponsor or Mud Run Guide.
---