MudRunGuide is the official media partner of the Fuego y Agua Survival Run.
Coverage Overview
Click any section below to be taken directly to that part of our coverage
Post Race Analysis & Interviews
Featured Pre-Race Coverage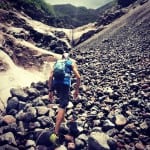 Fuego y Agua Survival Run Preview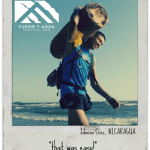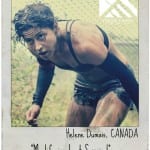 Survival Run Men's Race Preview
Survival Run Women's Race Preview 
Survival Run Team Race Preview
Race Overview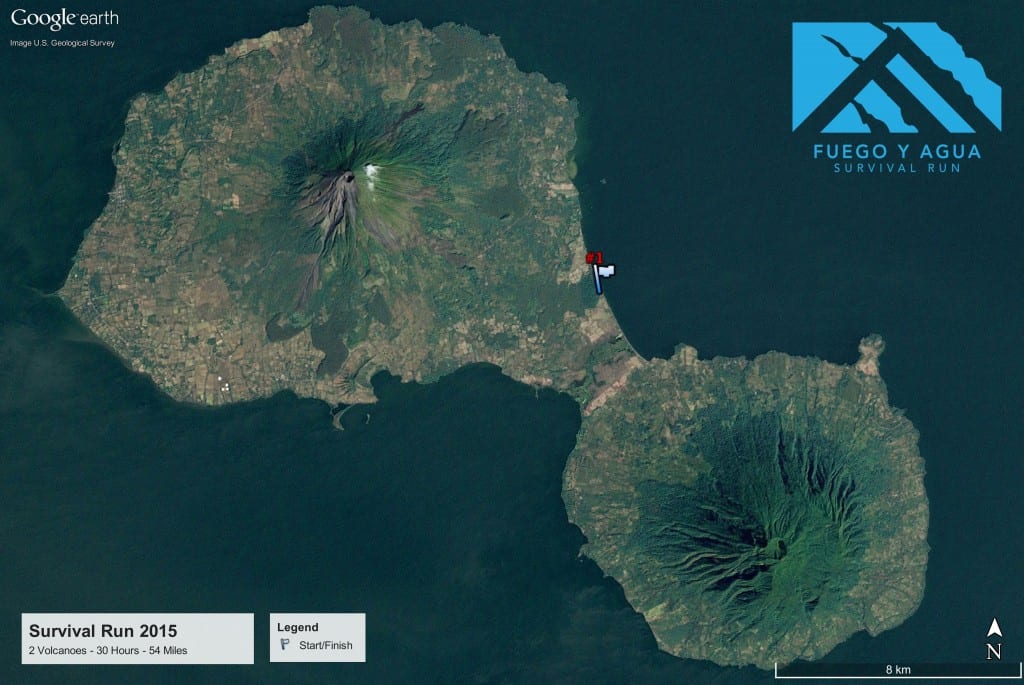 Survival Run Course Map
Race Updates:
Update 1 –  10:15PM EST: The racers started at 4:00pm today after a mandatory gear check. Once gear check was over the racers ran down the beach about 5k to an area of beach across from a small uninhabited island lovingly named "Birdshit Island". Here they swam about an eighth of a mile to get an egg and swim back to shore. Each racer will have to have stay with them for the entire race. If broken they can replace them by stopping into a store and buying another, or trying to trade with a local.
Upon reaching shore again, the racers harvested 50# of bananas from specifically marked trees and ran back to the start. Once they reached the start line again the racers did their first petroglyph rubbing. This is the first of many more to come throughout the race and will pay a role in the finish somehow we have been told. After the rubbing the racers then ran along the beach to a water tank where they retrieved a rock. Each rock had a rubber band on it to be used with their slingshot later in the race. They are now off to Zopilote (another town on the island) for a bucket carry challenge. All racers are still in the race.
Current leaders – Chris Shanks & Paco Raptor followed by Shane McKay in the Men's Race; Karlee Whipple, Corrine Kohlen and Helene Dumais are leading the women's race. Team Nicaragua is currently in the lead for the team race. Lots of racing still to come. Another update in a few hours. Keep watching the feed for current updates.
Update 2 – 6:15AM EST: While most of the world was sleeping the racers are just getting going. The water tank proved the first task to start to separate the field. Team Human Conditions would be the second team to make the drive tank.  After the racers left the dive they ran to another town on the island and started a bucket carry challenge. The racers had to complete four bucket to burlap sack (a mandatory item) carries and the carries they had to climb and descend Maderas volcano.  The volcano climb took the racers through a cloud forest and wet trail conditions, making it even more challenging at night. These tasks have proven to be very time consuming and frustrating for some. Shanks and Raptor as well as Wheeler have moved into check point 3 where they have a bolder rolling, bamboo cutting, and tree climb before proceeding as well as 2 more petroglyph rubbings.
Current Leaders – Only a few racers have made it off the volcano as of this update, Chris Shanks is leading the race with Paco Raptor and Mark Wheeler in 3rd. All the women are still on the volcano as well as the teams.  The first DNF's came in the night with Shenoa Creer, Mark Sahley and Antonio Didonato.
Update 3 – 10:33AM EST: Rachelanne has been out on some of the remote corners of the island following the race. She just sent back some updates on the race. Leading the men's race is Paco Raptor, Chris Shanks, and Ryan Wheeler. These three men have a commanding lead over the field, then Shane McKay is currently in 4th. In the women's race Helene Dumais and Corrine Kohlen are leading the women's race and are looking very strong.
More racers are beginning to drop, Team Platinum Rig,  Haidar Hachem, Paul Kavanaugh, Colin Gilbertson are all out as the DNF list continues to grow. We will update as soon as we know more about challenges, leaders and drops.
Update 4 – 10:55AM EST: The DNF list continues to grow with Alexander Nicholas, Karlee Whipple, Scott Smuin all out of the race. More updates as they come in. From all accounts the frontrunners are looking strong and moving well. Additional DNF's Ekaterina Solovieva and Mitchell Wood.
Update 5 – 1:45PM EST: It appears this has become a two man race between Paco Raptor and Chris Shanks. A time cutoff just happened and many racers will now be DNF's the DNF's are coming in via the Mud Run Guide Twitter Account. John Taylor, Dalton, and Billy are all DNF's and Shane McKay and Helene Dumais were looking strong but missed a time cutoff and are now DNF's. Check the twitter feed as more DNF's come in. We are in the process of confirmed which racers have made all the time hacks. Updates coming soon. More DNF's – Team Human Conditions
Update 6 – 2:00PM EST: From the latest report we were given only 3 men officially remain in the race. Paco Raptor, Chris Shanks, and Mark Wheeler. All other racers have missed time cutoffs or pulled themselves from the race. Apparently a difficult swim in tough water caused issues for many racers. It is now a three man race, we are told Shanks's feet are in tough shape but his mental attitude is great. Others are looking strong.
Fuego y Agua Survival Run Race Results
Survival Run 2015 is over, your finishers are:
Paco Raptor 27:01
Chris Shanks 27:24
Mark Wheeler 29:14
35 racers started 3 finished.
Post Race Analysis & Interviews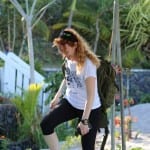 Rachelanne Gladden's Race Recap of Fuego y Agua
Live News Feed