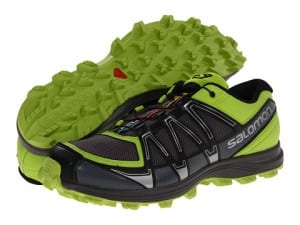 I'm an unabashed shoe snob, and I pose no apologies for my elitist attitude toward footwear. I want the best kicks on my feet and I have no problem paying top dollar for a pair that works and will gladly box 'em up and send any pair back that doesn't meet my needs. From Nikes to "no-names", I have a closet full of running shoes that would make Imelda Marcos envious (and maybe she'd even decide to take up jogging). Minimalist Luna huraches and maximalist Hoka ONEs share space with old school Converse kicks and about a dozen different colors and models of Spira Footwear training kicks and racing flats. Plenty of other high-end shoes are hanging out in storage bins that I've worn over the years and had differing levels of success with; and I even have a Newton Running tattoo on my leg, they paid for my Ironman entry in '09 and were my shoe of choice back then.
Even in this vast 'shoetopia', one class of shoe is poorly represented; trail-running & off-road shoes. Ever since I got sponsored by Spira Footwear in '10, I've  never wanted for another running shoe… but they haven't released their trail version yet and I've had to fend for myself. The trails around my Phoenix home have been kicked up by a myriad of different brands over the last 5 years – Pearl Izumi, Nike, Merrell, Montrail, Vibram, Hoka ONE, Brooks, New Balance and a few others that I've surely forgotten about. No one brand has dominated my trail running footwear as I flip-flop from one pair to the next. My criteria is pretty simple: Comfort, grip, rock protection on the sole & instep, and some cushioning for some of the steep downhill sections I like to run. Some of the models I have kicking around have come really close (the Pearl Izumi XC's were a long-time favorite) but none have been a sure-fire home run.
When I was asked to test the Salomon Fellraiser, I was a little giddy with excitement; I grew up skiing and have always been enamored with the Salomon brand for outdoor gear of any type. On top of that, the shoes looked impressive with all those gnarly treads and just screamed DOMINATE OCRS to me.  I posted on our facebook page and out member-only facebook group a note about testing 'em, and I got a bunch of responses from other athletes that were interested in trying the Fellraiser out too. About 28 seconds after the UPS guy rang my doorbell a few Fridays ago, I had them out of the box and on my feet. Since I was in the middle of writing a couple books, they spent the day walking around the house instead of out on the trails for a spin. Their first test was less than 18 hours later at Terrain Mud Run to take on the 12+ mile course in Chandler, AZ.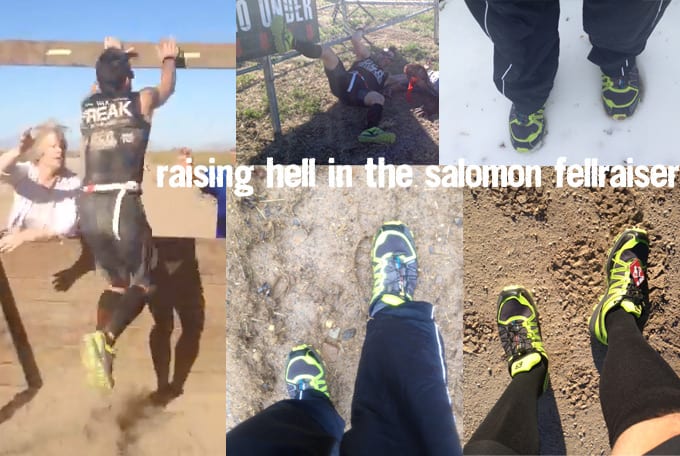 First Test: Terrain Mud Run – A light jog from the parking lot at Wild Horse Pass to to the registration table seemed comfy, and the grip on loose gravel, dirt and even pavement was pretty impressive; they felt like a pair of thick-lugged offroad tires ripping into the ground with every step and I was immediately hooked. I was heading off with the elite heat, so I cinched up the laces with the built-in toggles and tried to figure out how to secure the long end. Oh well, I just shoved it back into the laces and headed to the start line. For the first few miles, the shoes were rather amazing, from mud to obstacles, the grip was unrelenting. After a few more mud pits, I noticed my feet were becoming heavier and heavier, and my toebox was pretty well caked with mud and rocks. Since I wasn't wearing gaitors, I wasn't all that surprised – but I was a little alarmed about how slowly they were draining the water and how quickly the 5-pound shoes were draining my energy. In the past, I've worn Merrill Trail Gloves for OCR's and while they provided minimal protection, they drained super fast and remained light for Warrior Dash, Spartan Race Super and Tough Mudder distances. By mile 10, I relinquished my lead on the field and finished second by ten or so seconds, and was alarmed how heavy and sloshy my feet were for the whole second half of the race. Back at my Jeep, I fought mightily with the lace toggle to get the shoes off and was ever so close to cutting them off as the toggle was so crammed with debris that they were both relatively useless.
My first impression: The poor drainage made them a poor choice for muddy OCR's, and the damn heavy shoes robbed me of first place.
Second, Third, & Fourth Tests: The Zombie Run Extreme, Snowshoe Mountain, and Rugged Maniac, respectively – The following week, I dragged 'em out for a water-free 5k at The Zombie Run Extreme, and they performed admirably. I still wasn't thrilled with the laces as they got jammed again, but I actually started to fall in love with the grip and comfort after a few flat, fast miles of dirt – and changing directions quickly while being chased (and severely outnumbered) by zombies was a big plus. From the heat and dirt of the AZ desert to the snowy, muddy hills of a WV ski area a couple weeks later, I chose to give the Fellraisers a real test of grip while I was trail running at Snowshoe Mountain. Up and down over muddy, slushy, and snowy trails was the perfect example for me of how versatile these shoes really are. The grip was impressive on all conditions, and they even kept my feet slightly dry in the mud and snow due to their high waterline. A few ankle-deep sploshes through a creek and they seemed to drain well enough to continue running. It also bears to mention that these were the only pair of shoes I brought along for the cross-country trip, and I would be wearing them a few hours after my run to have dinner with the staff at Snowshoe.
 Back at my room, I tossed them in front of the fire while I took a nap, and when I woke up I realized I'd completely ruined part of the shoes – and made 'em even better.
I woke a few hours later with a start; I nearly overslept and missed dinner (and the accompanying business meeting that I'd traveled 2500 miles and 13 hours for) and after a quick shower I got dressed and grabbed the left Fellraiser to check if it was dry, and was very surprised that it was. (YES!) I slipped my foot in the right one and headed to the door, and knew something was wrong – it seems the fire had completely melted the right footbed, and it was all curled up and digging into my heel. I had no choice but to rip 'em both out and go as is. This also meant that the next morning's "time trial" on the course I'd roughed out would be without footbeds as well as my flight home. The walk from the hotel to dinner, the following morning's semi-epic trail run and even a flat-out sprint from Gate F to Gate C at O'Hare Airport were all rather awesome; without the inserts the shoes were even more roomy and comfortable then with.
On November 23, I drove down to a rainy (yes, it even rains in AZ once in a while!) and muddy Rugged Maniac course and subjected the Fellraisers to even more mud than they'd seen at the Terrain Mud Run, and they performed exceptionally well. Without the inserts, they drained even quicker and held a lot less water as the original footbeds had spongy foam at the toes that did a pretty good job of soaking up the muck. Even in the thickest mud, I still had pretty good traction and was able to maintain a steady pace and finish 2nd in my heat. The deep treads held a lot of the really thick clay-like mud, yet they were very easy to clean with a stomp or a run through some water.
Current Impression: Comfortable, lots of traction, plenty of footbed protection climbing over rocks or obstacles, and a decent amount of cushioning (even without inserts) = a four-star review for all off-road conditions.
The Final Word: These are a must-have for OCR's, mud runs, scrambles, or trail runs. They even make decent shoes for running through an airport like OJ in the old Hertz commercials, but next time I'll pack my Spira Stinger XLT's instead.
Pros:
Excellent traction

Comfortable fit, snug, but not binding across the top of my feet and a roomy toebox
Plenty of cushioning underfoot due to the huge soft rubber lugs and foam soles
Relatively lightweight for a supportive, protective trail shoe
Water-resistant to about 3/4″ above the sole
Somewhat decent drainage – especially once the footbeds are removed
Cons:
The tongue and toe portion of the footbeds are sponges and hold plenty of water after they are submerged

Due to the high water protection on the sides, they can't drain from the sides and any excess water needs to exit through the upper – this can take a little while
The shoe lace "speed toggle" is relatively worthless; it jams up extremely easy with any small debris. The thin laces also seem as though they could break rather easily. Shoes of this quality and in this price range should have better laces.