If you've ever looked at a kid's play place and thought "If only that was bigger, I'd get in there and have a blast" or wondered what the maximum weight was for a birthday party bouncy house, or watched "Wipeout" on ABC and thought "I can do that!" – then R.O.C. Race is for you. Yeah, it totally is.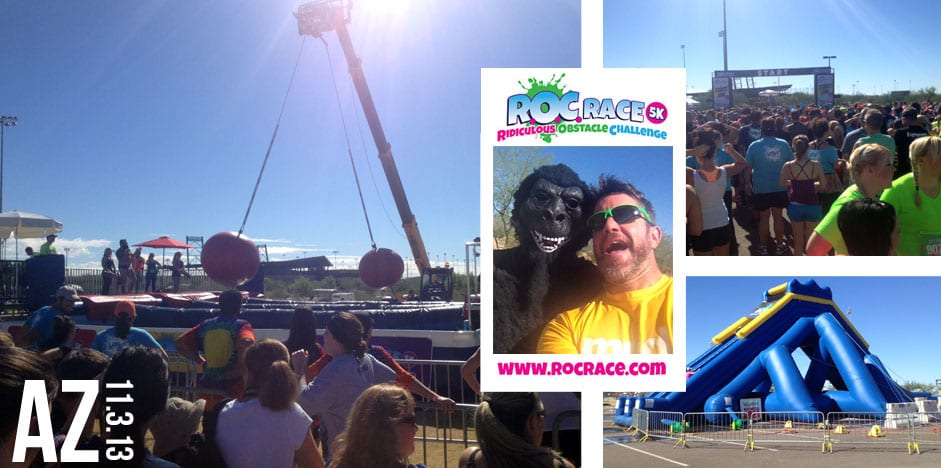 Are You Ready to ROC?
When you hear "5k" and "A dozen obstacles" you may be thinking you're in for a 3.1 mile race strewn with obstacles… and you'd be way off the mark. Sure, you can approach the ROC course like it's a Spartan Race and run as fast as you'd like (I did) to get through each of the amazingly fun obstacles as quickly as you can (and do 30 burpees for every one you failed, but I succeeded at 'em all) only to find out… you missed the whole point of this race. Yeah, I was that idiot who PR'd an un-timed race! Well, that may be mostly true, but I enjoyed the heck out of 11 of the 12 obstacles and saw thousands of people around me having a good time.
So, do you need to prepare or be "in shape" for a ROC Race? The trainer and fitness author in me wants to say "Yes!" but that's not the reality. ROC Race is accessible to most anyone that is capable of covering the distance and climbing, crawling, bouncing or sliding over the mostly inflatable obstacles. Walking is the common way for everyone I saw to get from (fun) obstacle to (really fun) obstacle, and I counted the other runners around me on exactly zero fingers. In order to not be "That guy who takes it too seriously" I smiled and chatted and tried not to run anyone over. (If I hadn't screwed up my plans and had Kristen along with me, we would've jogged at whatever pace she wanted – but that's a completely different story that I'll need to buy flowers for and make up later.)
What's the Course Like?
The Scottsdale, AZ course took place in and around the Salt River Fields AZ Diamondbacks' Spring Training facility – and it's absolutely beautiful. We ran some stadium steps as well as all over the grounds and parking lots to make up our 5k distance. The course was clearly marked, and even though there was a lot of doubling back it didn't feel like a rat's maze due to the placement of the obstacles which were spaced out evenly through the course, and it never seemed like you ran more than a few hundred yards from one to the next. The "obstacles" really shouldn't be classified as such, so I'll break them down into 2 categories: Fun and Challenging.
Fun: (These names are of my own doing, not the official ROC names)
(3) sets of water slides, including one billed as the world's largest inflatable version

Bellyflop slide (face-first on a horizontal water slide
World's Biggest Bouncy House
Foam Fury
Challenging:
6′, 7′, or 8′ wall

Shin-Bashers (my name, guess what I did on this obstacle?) Water-filled plastic Jersey Barriers to jump over
Big Red Balls – think Wipeout
Wrecking Ball – their premiere obstacle
Tarzan Swing
Tight Rope Traverse
Gorilla Bars

How Much Fun Are You Willing to Have?
Seriously, you can make ROC Race about as much fun as you want – walk, run, bounce, slide, splash, party, celebrate in the foam afterwards, grove to the tunes, spectate at any number of crowd-friendly obstacles – it's all up to you. One thing I greatly recommend is to show up at ROC Race with a big 'ol bunch of friends; there's WAY too much fun to be had to do this race by yourself as I did. Pepper your group with newbies to 5k's and obstacle races so you can enjoy the excitement and accomplishment in their eyes as they complete obstacle after obstacle. Trust me, your mom, brother, wife, hubby, co-workers, little sister (provided she's 13 & up), and even Steffy from Accounting will have a blast. You brother in-law who loves Tough Mudder? Get him in a tutu and put together a road trip down to the next ROC. There's something for everyone, and even the quasi-competitive runner in me learned to relax and enjoy myself… right about the finish line.
Get Ready to Get Your ROC On
To learn more, check out our R.O.C. Race page, and stay tuned to our Race Discounts Page to save a few bucks on your next ROC Race!