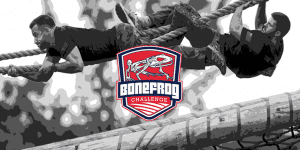 New York City Bone Frog Challenge Sprint / Full Fall 2014 – October 4, 2014
Bone Frog Challenge has graciously provided me with a media pass for their upcoming 5K and 15K obstacle course event taking place on October 4th 2014 in Staten Island, NY. Chief Executive Officer Brian J. Carney also was able to provide me a pre-event interview.
I have personally known about Bone Frog Challenge for some time and really wanted to participate in the previous New England course/event held May 17th 2014 but I was not sure at that time I could handle the course and 15K distance and I am sad to say I did not go. This upcoming event has been one of my most anticipated for months, and I am excited that its now only a little more than a week away!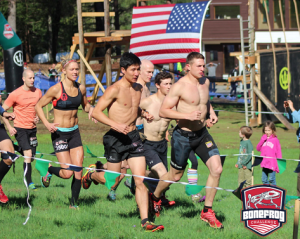 The first thing I asked Brian was what made the NY course different from the previous course in New England. Brian explained the NY course is very different from the New England course, for starters almost every inch of the course is on some form of micro terrain, meaning there are almost zero flat spots on the course except for a few and that is where they are placing most of the obstacles so runners legs are going to be smoked early and often. The course is going to be 8.7 miles long, and packed with the hardest obstacles they have. The actual race will take place on three separate properties that all connect to each other. The main venue and event will take place on Henry Kaufmann Campgrounds; this is where registration, the events Start and Finish will be, and as well as many of the obstacles. Brian explained the Kaufmann trails are tight and very hilly so it will be a constant up and down for the participants. The next part of the course will go through NY State Park Greenbelt Conservatory; the trails will be wider and have many small ponds. which the runners will get to enjoy. Brian pointed out, for the "runners" this will be a good opportunity to make up some ground. The hills and gullies are steeper and deeper in the Greenbelt and cardio will definitely be tested. The runners will then go into Pouch Boy Scout camp, here the course opens a bit and will have a gauntlet of obstacles set up in the main Jamboree field, serpentine style, so the entire human body will be pushed to the max here to make it through. After that it's a race to the finish where they still have some of the biggest and hardest obstacles on the course. Pouch Boy Scout camp has more ponds for racers to deal with before crossing the Finish and being able to call themselves a Bone Frog!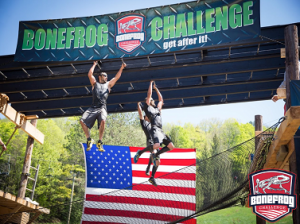 Bone Frog Challenge was created by Navy SEAL's to challenge, build and inspire participants to become better athletes and recognize that they can do anything they set their minds to, while enjoying the camaraderie and teamwork usually reserved for Active Duty Navy SEAL's.
We talked about the challenges of building the NY course, it was both the terrain and dealing with the different properties. Brian explained there are many "off limit" areas for heavy equipment and anyone who has run a previous Bone Frog Challenge would be able to attest that their obstacles are huge. Without heavy equipment the obstacles cannot go up so with that said, they planned the course out in painstaking detail to ensure that not only "any" obstacle but the "right" obstacle is perfectly placed on the course to test the racers at just the right time. All the Bone Frog obstacles are created to test one's athletic ability. Brian made it clear Bone Frog Challenge does not have any ice baths, electric wires, or colored powder to throw in participants faces because that is not how SEAL's train for combat and doesn't test you in any way other than just proving you can take a kick in the (bleep).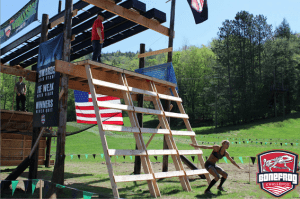 They also offer a volunteer incentive, all volunteers receive a free tee-shirt, free beer (21 or older), food, and 50% off a future Bone Frog Challenge event!
I felt it was important to include a portion of a review written by one of the premier OCR athletes in the World and received his approval to include it in this article. This is what Junyong Pak wrote about his experience at Bone Frog Challenge: "If you missed it, you missed out. After having some time to digest and reflect on this weekend's Bone Frog Challenge, I can sincerely say that this was one of the best overall race experiences I have had to date. Because most races these days must cater to 90% of the racing population, they can't deliver a beat-down quite like the Navy SEAL's can do and get away with it. There were no fewer than 40-45 ass-kicking obstacles–many of them first I'd ever done–over a 9-1/2 mile course." Go check out one of their future events sometime if you want to really test yourself and for a great time. Thank you guys for putting this on and for your service to the country." – Junyong Pak
Now to the part of the article that means most to me, Bone Frog Challenge contributes to three charities. Those charities are the Navy SEAL Foundation (NSF), whose mission is to provide immediate and ongoing support and assistance to the Naval Special Warfare community and their families. The 31 Heroes Project which was established to honor the 31 Americans killed in action in Afghanistan on August 6, 2011, (a Boeing CH-47 Chinook military helicopter, call sign Extortion 17, was shot down while transporting a quick reaction force attempting to reinforce an engaged unit of Army Rangers in Wardak province, west of Kabul, Afghanistan). One Team One Fight (OTOF) who helps athletes and event organizers who make a difference in the lives of our nation's warriors and their families.
The donations to charities are done through a few different avenues. First is through registration, when people register there is an option to donate to the charity right then. During the events, Bone Frog pushes the charities to have people either donate to them directly at their charity booth (one of the three charities is at every event they do) and on top of that Bone Frog donates what they can from what they have left after the events. Brian explained, It's not really a perfect science however they have done really well off the last two events. Bone Frog has yet to make a single penny on any of their past two events however at their last race alone they donated $11,340 to the Navy Seal Foundation.
Bone Frog is hovering around 500 participants for the October 4th event with original hopes closer to 2,500 but regardless Brian and staff are going to put on a great event. I really hope this pre-event article will help get last minute participants. This is going to be an epic course and event, that will test both the 15K and 5K participants. The fact they are offering both distance versions in NY leaves no excuses for anyone local to not come out and participate. I personally hold a place in my heart for American Soldiers and Navy SEAL's so anytime money can be raised for charity to help them I want to encourage everyone to do so. I paid for the 15K version of the course when I could have run it via my MRG media credentials. This is your chance to spend time with real Navy SEAL's and for a brief moment truly know the meaning of "The only easy day was yesterday". I hope to see you there!
—–Walter F Hendrick (Sandy)—–