New York NYC City Challenge Obstacle Race – October 5, 2014
City Challenge Obstacle Race has graciously provided me with a media pass for their up coming obstacle course event taking place at Randalls Island Park, NY on October 5, 2014. Founder Elvi Guzman provided me with a pre-event interview.
I first learned about City Challenge Obstacle Race via social media (Instagram), and right here on mudrunguide.com. I grew up in Manhattan and within walking distance to the walking bridge that allowed my friends and I to go over to Randalls Island. I spent many of years visiting the island with my friends and having good times. For that reason alone I really wanted to cover, and run this event.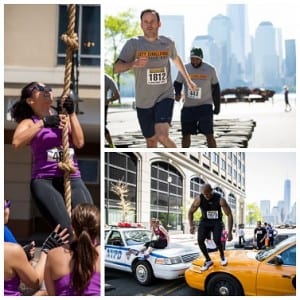 Prior to my conversation with Elvi, I researched City Challenge and what separated them from other OCR players. The first thing I noticed was that the course has no mud or water obstacles. What also caught my eye where some of the obstacles such as Battle Rope Jumps, Sumo Squat Kettle Bell Swings, Slam Ball Strikes, Caravan Parkover, and Heavy Bag Guantlet. At the time of writing this article, I have completed ten different obstacle courses and have yet to experience any of the obstacles noted above. Being someone that loves trying new obstacles and variety, I was even more excited to the run the course.
Elvi explained to me that when he initially decided to start up City Challenge he talked to a lot of OCR people that lived in metro area's. What the majority of them communicated to him was they would like courses and events that were not always in the water or mud. These people made it clear that it would be nice to run events and not have to risk destroying new, expensive, sneakers and gear every weekend.
It was important to Elvi to design a course that participants would be proud to take part in and complete. His goal was to encourage people that have made drastic life changes for the better, to participate for both themselves, and to encourge others. This is the reason he decided on some of the obstacles mentioned above. Other goals were to raise awareness and money for charity and, to date, City Challenge has raised over $5000.00 for the Susan G Komen charity. Helping the Susan G Komen charity is very personal to Elvi as he has a very close family member that is a breast cancer survivor. I could hear the pride he has for being able to help raise money and awareness. The Susan G Komen charity also has a booth and presence at all of City Challenges events.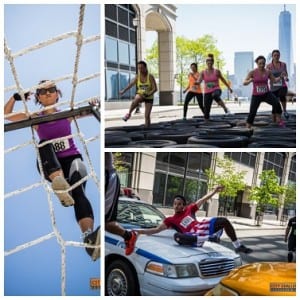 I asked Elvi what to expect at the Randalls Island course and he explained it will begin in Icahn Stadium and then proceed out into parts of Randalls Island and then finish back in the stadium. He explained the "Caravan Parkover" obstacle consists of both real police cars and city cabs. He also explained the penalty for not completing an obstacle is thirty Jump Squats. The course will start and ends in a world class stadium with a great deal of history. To give an idea of the kind of history, on May 31, 2008, Jamaican sprinter Usain Bolt set the then world record in the 100m on the Icahn Stadium track with a time of 9.72 seconds at the Reebok Grand Prix.
City Challenge's future looks really bright, their first event was just last year and for 2014 they have a total of three events, with an additional 6 scheduled for 2015. In 2015 the races will expand away from the NY/NJ area to Miami, Baltimore, and Boston. Elvi has plans to keep expanding over time, but clearly plans to not bite off more than they can chew. Plans are to expand with more events and locations at a rate that is manageable in order to maintain and improve the quality of their events.
Other than the obvious things that separate City Challenge from other OCR's I asked Elvi if there was anything that he wanted the readers to know. Elvi stressed that City Challenge is customer service oriented and the goal is to provide a five star event with five star customer services at all levels of communication and assistance.
With the events taking place in larger cities I was curious if they tried to reach out to inner city kids/teens that normally would not have an opportunity to participate in OCR events. Elvi spoke with great pride that they provide free entry to kids through the Boys and Girls Club, Big Brothers and Big Sisters of NJ and, as well, have given free entries to a local Boys and Girls club in Pattererson NJ.
Besides the obvious reasons, (City Challenge takes place in a very different type of area then the typical OCR events and offers several unique obstacles) I am very excited to be participating on October 5th as I grew up in Manhattan, and I know firsthand how teenagers can get bored and get in trouble so I love what City Challenge stands for and the goals Elvi has for his company.
—–Walter Henderson—–