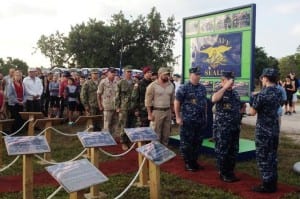 BattleFrog is an OCR "Designed by SEALS.  Conquered by YOU."  So it was only fitting that BattleFrog staged a Veteran's Day Weekend celebration in their home town and invited the world to come and play.  They celebrated the final race of their first Season as a major player in the OCR community by putting on what many called the best race in the best venue of any events they've done so far.
The Veteran's Day tribute was evident from the start when the SEALS staged a Flag Ceremony to honor the ultimate sacrifice made by Major Samuel Griffith, USMC, who was killed in Afghanistan in the service of his country.  There are placards on platforms at all BattleFrog races that commemorate the life and loss of a US Serviceman.   The racers and spectators stood in silent respect while the ceremony unfolded and our country's flag was presented to Major Griffith's parents.  As the bugler played Taps it was apparent that we run these races for the fun of it, but when we can also support charities like The National Navy SEAL Museum and Memorial Trident House, The Navy SEAL Foundation, and the Foundation for Navy SEAL Veterans we can honor the dead while we support the living.
Venue and Registration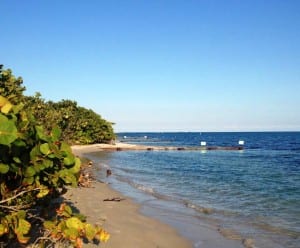 Virginia Key Beach Park is just across the Bridge from Downtown Miami, and it is a truly gorgeous place to run an obstacle course race.  Surrounded by beaches and surf, this promised to be a "mud run" with a twist.  Most of the running was in sand and the water, but the final mud crawl at the Normandy Jacks obstacle featured imported black mud that was both fun and pleasant to struggle through.
Parking was in the paved lots near the Festival area and getting into and out of the venue was very pleasant.  The registration process experienced some bottlenecks when the crowds picked up so there were some extended periods of time spent in line for some racers, but BattleFrog promises they are working on this and it should be much faster at future events.
The Festival Area was dominated by Tsunami, BattleFrog's quarter pipe and water slide obstacle that was right in the middle of the compound and there were many obstacles that could be viewed by spectators without leaving the Festival.  Food Trucks and refreshment booths were set up in more than one place so it was easy for folks to eat and drink whenever they wanted.  The Merchandise tent was readily accessible and it was a breeze to spend your money on the wide variety of BF "Swag" along with copies of books written by members of the Team.
There were tents set up to support BattleFrog's charities and vendors, and fitness competition areas where people could compete for prizes before or after they raced.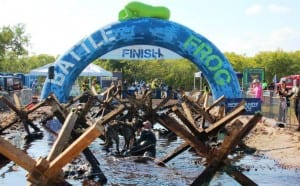 The Seals staged demonstrations of live combat training missions with explosions and blank gunfire, along with some hand to hand combat which thrilled the spectators and kept everything lively.
Kid Friendly
Children were welcomed into the event with open arms and some really nice activities that gave them a chance to participate.  There was the Tadpole children's race so they could get out there and get dirty just like their parents, and a play area offered some inflatable bouncy toys that more than a few "grown ups" took advantage of.
The Race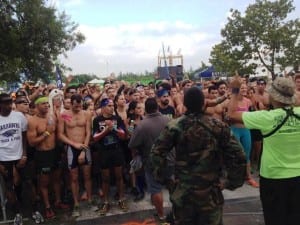 BattleFrog usually has both a 15k and a 5k race running at their events, but this was only a 5k.  GPS info afterwards showed it to be 3.8 miles so there were no surprises.  A refreshingly high percentage of the running was out in the warm ocean and in a creek bed that wound through the jungle (and is home to live crocodiles, though no one reported a Croc Encounter).  And it needs to be mentioned that the race was on flat land.  No hills.  Barely even a speed bump.  If you're tired of climbing up steep grades like a mountain goat at every single race, this was the race for you.
It was beautiful and sunny as Coach Pain Dewayne's amplified voice welcomed the Elite Runners to the starting corral to compete for cash prizes.  The Elite runners were required to complete every obstacle unassisted.  Failure on an obstacle resulted in disqualification from being in the running for the money, and the runner had to ring a bell signifying the fact that they were no longer in the competition.  This is straight from Navy Seals tradition where a candidate rings a bell when he quits the training program.
The Obstacles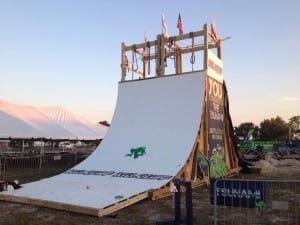 The obstacles were tough, inventive, fun, and a thrill to complete.  But as an older, slower athlete who's recovering from injuries, there are just some obstacles that I cannot complete by myself.  But do not let that keep you from getting out there and trying!  Teamwork is what OCRs for Open Heats is all about.  You learn more from having teammates help you over a 12 foot wall than you ever could by just not trying.  It's all about pushing yourself to the limit and seeing what you can do, and people are always willing to assist you.  Then you help someone else when they need it.
For a 5k race there were 27 officially listed obstacles, but many of them were multi-stage ones where you did several elements while only considering it to be one obstacle.  There was never more than about a third of a mile of running before you came on your next challenge.  This was truly wonderful for those of us who hate races where we run for miles before tackling five or six obstacles all bunched together only to run for miles again until the next fun break from the running.
There were Over/Under/ Trough walls and Hump Overs where you climbed over horizontal poles; a  fairly tall slatted wall to climb over to work on your fear of heights; then my favorite sandbag carry of all time.  Carrying a bag on flat land may not seem tough, but lugging it out into the ocean and around buoys out in the surf was beautiful, challenging, and fun.  Then we waded back out into the surf to take on one of the newest obstacles, a water weave that is straight out of the Seals' 24 week BUD/S  (Basic Underwater Demolition/SEALS) training course.  You went over and under horizontal logs while out in the water.  This was another fun one because you just don't get to do this kind of stuff every day.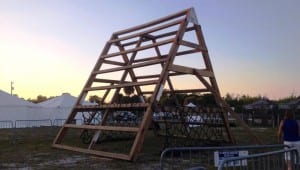 After crawling under a cargo net we wound our way back into the festival area where we snaked through pipes under a spectator bridge and took on the monkey bars angled down over water.  There were traditional bars, and for the Elites and the ambitious there were rock climbing cleats nailed along the sides of wooden beams that you had to negotiate across the water.  The challenge of the cleats was evident in the number of bells that were rung here in failure.
Another new obstacle was the Angled Walls where you stretched out between two walls using your hands and feet to keep you off the ground while you worked your way sideways through the obstacle.  The coiled wire at the top kept you from going to high, and falling to the ground resulted in 8 Count Body Builders.
There were some other obstacles before we headed back to the waterfront to encounter our SEAL trainers who led us through some SEAL PT performing jumping jacks in the sand, 8 Count Body Builders, and scissor kicks while lying in the surf.  The bucket carry was where we went into the ocean and filled our bucket with water, carried it back up onto the beach, then dumped it over our heads.  Twice.  This beats humping a bucket of rocks up a mountain any day in my book.
Then we got to play on the beach some more.  Actually we ran along the beach, then out into the surf to climb over jettys and boulders, and back onto the beach, and then back into the water to climb over more jettys and boulders, and back onto the beach, etc.  Again, fun, challenging, and different.
We left the beach for the final time and ran through the jungle creek where the crocodiles live.  There were signs all along the beach and creek advising the casual park goers that there was "NO SWIMMING ALLOWED".  These signs were pretty funny to see when you're up to your chest in the water.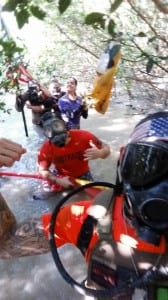 Carrying heavy jerry cans through the jungle was quite long and challenging too.  Women who wanted to prove their toughness even went so far as to carry two of the heavier men's cans just to disprove the "weaker sex" notion.
Tip of the Spear is an angled wall with ropes and then cleats where you work your way sideways with your feet on the wall in the ropes and against the wall in a traverse at the cleats.  We climbed over 6' and 8' walls and a 12' wall with a rope.  There was a nice, high cargo net climb.  We ran through tires, and headed back to the Festival area.
We had a chance to shoot paint balls at swinging bells.  They tried to keep us to a certain amount of shots, but it was so much fun I kept squeezing off rounds and spattering the ringing bell until they made me stop.  There was a huge A Frame Obstacle with rungs spread out further than I've ever seen and it was both a physical and mental challenge, especially for people with a fear of heights.  The cargo net suspended in the middle of it did little to alleviate the fear of what could happen if you fell.
Then came Tsunami.  A quarter pipe obstacle that's both slick and tall with ropes to grab onto to pull yourself up to the top.  Volunteers and teammates and fellow runners were poised at the top to help, but failure resulted in a slide all the way back to where you started.  If you failed, at least you got to climb a ladder to the top so you could go down the really fast and fun water slide that took you to the only real mud of the day.  You crawled through thick, black, mud that was like wet potting soil and really a joy, even if you slipped and ended up covered from head to toe in black goo.
Crossing the Finish Line got you a beautiful medal hung around your neck, water, fruit, a free beer, and a chance to celebrate and have pictures taken with your friends before cleaning off.  Most people just went back to the beach and cleaned off in the warm ocean water.  Of all the races I've run, this was the best cleaning I've ever done post-race.
After the Race and Impressions.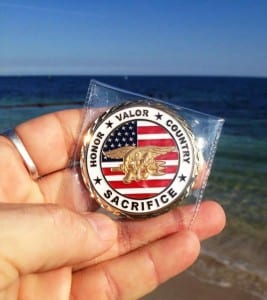 The fellowship and fun of the Festival made many people hang out at the venue well after they'd finished the race.  A large tent with tables was a great place for a picnic, the DJ kept the music blaring, and folks danced and played until the very end.  BattleFrog just announced that all of their 2015 races will be two day events on both Saturday and Sunday.  They go to great lengths so you can make a day or a weekend out of your racing experience.
The volunteers at the race were friendly, helpful, and enjoyed themselves while helping others.  They are given free races for working and even get food vouchers that they can redeem with the vendors so that they get "real" food instead of just a bagged lunch.
It's rather hard to believe that BattleFrog's first race ever was staged in Atlanta less than six months ago.  This was only their sixth Event, yet they already have a level of professionalism that rivals other race series that have been doing this for years.
As the 2015 Season approaches, more and more BattleFrog venues are being announced and I would highly recommend that you run one of these races if you get the chance.
Event Rating: 5/5
---
Have you done a BattleFrog Series Race? Rate and share your experience…