Badass Dash Chicago
Badass Dash held their first of two mid-western events of the 2015 season outside of Chicago in Hoffman Estates, IL. Over 1,500 participants took place in the event. Junior Hernandez would take the top spot on the podium for the elite race with Anastasia Netzel joining her as female winner. Other divisions at the race included the recreational division and the K-9 division where participants and their dogs complete the course together. Full results…
Race Results:
Elite Men
Elite Women
Name
Team
 Time
 
Name
Team
 Time
Junior Hernandez
41:22
Anastasia Netzel
46:47
Jose Hernandez
43:06
Rocio Henciek
51:54
Patrick Saladino
44:01
Rumbi Hilborn
54:48
---
The Battlegrounds
The Battlegrounds Mud Run, a permanent obstacle course outside of St. Louis, Missouri held the first of their OCRWC qualifier races for the year. The course shares the grounds with the Cedar Lakes Vineyard. The men's race was a tight one between David Baker and Justin Stewart finishing less than 30 seconds apart from each other. On the women's side of the race Heather Moss came out on top with a commanding win over the rest of the women's field on the challenging course.  Moss had this to say about the race,
"Battlegrounds Mud Run had a hometown welcoming atmosphere with fun and challenges for all racers. From the clear marked course, high energy volunteers, and plenty of mud, it is a must go. As an added bonus, there is Cedar Lake winery across the way for post race tasting. As their motto goes, "life is better when battled"."
Race Results:
Elite Men
Elite Women
Name
Team
 Time
 
Name
Team
 Time
David Baker
37:38
Heather Moss
 Icebug
58:15
Justin Stewart
37:59
Pam Hart
1:04:10
Andrew O'Sullivan
41:23
Amanda Beauchamp
1:08:14
---
Savage Race Mid-Atlantic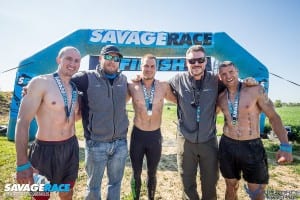 Savage Race headed to Kennedyville, Maryland this past weekend. Racers from both the United States and Canada traveled to take a chance at running the race series many in the industry are buzzing about. Ryan Atkins continues this streak this season with yet another win and second Savage Race win of the season. Yuri Force would finish second and Canadian Jesse Bruce would take third.  On the women's side Lindsay Webster took the top position for women. Atkins has this to say about the race and the win,
"The Savage Race in Maryland this weekend was a great race and competitors flocked to the venue to experience Savage's own special take on OCR. I was pleasantly surprised by the race, and had tons of fun out there. The race was really well organized and I think that Savage has created a great niche for themselves in the OCR market, with obstacles that are large and really fun. Obstacles and terrain were certainly easier than a BattleFrog or Spartan event, but when racing elite what makes the race hard is pushing yourself against competitors to your max so hard obstacles aren't always a necessity."
Race Results:
Elite Men
Elite Women
Name
Team
 Time
 
Name
Team
 Time
Ryan Atkins
BattleFrog
39:46
Lindsay Webster
53:40
Yuri Force
Athletics8
40:24
Jodie Fleming
1:03:55
Jesse Bruce
Alpha Obstacle Training
43:53
Chrisa Dustman
1:04:06
---
Spartan Race Colorado
Spartan Race was on the road in Colorado over the weekend. The event was held in Fort Carson, Colorado. The Spartan Race Pro-Team dominated the race sweeping the podium. For the men Isaiah Vidal took top honors and for the women K.K. Stewart-Paul continued her winning streak taking home another victory for the season. Paul talked about the race… 
"A fun and challenging weekend fought with much conviction, motivation and inspiration from everyone, extremely grateful for positive surroundings."
Race Results:
Elite Men
Elite Women
Name
Team
Time 
 
Name
Team
 Time
Isaiah Vidal
Spartan Race
K.K. Stewart-Paul
 Spartan Race
Chad Trammell
Spartan Race
April Dee
 Spartan Race
Glenn Racz
Spartan Race
Orla Welsh
 Spartan Race
---
Warrior Dash
Warrior Dash took place in two locations over the weekend in both Arkansas and Oklahoma. Racers traveled over a fast course in both locations. In Arkansas Andrew Larey and Amanda Gay took top honors on the day. In Oklahoma Nathan Palmer and Hisa Turner took top spots on the podium.
Arkansas Race Results:
Elite Men
Elite Women
Name
Team
 
Name
Team
Andrew Larey
Amanda Gay
Blake Keeton
Tetyana Konak
Chad Sanders
Breanna Briggins
Oklahoma Race Results:
Elite Men
Elite Women
Name
Team
 
Name
Team
Nathan Palmer
Hisa Turner
Chandler Smith
Sarah Wagoner
Josh White
Randi Lackey
---
SISU IRON
The SISU Iron took place in Monrovia, California. This 30-hour extreme endurance event drew athletes from around the nation to challenge themselves both physically and mentally. Two hundred athletes signed up for the event and about half showed up to toe the line at the start Friday evening. The participants covered about 50 miles in the course of the weekend competing in challenges including mathematical equations as well as challenges requiring brawn. As participants completed challenges they were given merit patches and presented them at the end of the race. 25 Athletes finished the event and received their spike at the end of the race. Top honors of Ironman and Ironwoman (an award voted on by athletes) were awarded to Ken Herzog and Andé Wegner. Ben Sexton was awarded the Golden Squirrel Award, an award voted on by staff.