The Death Race is dead & buried – literally buried.
While not a full 6-feet under, 6 Death Racers (or was it 7) were buried alive. Read that again – buried alive. Eulogies from their dear friends wafted through the air as these select finishers were laid to rest in actual plywood caskets laid in the ground, that were nailed shut and even covered by dirt for good measure. (Contrary to popular belief, Joe De Sena and Johnny Waite did not dance on them) Of the 34 official finishers, these 7 were entombed in 6 graves, with 2 races sharing a 2-foot by 6-foot final resting place.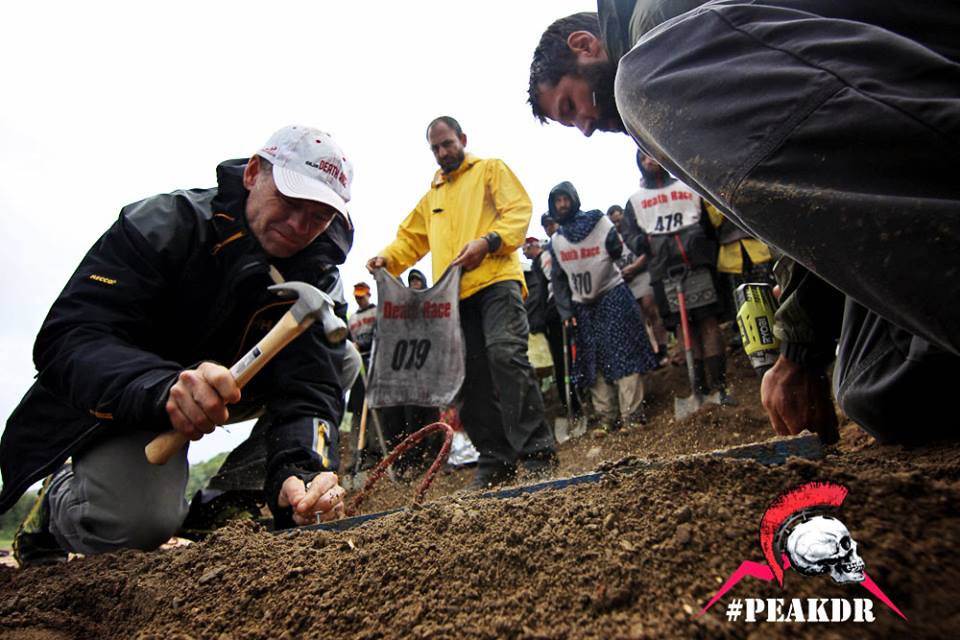 The theme of the 2015 Death Race was Life, and the torturous journey took participants from birth all the way to the aforementioned graves. Our friends over at ORM covered the event here, so we'll just harp on its finale for a moment – THEY BURIED THE "LUCKY" ONES ALIVE! If that wasn't absurd enough, one of the graves was already occupied by a body in the form of an earlier DNF that took a little dirt nap; the shock and horror was all too real when they pried open the empty casket only to reveal an extra "corpse." Thankfully, the transgressor was roused and alive, and yielded his spot in the earth to two not-to-be-named Death Racers who shared a coffin. You know the old saying, those who race together, die together!
All in total there were 34 official Death Race 2015 finishers, in what was billed as the final Death Race, and after 30+ minutes under the earth, those 7 finishers were awoken from their death slumber to bask in the moment and absorb the reality that they had endured challenges far and above anything they had ever expected.
The Death Race is dead, Long live the Death Race…
…or is it?
On Monday morning, I got to squeeze in a few mile run along Lake Michigan with Joe, who was fresh off a 1am flight from Boston to Chicago to speak at an event. In-between miles and ply box jumps, we talked about the legacy of Peak Races DR, the future, and what Spartan's new Agoge was really all about. Some pieces of what the Agoge really is were said in confidence, so I'll share that on another day. What I can report is how visibly torn Joe was when I asked if this truly was the last DR:
"I'm having a little battle, as my heart and mind are in different places right now Brett. I was so sure this was it, and it really went out with a bang – I can honestly say this was the most incredible Death Race ever, and I couldn't have done it with Johnny and the entire crew's help. Mentally, I planned on it being over for good yesterday and starting a new chapter with Agoge, but in my heart I still can't completely close the door. Is there still more to uncover, can we go deeper inside the athletes with DR? Maybe there's room for Agoge and Death Race to both exist in the future, but right now I'm just not sure." – Joe De Sena 6/29/15 4:55am
If you peruse the Agoge page on Spartan.com, it seems very clear (as many were quick to point out on social media) that the new event picks up where the Death Race left off; but that's nowhere near the whole story. The transformational experience athletes will undergo in the Agoge was truly developed from an entirely different place;  in working with the military Joe explained his research and hundreds of pages of mental and physical training that he's penned so far and shared the true meaning of the experience – and that, my friends you will only come to learn… at the finish "line."
"The Death Race is one of those things that's impossible to explain or justify to someone unless he or she has been a part of it. And that's fine, because it doesn't matter what others think – the only thing that matters is what it means to you.

I found everything I needed to find in the Death Race, so for me, the journey is complete." – Amelia Boone, Facebook
Is the DR journey complete for Joe De Sena?