Are you new to the sport of OCR (Obstacle Course Racing)? Don't worry, we'll show you there's nothing to fear, and all are welcome in the mud.
Already an OCR athlete? Share this with your friends & family so they can begin to understand "that crazy thing you do on the weekend." Who knows, they may realize it's about time to join you for some fun of their own!
1. Who?
Let's start out with some quick role-playing, shall we? You'll play the part of Dana in accounting, while I'm Pat from IT. Got it? Good. Here goes:
Pat: Hey Dana, have a good weekend?
Dana: mumble, mumble something about mulch and Daenerys Targaryen
Pat: That's cool, check this out: (FLASHES BLING)
Dana: Woah, that's pretty cool – where'd you get that?
Pat: It's my Warrior Dash finisher's medal, I earned it on Saturday in Pensacola. Warrior Dash is one of those mud runs and it was awesome! It was my first time – you should come out with us next time!
Dana: No way, I can never do that!
Pat: Sure you can, anyone can do it!
 …and cue the "I can't do it" excuses:
I can't run that long, I'll have to stop and walk – and everyone will laugh at me.
I'm going to come in last, and everyone will laugh at me.
I'm going to slip and fall in the mud, look like a fool, and everyone will laugh at me.
Here are the simple answers to shut down the whining (and start the funn-ing):
First off, no one's going to be laughing at ONLY you. For the most part, they'll be laughing at EVERYONE. All participants from the Ms. Washboard Abs to beer-swilling party dude look like fools when they are slipping around and covered in mud. Embrace it, buttercup. It's all in fun – if you can't laugh at yourself a little bit, a mud run is exactly what you need to get over yourself!
There's not really such thing as "last place," waves of 100-200 athletes go off all day long, and no one has any idea what wave you were in when you cross the finish line. Want to go fast? Feel like taking it easy? It's up to YOU, and no one's going to tell you any differently. On top of it, most events aren't even timed. Just go do your thing.
Walk, skip, trot, run, crawl – whatev. No one's going to laugh at your performance, though they may snicker at your muddy Trump-esque comb-over.
2. What?
OCRs and Mud Runs come in all shapes and sizes – or more accurately, different distances and types of obstacles.
We've got a whole slew of FAQs right here that cover a lot of this info, and I actually wrote the first book about this sport (excuse the humblebrag) where I cover the history and origins of Obstacle Course Racing and Mud Runs.
Here's a little excerpt:
"Being submerged in an ice bath, hauling sand bags, lifting & dragging heavy rocks on a rope, balance beams, cargo nets, crawling under barbed wire, jumping fire, braving electric shocks, jumping over, diving under or crawling through barriers, climbing walls, scurrying up or swinging from ropes, throwing spears, jumping or climbing hay bales (some may even be on fire), running through or climbing over tires (lots and lots of tires), scrambling over slippery walls covered in liquid soap, sloshing through streams, lakes, ponds, bogs, brooks or even ditches or shipping containers filled with water, crawling through metric tons of mud, chopping wood, pulling yourself over wrecked cars, running from zombies, swinging across monkey bars, jumping rope, high platform jumps into icy water, swinging from zip lines, crossing parallel bars, gladiators smacking you with pugil sticks, being shot at with paintball guns, being pelted with water balloons and getting sprayed with hoses. By my count, that's about 50 awesome reasons to start looking to sign up for an OCR or Mud Run race right now!"
3. Where?
In order to keep it simple, here's a quick list of popular races ranging from easy to more difficult:
Perfect for Beginners, Fun for Experienced OCR Athletes
R.O.C. Race (Ridiculous Obstacle Challenge): This event might look pretty familiar, especially if you've ever watched the TV show Wipeout!. This is an untimed, fun run (run, jog, walk, it's all good) that is the absolute perfect introduction to the world of obstacle races. Why? While there's no mud, R.O.C. Race features some OCR staples like walls and a cargo net, and a whole bunch of game show-inspired inflatable obstacles for you to climb up, slide down, bounce around, jump on, and swing across! This is NOT a "race" – there is no timing at all, and most people walk or jog between obstacles. R.O.C. Race is great for everyone 18 & up of any athletic ability!
Dirty Girl Mud Run: The Dirty Girl Mud Run is a 3.1 mile(ish) untimed obstacle course run for women, and women ONLY! If this is your first time running an organized obstacle run or 5k, you WILL make it to the finish line! If you're an über-cross-fitter looking to make your weekend more challenging (and fun), Dirty Girl Mud Run has a (fun) place for you. Over 900,000 women of all ages, shapes, sizes, and athletic backgrounds have completed this incredibly fun obstacle course since it's debut in 2011.  Some run to challenge themselves, some make it a girls weekend with a group tailgate before the run – Dirty Girl Mud Run is for every lady out there.
Warrior Dash: Warrior Dash is the world's largest running series and is held on challenging and rugged terrains across the world. Participants bound over fire, trudge through mud and scale over 12 obstacles during this fierce 5K. From couch potatoes to novice runners to extreme athletes, Warrior Dash truly is an event for individuals 14 & up from all athletic abilities. Warrior Dash is an alternative to the classic 5K and provides an incomparable experience for participants and spectators. The unique combination of athleticism, live music, turkey legs and beer keeps Warriors coming back for more. Waves are untimed, the first 25 male and female finishers in the first wave qualify for the Warrior Dash World Championships!
OK, Ready for Something a Little More Challenging?
Rugged Maniac: Looking for adventure? How about a day filled with 25 epic obstacles, a crazy party, and plenty of beer? Rugged Maniac Obstacle Race has you covered! Here's how it works: Men & women 14 & up – Sign up for the race and you'll run our 3-mile course where you'll climb towers of shipping containers, rocket down a 50′ water slide, bounce on trampolines, jump over fire, and more! You can choose whether or not you'd like to be timed, a $10 charge covers the chip and the bragging rights!
Terrain Mud Run: Terrain challenges you both physically and mentally with over 20 obstacles! Choose a 3 or 5+ mile option, and after your race party at the finish line with friends, family, mud and views of the obstacles you just conquered. You'll be proud when you finish your race with us. Make terrain Your race. Terrain is a timed race with the first wave of the day being competitive for prizes.
Gladiator Rock 'N Run: Gladiator Rock'n Run is a challenging 5k course, but it's also designed to be doable by participants of all sizes, shapes and athletic abilities. Gladiator finishers have included special needs athletes, adaptive athletes, Grandmas and beginners. This is a timed race, the first wave of the day is competitive with prizes for age group and overall winners. Fail or skip an obstacle and receive a 10 burpee penalty before continuing.
Spartan Race Sprint: The sprint races can vastly vary from one race to another. They can be held on flat fields, rolling hills, or nearly vertical mountain terrain. Each race is different. The length of a sprint varies from 3-5 miles and consists of 15-20 obstacles depending on the location. These are considered the entry level races for Reebok Spartan Race. Fail or skip an obstacle and receive a 30 burpee penalty before continuing.
Ready to Step Your Game Up? Here You Go!
Spartan Race Super: The Super races can vastly vary from one race to another. They can be held on flat fields, rolling hills, or nearly vertical mountain terrain. Each race is different. The length of a super varies from 7-9 miles and consists of 20+ obstacles depending on the location. These are the middle distance races for Reebok Spartan Race series. Fail or skip an obstacle and receive a 30 burpee penalty before continuing.
Spartan Race Beast: The length of a Spartan Beast varies from 12-15 miles and consists of 30+ obstacles depending on the location. These are the long distance races for Reebok Spartan Race series. Fail or skip an obstacle and receive a 30 burpee penalty before continuing.
Tough Mudder: Tough Mudder events are hardcore 10-12 mile obstacle courses designed by British Special Forces to test your all around strength, stamina, mental grit, and camaraderie. Tough Mudder courses aren't a test of how quickly you can push yourself to the limit—the goal is to finish – and the word "race" does not apply. The only things to "beat" are your fears, and the only thing to "win" is a free beer.
BattleFrog Series: Designed by active, reserve and retired U.S. Navy SEALs, BattleFrog is an intense new series of obstacle course races inspired by the challenges real Navy SEALs face every day in the field. Adventure and excitement wait around every corner of each unique and demanding course, testing your limits and forcing you to push beyond your limits. The BattleFrog Series arduous course is not for your average marathon runner—water obstacles, physical challenges and other grueling feats elevate this event to an unforgettable experience that only serious race Elites will survive. This is a timed event with penalties for obstacle failures, with distances starting at 8k.
In a Class By Itself
OCR World Championships: The OCRWC is the first truly independent global championship for the burgeoning sport of Obstacle Course Racing. It is a singular independent event created to unify, promote, and increase participation in the sport of OCR while celebrating its amazing athletes and community. Featuring both an individual and team race, the OCRWC delivers everything you love about Obstacle Course Racing in one amazing weekend. All Obstacle Course Racing World Championship individual competition participants must qualify for the event by meeting the criteria outlined here at ONE of these 2015 races. Athletes are required to submit proof of results at the time of registration. This is a timed event, approximately 9 miles in length over rugged terrain and dozens of difficult obstacles.
Want to search the races (and discounts) for yourself and find one close to you?
Discounts to Events | Worldwide Event Map | Event Calendar | Events By State | Events by Cities/Major Metro
4. When?
Are you able to walk 3 miles, crawl a little bit, and climb something – let's say a ladder? If you can, you're ready RIGHT NOW for your first mud run or obstacle race! Refer to "Where" to find the one that's right for you! With 1000's of races all around the globe the good news is you probably won't have to wait that long! While you're waiting, why not prep your mind & body a little bit…
We've also got a Free OCR Training Program right here on Mud Run Guide! Here's a little sample of the Assessment Test:
Round 1: Start your timer—it'll run for the duration of all three rounds, including any rest breaks you may take. Rest if needed, and make sure you have water to stay hydrated.
5 Push-Ups
5 Squats
Run, jog, or walk 1 mile at a "conversational" pace, one at which you could chat a bit with a friend, one to two sentences at a time. On a perceived exertion scale, this should be about a 5.
Optimal time for completion of Round 1 is under 15:00.
Move as quickly as you can from round to round. Take a sip of water and catch your breath, but don't forget that you're on the clock.
You'll perform (3) rounds of the above circuit, each time trying to push a little harder and shave time off the previous round. Add up your total time after completion, to find out what level of our Free OCR Training Program you should start at!
5. Why?
Obstacle Course Racing is ridiculously popular because it's fun and relatively easy. A 5k mud run is technically "easier" than a 5k road race. Why? Because in a road race, you're pretty much exposed out in the open, and you could potentially feel like a fool for walking. (I'm not saying this is right, just being honest. I've had to walk during road races too and felt very disappointed in my performance.) In a mud run, walking between obstacles is close to the norm, and if you feel like taking a break before or after an obstacle – go right ahead – no one will judge you! Barriers to entry in OCR are amazingly low versus any other major sport, all men & women can participate in mud runs ages, body types, fitness, levels, including adaptive athletes!
Obstacle Course Racing is the fastest-growing sport in the history of organized sport! In 2014, more people completed an OCR than all triathlons and marathons – combined!
Why did an estimated 4.2 million people show up to get muddy at OCRs? Because other sports are FAR more difficult, and most (all?) require some specific skills (excerpt from Ultimate Obstacle Race Training):
Adventure Races – Required Skills: orienteering, mountain biking, mountain climbing & repelling, running
Triathlons – Required Skills/Gear: Swim, bike, run, wetsuit, ridiculously expensive bike, skin-tight clothing and shaved legs
Marathons – Required Skills: The whole "Running for 26.2 miles" thing
Bike racing – Required: Those two-wheeled contraptions that cost so damn much, shaved legs and tight outfits (see also: triathlons)
Organized Sports – Required: Equipment, field, goals… and sport-specific skill. Can you hit a curve ball at 85 MPH? What about a tennis ball at 120MPH? Flying down a mountain with a couple boards strapped to your feet? Surfing? (get it yet?)
You should do mud runs because they are fun, get you active & outdoors, can help jumpstarting a fitter and healthier lifestyle, and because YOU CAN.
6. How?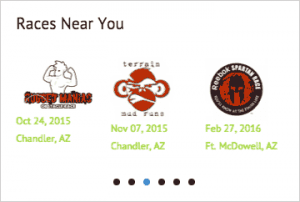 That's the simple part!
Take a peek over to the right of your browser window; do you see beautiful sliding list of logos under the header "Races Near Me?" Yeah, we used some internet magic to determine the major races closest to you by date, you can click right there to find out more about any of those races, or even click "find all nearby mud run and ocr events" to get a complete list of all events around the world!
If that wasn't easy enough, how's this?
Discounts to Events | Worldwide Event Map | Event Calendar | Events By State | Events by Cities/Major Metro
Once you find a race (or as many as you'd like) you can find the exclusive Mud Run Guide discount code right on their page, and then register and save some cash!
Summary
For those of you who weren't catching all the info I was dropping like mad above, here's a checklist:
---
Disclaimer: The viewpoints expressed by the authors do not necessarily reflect the opinions, viewpoints and official policies of Mud Run Guide LLC, or their staff. The comments posted on this Website are solely the opinions of the posters.