Blue Mountain, 2016 Home of the OCR World Championships
Today, Blue Mountain Resort near Collingwood, Ontario, Canada, was named the site of the 2016 OCR World Championships. The event will be held on October 14 & 15, 2016. This major destination for skiers in southern Ontario will be transformed next fall for a different type of athlete.
Blue Mountain is the perfect backdrop for international competition like OCR World Championships. The resort, 90 minutes north of Toronto and 11 km west of Collingwood, is no stranger to competitive sporting events, holding several international ski races each year. In the past, it has hosted World Cup level skicross competitions as well as World Cup Boardercross for snowboarding.  It is the third most visited ski resort in Canada, behind Mount Tremblant and Whistler-Blackcomb.
We asked COO Brad Kloha about the move and the new venue,
The goal for the OCR World Championships from the beginning has been to become the premier independent obstacle racing world championship that showcases the best athletes in the sport from all over the world. The most significant part that goal is providing the best overall experience for the athletes and we believe as a US based company, we felt that taking the OCRWC outside the US was a critical element.

King's Domain presented us with a tremendous venue to grow in our first 2-years, and we're excited to partner with 365 Sports to take the 2016 OCRWC to Blue Mountain Resort in Ontario, Canada.

We look forward to taking what we've learned over the last 2 years, paired with the expertise that 365 Sports brings, and the landscape and amenities that Blue Mountain provides to take the experience for the athletes and their families and spectators to a whole new level."
Jesse Fulton, President of 365 Sports. Inc. commented about the partnership…
"We are both excited and honored to be hosting the OCR World Championships.
Athlete experience is and always will be our top priority and having a blank canvas to work with, alongside the awless vistas and amenities that Blue Mountain Resort and village oer, will allow us to create an unparalleled experience worthy of a world championship."
Blue Mountain Village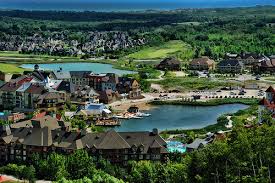 In 1999, the majority share was bought by Intrawest (owner of ski resorts, Mount Tremblant, Steamboat, Stratton, and Winter Park). Since that time, the mountain has gone through a revitalization with the development of the largest alpine village at the base of the resort in Ontario as well as ample housing for all athletes to stay in the village. The Blue Mountain Village offers over 45 restaurants and shops for both athletes and guests to enjoy their stay. One of the biggest perks many athletes are sure to like is the Iwa Spa and Kalola Boutique & Spa located in the village. Book early as they are sure to fill up on race weekend.


Stats about Blue Mountain Resort
Located 90 minutes from Toronto
42 ski and snowboard trails
15 lifts including five high-speed six-person express chairlifts
364-acre resort
Peak Elevation of 1,483 feet or 452 meters
Base Elevation of 741 feet or 226 meters
Vertical drop of 720 feet or 219 meters
Longest Run 1.6 Kilometers
Versatile terrain with 27% beg./ 27% int./ 46% adv.
Open-Air Gondola
We asked Brad Khola about the mountain and the terrain, he said…
"The mountain provides us will a virtual blank slate to create a whole new course that even athletes who have run the first two OCR World Championship events will encounter for the first time, creating an absolute even playing field.

The new terrain with greater elevation gain will provide new and unexpected challenges for athletes that have become accustomed to what we have offered previously. It lends itself to inventiveness for obstacle creation and even more opportunities to feature obstacles from our partner qualifying races as we've done in past years.

Frankly, we're pretty excited."
Accommodations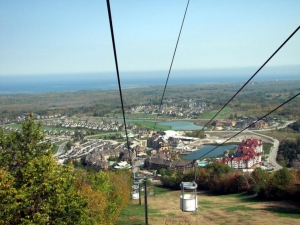 Blue Mountain offers 1,000 accommodations in the village only minutes from the mountain. Lodging on site varies from comfort and value in the newly renovated Blue Mountain Inn, family sized accommodation slope-side or boutique-style suites, something to fit in each obstacle racers budget.
New this year OCR World Championships will be able to manage accommodations for athletes and provide amenities such as free shuttles, wifi, and more. For more information on lodging check out the accommodations. 
We asked Canadian Champion Obstacle Racer Ryan Atkins about the new venue…
"Blue mountain is a great ski resort, just north of Toronto. I have used this venue to prepare for spartan World Champs in 2014 and 2015. The steep hills, and varied terrain will be a challenge for everyone and the beautiful views of Georgian bay will make it hard to focus on the technical footing!"
Other Activities
For those who are not into obstacle racing in your family, Blue Mountain has a host of other activities to keep everyone in the family entertained. Highlights include the Ridge Runner Mountain Coaster, Monterra Golf & Tennis, Plunge!  Aquatic Centre, Private Beach, Mountain Biking, Cascade Putting Course, Timber Challenge High Ropes, Woodlot Low Ropes, Mountaintop Segway Tours, Wind Rider Triple Zips, and Apex Bag Jump to name a few of the activities. More information on activities.
Canadian racing couple Claude Godbout and Marco Bedard commented about the move…
Marco – "Canada is a proven force in the OCR world and has truly one of the highest ratio, quality vs quantity for any level of Obstacle Races in the world. To see it come up North is no surprise but truly refreshing. The world better be ready because the North will be!"

Claude – OCRWC 2016 in Canada?!?! Is that for real? No surprise really just so happy that I'll get to race in my country surrounded by family and friends! Despite the fact that OCR is more popular in the USA, I truly believe that putting a big event like the OCRWC somewhere else is the next step in the OCR world and that is why the OCRWC organization is so unique! Keep pleasing us guys, I just can't contain myself!"
Qualification

The OCR World Championship is an individual competition. Participants must qualify for the event by meeting the criteria outlined on the OCR World Championships website at ONE of the qualifying races between October 19, 2015, and race day.  Athletes are required to submit proof of results at the time of registration. For more information about registration click here.
Khola went on to talk about the care and consideration of the event as a whole…
We've always paid special attention to the entire athlete experience, both on- and off-course, which we believe is paramount for a world-class event. This will continue to be the focus, but combined with the amenities that Blue offers directly on-site, and the event management expertise that 365 Sports add to this event, we believe the athletes will find their experience in 2016 like nothing they've ever experienced in obstacle racing before.
A Special Canadian Welcome