Fuego y Agua Survival Run is quickly approaching and this year the competition is the best it has been. The women's race has many familiar faces returning to the island of Ometepe to try to finish what they started in past years. With the race days away, it is time to look at the women to watch this year at Survival Run.
Helene Dumais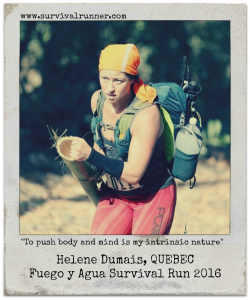 Helene Dumais is returning to Fuego y Agua after a strong showing in 2015. This Canadian has a background in ultra distance running and extreme endurance athlete. She recently became the first woman to run self-supported the 250 miles route of the Cross Florida Time Trial. She also was the first women in the world to cross the entire Ko'olau Summit Ridge in Hawaii in self-sufficiency. Additionally, she is an experienced obstacle racer with podium results from around the world. She is a top competitor to watch in this race.
Camille McCue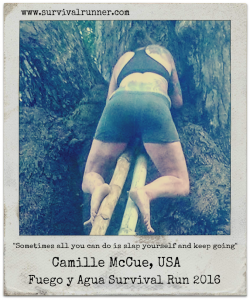 Camille McCue is returning to Survival Run after a few year break. In the last year, she had her first child and is ready to come back to Survival Run. In 2014, she was one of the most dominant women in the field. She is a multiple Death Race finisher, experienced obstacle racer, and extreme endurance athlete. Look for Camile to be one of the stronger women in the field.
Morgan McKay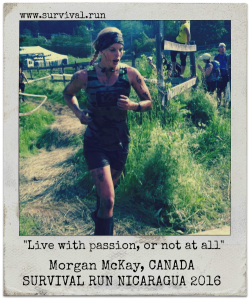 Morgan McKay is returning to Survival Run for another year. She went the furthest of any woman in the 2013 Survival Run race. McKay is another strong Canadian in the race to watch. It was only last week that she decided to run the race and booked her ticket. She is a former Death Race finisher and has competed in countless obstacle races. Watch for McKay to get vengeance on Omepete this year.
Gabi Stephens


Gabi Stephens is entering Fuego y Agua Survival Run for the first time. How she has finished Hunter Gatherer Survival Run and is completed several ultra-marathons at Fuego y Agua in the past. She is no stranger to the island or Survival Run. She is an experienced ultra-runner and in recent years competed in several short adventure races.
Abigail Stephens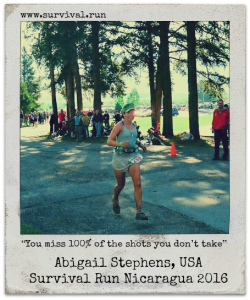 Abigail Stephens enters her first Survival Run this year. She has competed in previous ultra-marathons on the island of Omepete and is comfortable with the island and the landscape. Though it is her first Survival Run, she is no stranger to adventure and should be a strong competitor in the race this year.
Follow all the action from the race on our Official Race Coverage.