Since the inception of Mud Run Guide in 2012, race reviews have been a key component of the website. Our top-notch team of contributors offer in-depth insight into events around North America and beyond. But it is not just the opinions of our contributors that we value on Mud Run Guide, it's the reviews from you, our readers!
If you are like us, when looking for the best new restaurant, salon, gym, or other service the first place you look is Yelp. Think of Mud Run Guide as Yelp for OCR, everyone can voice their opinion after a race on over a thousand events around the world. In 2012, Mud Run Guide was the first in the industry to offer this feature to the OCR community. Since that time, we have collected your opinions across the mud run and obstacle race universe.
Your Race Reviews Matter (Big Time)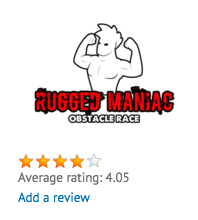 From Brett Stewart, CEO and Co-Founder of MRG:
What has 10 fingers and needs to tell us what they think of events? YOU! (Well, I hope you have all 10 fingers, but type with what you've got.) But seriously, even the phalangeal-challenged members of the OCR community need to provide their input; it's part of what keeps this sport great, develops an informed community, and keeps races "honest" – let 'em know if they screwed up so they can fix, and give 'em some props for all the things they did well!

Why are YOUR race reviews so important? Take a peek on the left, and you'll see that all race organizers' logos on MRG will have their average star rating displayed, and this makes a big difference when people are choosing to plunk some hard-earned money down on a race, right?
How to Leave Your Own Race Reviews on Mud Run Guide
Leaving a review is easy on Mud Run Guide. If you read an in-depth review from one of our contributors and want to voice your own opinion at the bottom of every article is a link to a review.
Click on "Share and Rate Your Own Experience" link and it takes you directly to the review section for that particular series. In this case Tough Mudder.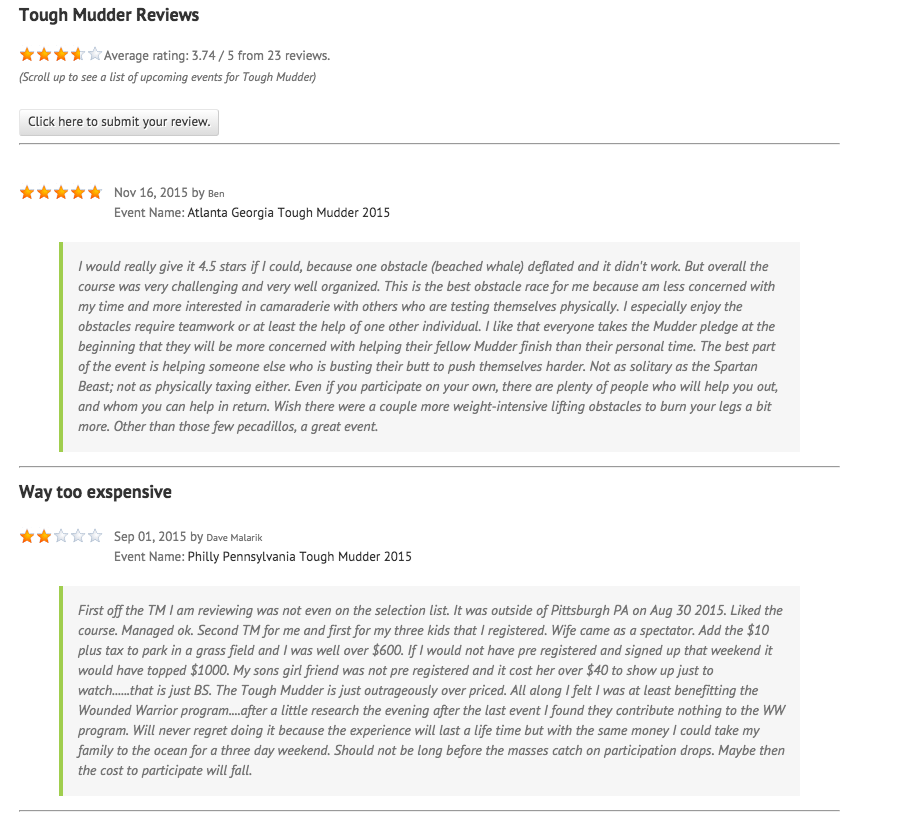 Here you can read past reviews as well as leave your own. Have you done a Tough Mudder and thought it was better and the current 3.74 average? Give your own review today! Help inform the OCR Community which events are the best.
Alternatively, if you want to see where a particular company stands you can find top rated, and most rated events right off the home page! Click on the Race Review tab or hover over for a quick view.

Within the tab see the top rated events and what your peers had to say about them. Love Spartan Race? Be sure to share your love with the entire OCR Community! Think BattleFrog Series deserves some love? Tell us!

Make your voice count, share your knowledge and  YOUR reviews here!