Recently, Shale Hill owners announced they would be selling their beloved permanent obstacle racing course and training facility in Benson, Vermont on Facebook. Since the announcement the OCR community has buzzed with theories as to why both Rob and Jill Butler are selling their critically acclaimed course.
On January 5th, the two posted on the Shale Hill Facebook page…
HUGE NEWS!!!! Before the rumor mill gets its hands on this information, Jill Bogert Butler and Rob Butler want to let you all know the story! Shale Hill is for sale! WE will continue to run and grow it until someone steps forward to take it over. We will be careful in choosing the right person/people to take over this amazing place to ensure that it will continue to grow and prosper for years to come. We have decided to take a different path with our lives and this is the only reason we are offering this wonderful facility…. This is a turn-key opportunity for someone to walk into an amazing lifestyle and do what they love to do, as we have done for the past 5 years. That being said, the Polar Bear 8 is GONNA ROCK!!!!! And all of our other events this season will be as amazing as ever. Please don't hesitate to ask Jill or Rob any questions. www.shalehillforsale.com for more information. WE LOVE YOU ALL AND LOOK FORWARD TO OUR BEST SEASON YET!
During an exclusive chat with Mud Run Guide, both Jill and Rob shed some light on the sale of the property. We asked them to expand on what the two meant in the line, "We have decided to take a different path with our lives" which seems to have sparked most of the confusion with the announcement.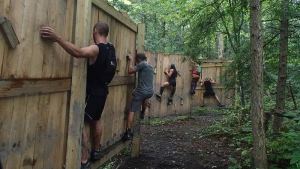 Rob and Jill expanded on that comment in our conversation. The two have decided to part ways in their personal life. As part of their separation, they have mutually agreed to sell Shale Hill. The two started the business together and had created a life around the sprawling Vermont property. During our conversation both continually expressed their love for the property, the course, and the OCR Community. It was obvious the sale is not easy for either one of them. However, it is the best move for the two personally.
Shale Hill For Sale
Jill and Rob Butler are looking for an investor or group of investors to pass the torch of Shale Hill. They both reiterated they are looking for the best investor for both the property and the obstacle course. In the last 3-years, Shale Hill has seen a 500% growth in the business.
Rob commented during our call. "We had people here this week in the snow. In past years, the winter we barely had people training. Now people are here almost daily. The growth through word of mouth has been incredible."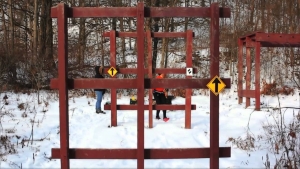 Rob continued speaking about the new obstacles that they are making for the upcoming Polar Bear Challenge on February 6th as well as a new obstacle designed by Larry Cooper. Cooper created the infamous Destroyer obstacle. Additionally, Rob gave up a sneak preview of a new event coming to Shale Hill in May which will take place over 48-hours. While Shale Hill is currently for sale, both Rob and Jill are not sitting around and waiting for a new owner. Instead, they are committed to the continued success of the venue and the sport.
Several parties are interested in the property already, continuing the obstacle racing tradition both Rob and Jill founded at Shale Hill. Jill plans to possibly stay in the industry helping produce races. Rob plans to stay in the business with Sinergy Sports and may build another course elsewhere or work as a consultant for others interested in permanent courses.
The two said this of their beloved property in closing our conversation, "We are selling this place not only as a business, but a lifestyle. You live here, work here and play here. Its a lifestyle choice that can provide a very nice living."