This morning many in the Tough Mudder community woke up to the same email from Tough Mudder HQ. The highly anticipated announcement of the 2016 World's Toughest Mudder location was revealed. In 2016, Tough Mudder is headed back to Lake Las Vegas for a third year and the sixth edition of the championship race. November 12-13, 2016 Lake Las Vegas will play host once again to over 1,000 mudders all looking to see how far they can push themselves.
For the past couple of months, many in the OCR and especially in the Tough Mudder community have been speculating on the exact location. Rumors swirled in the industry as some hoped the race would return to it's roots at New Jersey's Raceway Park. However, it is sin city that will be hosting the race once again presented by Cellucor. Below is the email many former World's Toughest Mudder participants received this morning.
World's Toughest Mudder 2016 Registration
Registration is currently open for participants on Event Bright and registration starts at $400.00 and goes up from there depending on the packages participants choose.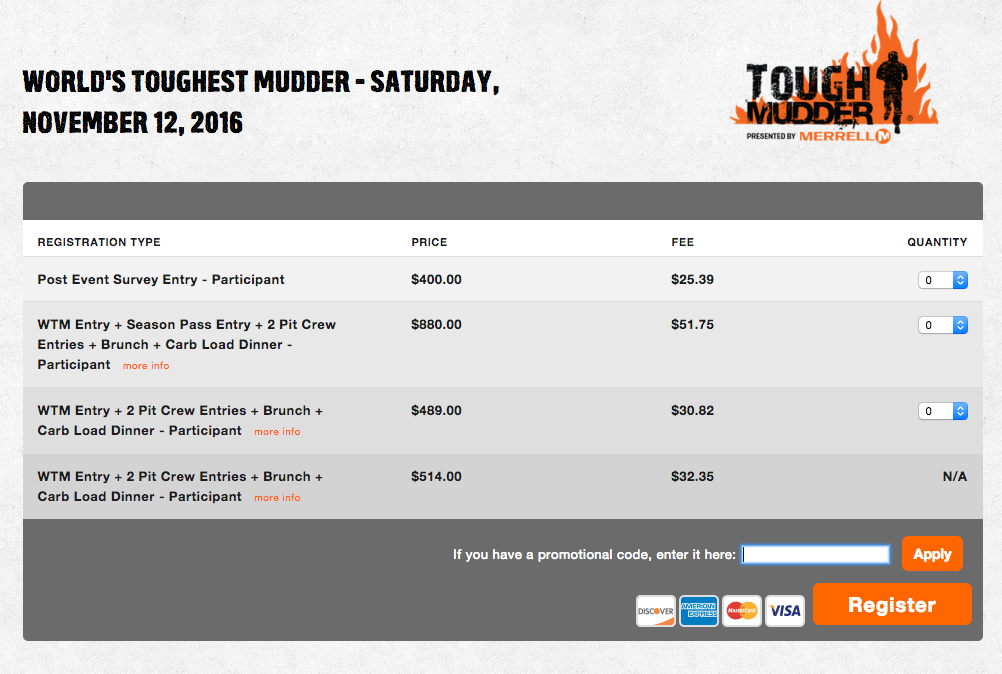 Community Reactions
Overall, the Tough Mudder community is excited this morning with the knowledge that they will battle the sand, water, cliff jump, and more again at Lake Las Vegas in November 2016.We asked a few  WTM veterans about the announcement this morning to get their reactions.
We asked Amelia Boone this morning about the announcement she said (commenting on the rumor the race might have been back in NJ):
Jersey will always have a special place in my heart, but it'd be hard for TMHQ to design a course with the magic of Las Vegas back at Raceway Park.
Tough Mudder ambassador Melissa "Sharkbate."Dugan said this of the announcement this morning.
2014- most were knocked out by the sandstorm.

2015- many were knocked out by all the water obstacles.

3rd times a charm for most in 2016 with the return to Las Vegas for Worlds Toughest Mudder.

Probably our final chance to face the Cliff and conquer that beast of a venue. We all know 2015 was Brady Archers crowned jewel as his last race as director. What will the new race director bring? Will he feel like he has to shock us all and make it harder with crazier obstacles? Or change it up and make it easier but that means more running and more mileage. I already signed up the second they opened up registration this morning. BRING IT ON VEGAS!
Jason Rulo, a four-time WTM competitor, and Mud Run Guide contributor said,
I think there will be a lot veterans looking for vindication, but you hear that every year. It will be awesome to see what the new WTM RD has in store for us this go-round.
Ben Kirkup from the United Kingdom has participated in every World's Toughest Mudder since it's inception in 2011 commented this morning,
I'm happy about it. I think it's a great venue that offers up a lot of possibilities. The temperature swing, the cliff, elevation and terrain all make for a great event. The 2015 event was one of the toughest WTMs to date and I'm looking forward to seeing what they come up with for 2016.
It is clear the community is excited and social media is already being flooded with participants registering this morning for yet another World's Toughest Mudder.