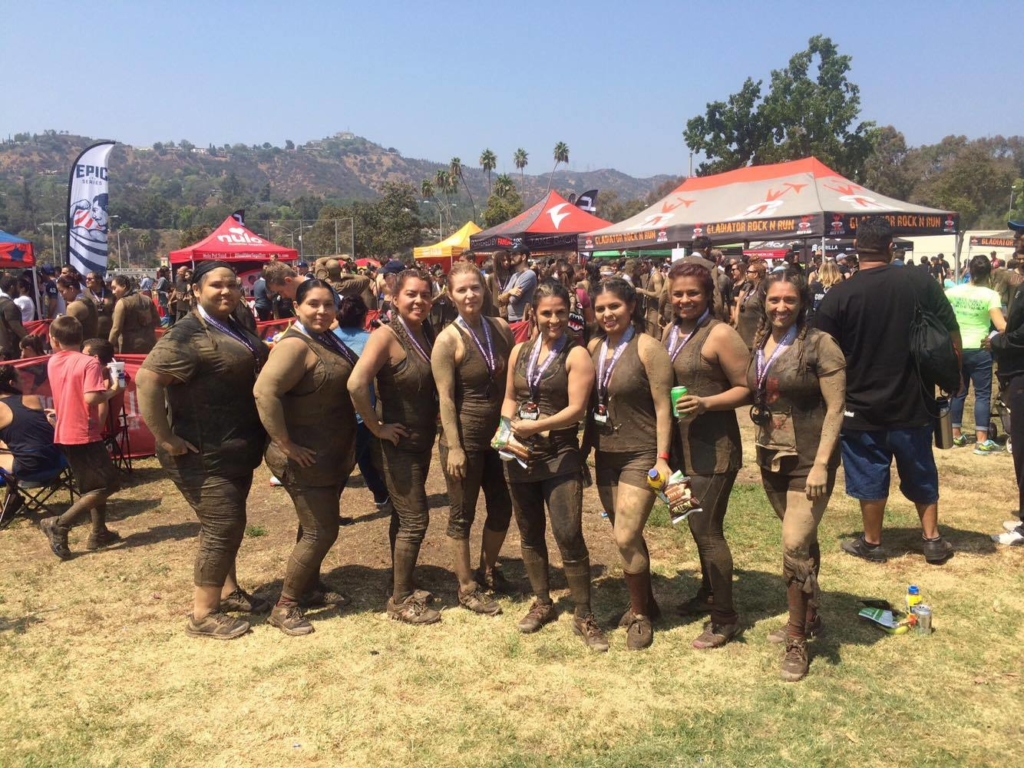 Gladiator Rock'n Run is in the books, and as was the case last year, it was a really good time. I originally was just going to spectate and cheer on the masses and catch up with my OCR family. But when #MRG needed someone to step up and run the race, I said why not!!
I got to the Rose Bowl a little after 0730 under overcast skies. Perfect race day weather. I went to the festival area, got my bib for the 5K, said some hellos and then off to the starting line. Dan gave a great pre-race speech that included how much they've been able to raise for TACA (Talk About Curing Autism) through holding these Gladiator races.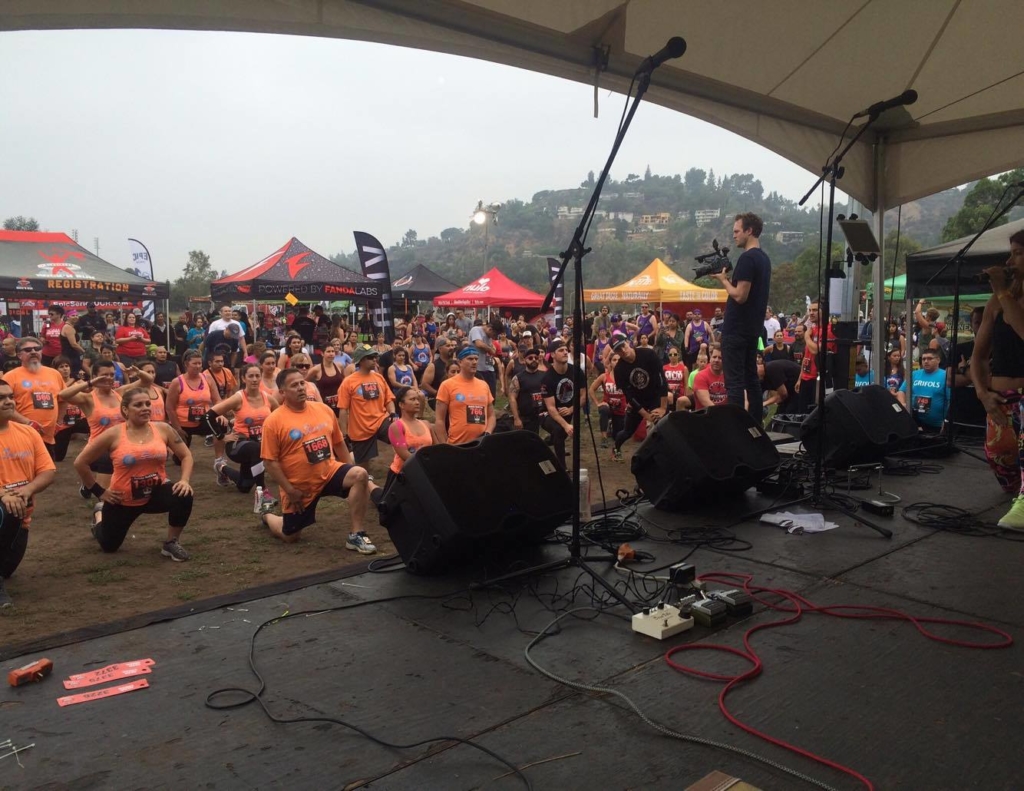 If you've run Gladiator Rose Bowl before, you know Dan is going first to beat you up with the stadium stairs. He even lets you know about it at the starting area, "77 steps up, 77 steps down, repeat, repeat, repeat." Then came a quick set of 10 box jumps using the stadium benches. We proceeded out of the stadium and out to the parking lot and beyond. Next came the dumpster dive followed by the double A-Frame cargo net climbs, which both had a bit of a backlog to get through. But it's to be expected. Then off on the flat trails to the next obstacles. I noticed about a mile and a half in, this was going to be more than a 5K, but that just meant more fun to be had! The final distance came out to be 4.3 miles according to my Garmin watch.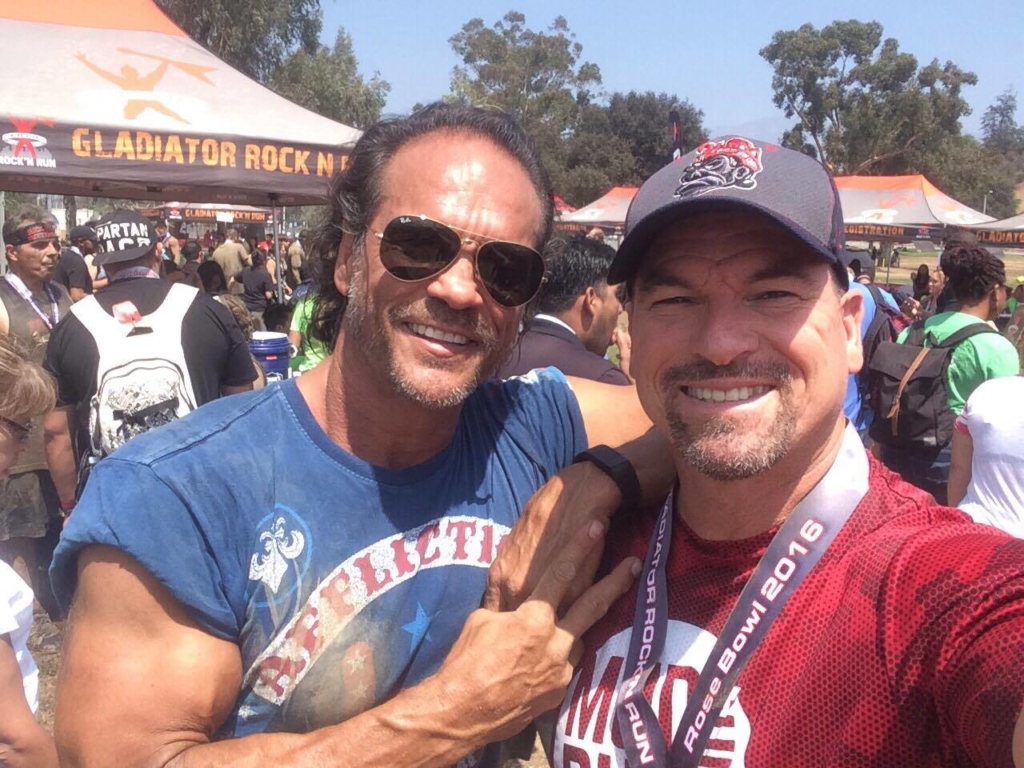 Gladiator partnered with Epic Series for this one, and the first obstacle we saw of theirs was the slosh pipe carry up a hill and back. The wait for that one was quite long as we had Gladiators waiting to go next in line hailing down those with the slosh pipes like they would for an NYC cab. "Yo buddy over here! Come this way!" Gladiator Bars were next with one set of bars for ladies and a double set for the gents. I failed halfway thru last year. Not this year, though!! Big shout out to Tracey and Kelly from The Original WarriorPak whose OCR gloves are on point!! Then my favorite obstacle was next…The Pool Plunge!! This was the only downer of the race. There was a massive line of Gladiators that were put in a holding pattern due to the volunteers having to re-ice the pool. This took quite a bit of time and took some of the wind out of people's sails as they stood around waiting for them to finish. Something good that came out of it though were two little boys to the right of the pool by the railings with their mom. 
Those two had the biggest smiles on their faces watching people go into the chilly, mud-colored water. So for me wanting to be a good OCR ambassador asked them if they wanted me to do a cannonball once they let us go in again. The boys were all for it, mom, wearing a white tee, which is no Bueno at a mud run, wasn't so keen on it. So when my time came, I stayed to the right and did the best I could to make their day, as mom stayed clear. Let's just say I was on target and the boys loved it!! We finished up our last few obstacles, Mud Madness, Tube-a-saurus, Lumber Jacks (Epic), Keg Rolls/Carry (Epic), Rope climb and the Beast/Wall Climb all in the vicinity of the festival area. It was a muddy good time for sure!! So good, that there was even a marriage proposal at the finish line!! Congrats Kevin and Jennifer!!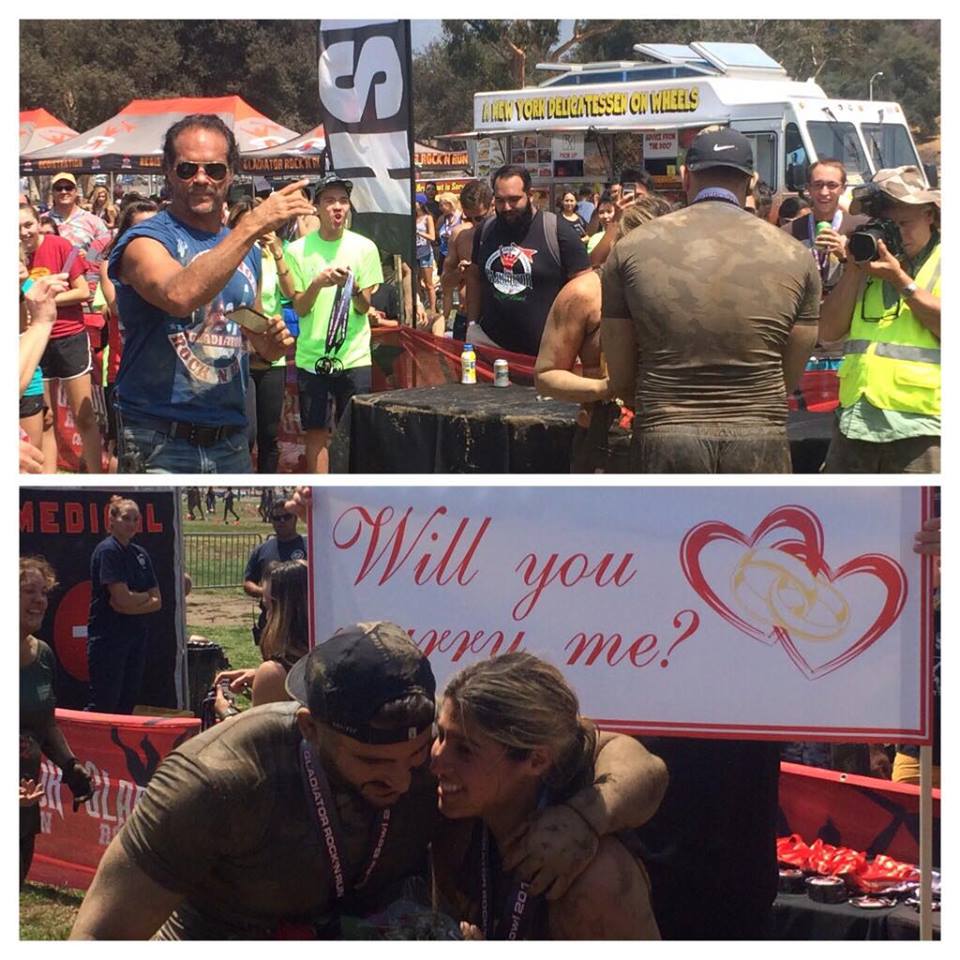 Missing from this year's clean up was Dr. Bronner's Magic Foam Experience. This year it was an A-Frame with water hoses for clean up. The lines were getting pretty long, so Dan "Nitro" Clark took care of things himself and had them back up a water truck, and he hosed the muddy crowd down like a champ!!
How he has the energy to do what he does is a testament to his fitness. He barely had a minute to sit down and rest. He was all over the festival area starting the races, shaking hands, taking photos, chatting with folks and being so approachable you'd think he was part of your family. And that's what Gladiator Rock'n Run seemed like to me. A huge OCR family reunion with one hell of a host. Team Vibe from Rialto confirmed what many other competitors told me as well. It was a fun and challenging OCR event for all, with it being the first one for many of them. Would they do it again? Heck yeah was the answer. This is exactly what OCR guys like Dan want to hear.
Overall, it was a great day and event. It had a few correctable hiccups that can be easily corrected and a strong showing from the SoCal community and neighboring states as well!!
Job well done Dan!
See you all at the races!!
Rating: 4/5
---
Have you done a Gladiator Rock'n Run?  Leave your own Gladiator Rock'n Run review and feedback…