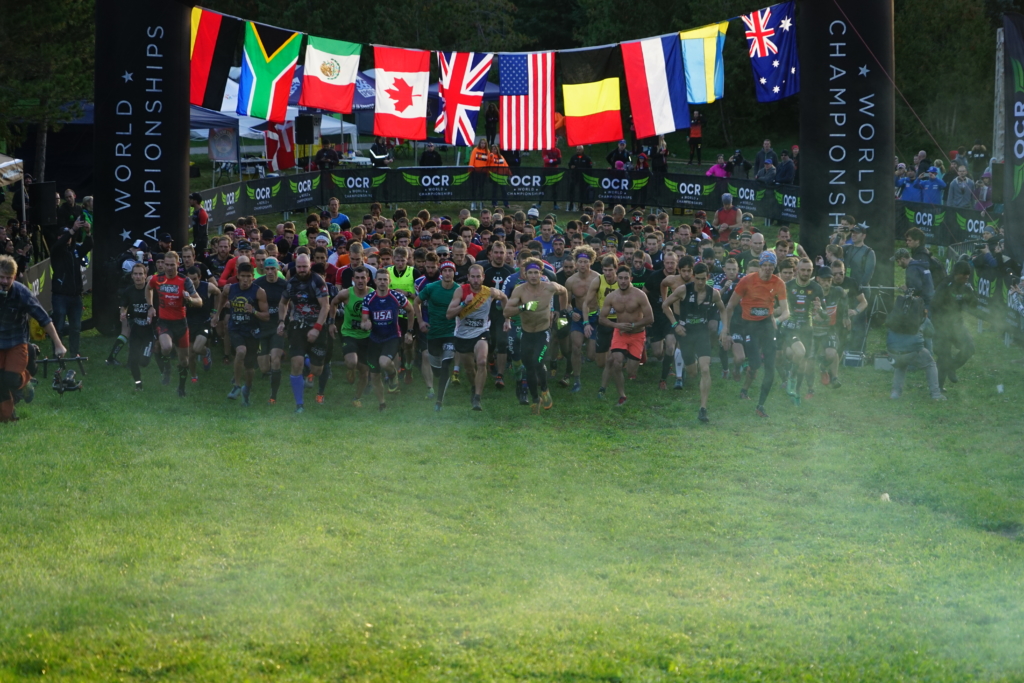 It was a cool morning on the banks of the Gregorian Bay. However, we expected much worse from Mother Nature in October. We are in Canada! As I stood there in the start corral for the Pro Wave of the 2016 OCRWC, I found myself wondering,
"What the hell am I doing?"
You see last year I competed in the 35-39 Age Group (AG) Division. I am getting up there in age compared to a lot of these guys, and I'm not really that fast. I do, however, excel at tough obstacles and I can grind it out with the best of them. This race doesn't play to my strong suits, though, and now I'm standing next to the two-time defending Champion, Jon Albon, The Sheriff, Hunter McIntyre, Mr. World's Toughest Mudder, Ryan Atkins, and a slew of others in this wave in which we are about to go head-to-head.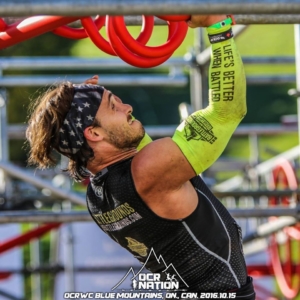 I was pretty sure these guys were going to dust me off the start and that I'd be running alone for the first half of the race until we reached the first real failable obstacle, the Platinum Rig #1. I didn't have much pressure on me because no one expects much from me. I'm probably just one of "those guys" who a lot of the Elites say is "taking a spot from a true contender." To those guys, I say it! I qualified for this event at World's Toughest Mudder, at Conquer The Gauntlet, and at BattleFrog. I qualified for the Pro Wave at The Battlegrounds, and since I wasn't too happy about running that AG 11:20 am time start in 2015, I decided to race in the Pro Division and see how it went.
"Let's do this!" The gun sounded and we were off. I was content with letting the thoroughbreds take off making sure to run my race. However, a funny thing happened just after we were underway… As can occur in an obstacle race (OCR), the good Lord threw a monkey wrench into the plans of a lot of racers. Who knew it would be a 12 ft quarter pipe that would change the race entirely from top to bottom. As I approached this wall, I could see the mass of men gathering at its base. Hunter and Ryan were among them. Jon Albon was nowhere to be seen! Damn… this race is over for almost all these guys right now, and we are like a mile into a 9-mile event. The fastest OCR racer on the planet has just left the pack and has only Robert Killian in his wake. Now all of us are racing for pride. After about four tries I finally get through, and I leave a lot of the guys that I thought would surely dust me behind. "Time to run," I thought. "I have to "gap" these guys, so they have to push to catch me."
Some of them did… but a lot of them didn't. In fact, I was pretty happy with my position as I approached the Wreck Bag carry at the half-way point in the race. That's when I heard the cheers. This roar was not for me. I knew who it was for, though. I heard a guy yell "come on Lindsay crush this Wreck Bag." I was about to get "chicked" by the defending OCRWC Champ and 2nd place Spartan World Champion. I said to myself, "She is not passing you on this incline!" I dug in and pushed it. To be honest, all my training for this event had been spot-on. The carry wasn't bad. When I reached the top, I stopped to cheer on Lindsay and let her pass, but I couldn't resist a comment to her "you know that's a win for me, you didn't pass me on the uphill!" She laughed and was on her way.
After this carry, we had the longest climb of the race, and you know what? I crushed that one too. I passed a few guys, and I was feeling good. All of the hills I ran in training; all of those long runs had paid off. Some of these guys were fading, but I was fine. I now had two mini-wins under my belt and after getting through the Platinum Mini- Rig there was mainly descending left; which, by the way, I excel at. That's when the next mini-challenge would arise.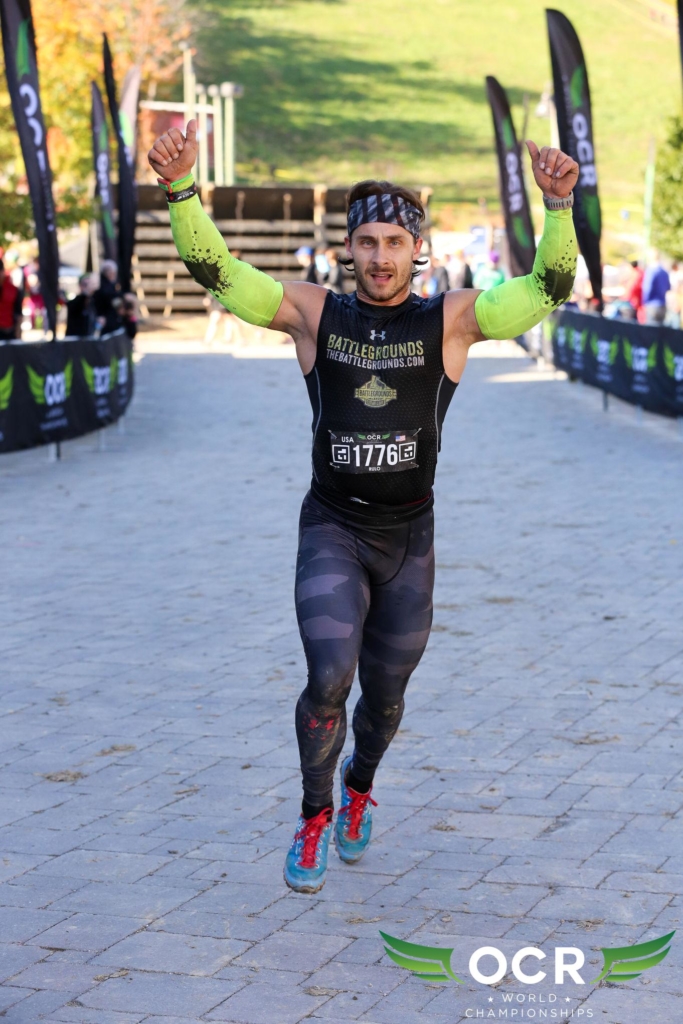 You see when you are just a "pretty good" racer but have no expectations of a podium spot you pretty much need to create your drama in your head to create a reason to give it your all during the race. Whether that is, finding a rival racer on the course, or trying to set a PR on a given course. On this day, my "Apollo Creed" would come in the form of a Toughest Team Racer, albeit a female. Sara Trolte passed me at the Weavers, and while I didn't know her, I saw she was on the Toughest Race Team, so I knew she was a high-level racer. She wasn't aware of it, but she had just become my "rabbit." As it was, I would have to stay with her for about 3 miles of the craziest OCR descent I've ever seen. We were running down a mountain bike trail with banked curves and bumps that would also prove to be my favorite run section that I've ever completed in a race. I remember thinking, "this is AWESOME!"
Shortly after that we would pop out of the woods and be looking down a steep decline out onto the final gauntlet of technical obstacles that led to the finish line. Ms. Trolte began to get away from me a bit in that last half mile, but I was still passing males from the Pro Wave. I blew through those last few obstacles and crossed the finish line doing much better than even I thought I would have. I raced my race and performed well. There were things that I could have done better, but I have time to correct those issues before the 2017 OCRWC.
I am happy with my 131st place out of 212 finish.
Next year I am confident that I can get top 100. In that, I would say that I do belong in this wave. I found that I can compete with these guys even though I'm pushing 40. There are so many things about this event that made is great, but for many of us, this is our Olympics. I feel that I represented my Battle Corps Teammates, my country, and most importantly myself well in this race. I always tell my personal training clients to give everything you've got because it might just matter. Excellence means different things to different people. As the Army used to say "be all YOU can be." Yeah… I pretty much agree!
---
Look for the announcement of the 2017 dates and location of the OCR World Championships tomorrow morning on Mud Run Guide with all the information you need to prep for next year.