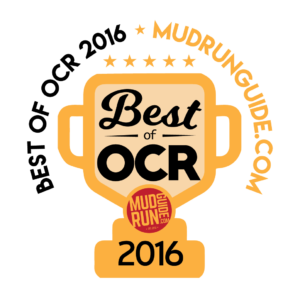 2016 VOTING IS NOW OPEN!
The Mud Run Guide Best of OCR Awards are back for the third year. It's time for you to nominate the best of 2016 – best race series, clubs, athletes, moments, influencers, and more. Relive all the best OCR moments of 2016 as the industry looks ahead to the 2017 season. We have empowered the OCR community to bring forth nominations for each of the 2016 MRG Best Of OCR categories. You will be the ones to help us choose the most memorable moments, people, and events.
Best of OCR Timeline
November 14 -9 am until December 5 at 12 pm EST – Nominations (closed)
December 7 – 12 pm until December 19 at 11:59 pm EST – VOTING OPEN NOW
December 28 – Winners Announced
Be sure to make your nominations for categories such as Best OCR Series, Best Race Director, Best New Obstacle, and more. Mud Run Guide has a diverse set of categories for you to nominate all your favorites. What was your favorite moment of 2016? Who is your favorite athlete to watch? Which race do you think was the best this year? We leave it to you, the incredible OCR community, to make the decision.
Voting Open NOW

Check out Past Winners