For all the World's Toughest Mudder Comprehensive Coverage visit our MRG World's Toughest Mudder Page.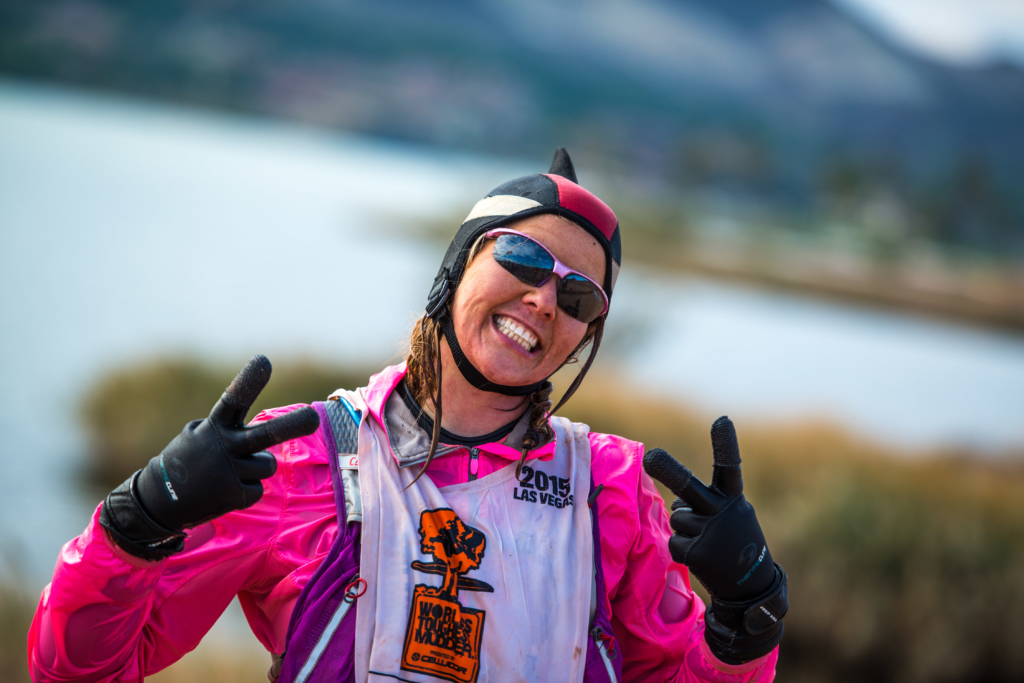 It's World's Toughest Mudder Week 2016! We are inching closer and closer to Saturday and the start of the 6th Annual World's Toughest Mudder. Saturday at high noon the race kicks off in Lake Las Vegas, Nevada. This week Mud Run Guide is looking at top men, women, and teams to watch as we count down the days. Yesterday we looked at the top men to watch and today we focus on the ladies.  This year we should expect to see some new faces on top of the podium with both Amelia Boone, Deanna Blegg, and Juliana Sproles out of the race this year. Instead look for both World's Toughest Mudder veterans and newbies to be vying for that top spot.
WTM 2016 Top Women to Watch
---
Sara Knight – USA
Sara Knight returns to World's Toughest Mudder this year after a second-place finish last year in the event. Last year Knight completed 70 miles on the grueling course. Knight is the co-founder of Obstacle Elite training center and you know she will be proficient on the obstacles. Combine that with her experience and mileage from last year and she just might find herself on the podium once again.
---
Lindsay Webster – Canada
Lindsay Webster has won almost every event she has entered this year. While this is her first World's Toughest Mudder she is no stranger to the event, crewing for her now husband Ryan Atkins for the last couple years. Webster used BattleFrog's BFX 24 as a test run for World's Toughest Mudder earlier this year racing for over 14 hours before calling it a race to preserve her body for a race only a week later. Webster has one of the strongest training partners in OCR so while she is new to the 24-hour race you know she will be well trained and prepared for whatever WTM throws at her.
---
Amanda Basham – USA
Amanda Basham is a name that not many in the OCR World will immediately recognize but is no stranger to the ultra running world. The 26-year-old, Basham, finished fifth this year at Western States clocking 100 miles in just over twenty hours. Recently she finished sixth in Run Rabbit Run 100 miler in Steamboat Springs, Colorado and constantly places in the top 10 in ultra marathons. She has the endurance to be a competitor the question will be how her body handles the repeated obstacles loop after loop.
---
April Hartwig – USA
April Hartwig has been pretty quiet on the obstacle racing circuit this year and for good reason. She has been laser focused on World's Toughest Mudder. According to her coach Yancy Culp, she is ready to go the distance this year and put it all on the line. She is hungry for the podium and will do whatever it takes to get there. Hartwig has been an obstacle racer for years and this year her sights have been set on World's Toughest Mudder.
---
Allison Tai – Canada
Allison Tai is back for a third time to World's Toughest Mudder. In 2014, Tai finished second for women while stopping to nurse her daughter between laps. Last year Tai went into the race with an injury that resulted in her pulling from the race early on. This year she is trained, healthy, and ready to go. Tai has a strong background in both obstacle racing and endurance running. She has finished 100-mile ultramarathons in the past and knows how to push through the pain cave.  She recently won the Spartan Race Ultra Beast in Lake Tahoe and used it as a prep for WTM. Tai is ready to find her way back onto the podium.
---
Other Notable Women to Watch:
The women's field this year is incredibly strong. Look for returning competitors Carrie Wiggins and Kristy McBride who finished seventh and eighth last year. Morgan Mckay is looking for a strong outing this year. In the past, she has had some stomach issues but has trained through them and ready to build upon her BFX 24 finish early this year in which she ran 75 miles. Look for Nicole Correnti to be the darkhorse in this year's race. She has prepped for a mileage that should put her in the top 10 at the end of the weekend. Finally, Look for Lauren Andrews who continues to crack into the top 10 for women and represents the 50+ age group as well as Mandy Baskin who is the only women to have competed in all six WTMs after this weekend.
With any endurance race, you never know what will happen on race day. Who are your picks for the women's race? Who stands out for you? Stay tuned to Mud Run Guide all week for coverage leading up to, during and after WTM 2016.