Hi, and welcome to the first of a new monthly segment where I'll be filling you in on the key news from OCR in the UK.
November isn't a crazily busy month for us, but there are a couple of key events: Nuclear Fallout is the final event of Nuclear Races' 4 event season, then this year it was followed by the second ever UK OCR Championship. Both of these races, plus another one called Monster Race were also the final three races of the season in the Mudstacle League.
I also need to introduce you to a couple of our best racers who you may not be so familiar with…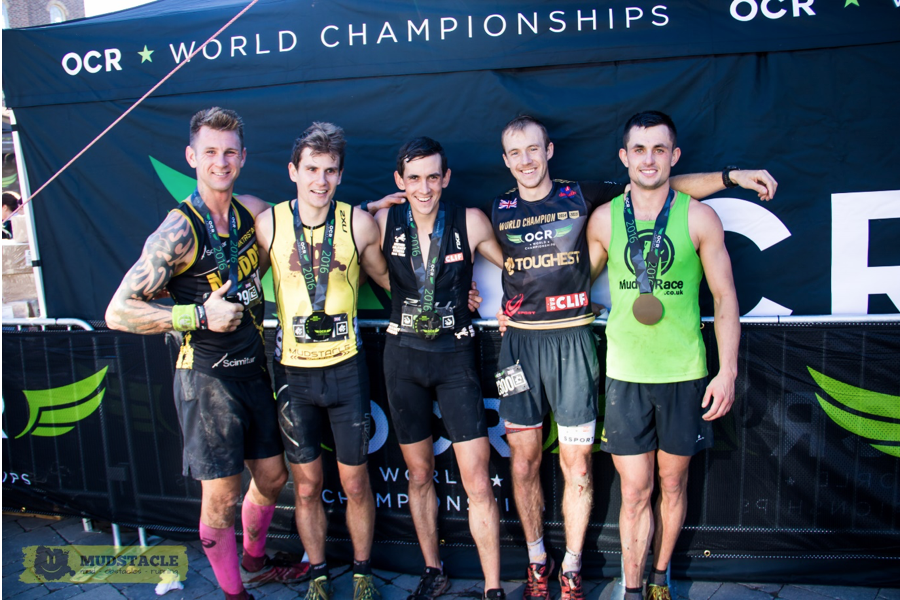 Here is a picture of the best five British obstacle Racers who all finished in the top twenty at OCRWC both this year and last year. From the left, they are Tristan Steed, Ross Brackley, James Appleton, Jon Albon and Conor Hancock.
I would hazard a guess that most of you will be familiar with the three on the right-hand side, James Appleton has been a regular at Spartan World Championship events for quite a few years and was also one of the 'stars' of Rise of the Sufferfests. Jon needs no introduction and Conor on the right has also been a very strong contender at several world events, the highlight being that he made the podium at this year's OCRWC, clinching third place on the final obstacle.
Sadly, James, Jon, and Conor have barely been doing much racing at more regular OCRs in the UK this year, as I understand it through a mixture of fighting off injury and saving themselves for the big championship events and the Toughest tour.
This has left the Mudstacle League and the UK Championship this year into an exciting battle between Tristan and Ross. In fact, it has been refreshing watching such a close battle because we're very used to the likes of Jon and Conor winning by miles!
All three events that I'm about to talk about have been between these two athletes.
Nuclear Fallout
To many people, Nuclear Races embodies so much about what is great with British OCR. It is on a permanent site which is a large working farm in Essex, around an hour's drive East of London. As a large working farm, the landowner and race director James has plenty of advantages over most other races – predominantly that he has access to a workshop full of incredibly talented craftsmen who can build what he wants all year round, but also that he has the heavy machinery on site that enable him to pick up and move almost any obstacle on the course to a different location. This means that he has the main advantage of a permanent site in that he can build BIG sturdy obstacles, but also doesn't have the main drawback of a permanent site that you get the same course every time you visit.
They have amazing obstacles, they have amazing mud, they have amazing facilities and they have LOADS of everything. A 12km (8-mile) race there will typically have between 60-80 obstacles in!
Fallout is their last race of the year, and as its, in November they have to take special precautions for the cold, which include having fire pits after cold water obstacles and serving hot squash in case people need to warm up. They think of everything!
I was personally expecting Ross Brackley to take the win here because his recent form has been phenomenal, but even though he started late, Tristan Steed flew around the course. In the end winning by nearly three minutes. This moved Tristan to the top of the Mudstacle League with only one race left of the season – the Championship race!
UK OCR Championship
Our national championship event had been a talking point all year, with qualifiers taking place on a regular basis up and down the country. A national championship like this has the potential to bring out so much of what is great about the sport, but sadly it also showed a side which is still very undeveloped and needs nurturing if OCR is ever to succeed on a more mainstream scale.
The course was set up at Pippingford Park which is one of the spiritual homes of OCR in the UK. It's a private estate just South of London which has played host to many amazing races over the years. Spartan, Toughest, Judgement Day and countless others. It's an incredible venue for a race because the terrain has everything – hills, streams, woodland, bogs, fields, and lakes.
The championship race was a 16km course that had a bit of everything, by all accounts 95% of the course was amazing, but sadly the whole race fell apart when the athletes came to the rig – which was less than 500m from the end. This rig was a fair bit longer and considerably tougher than the Platinum Rig at OCR World Championships, and it ended many, many peoples' races.
The first two through (Tristan and Ross) both needed two attempts to get past the rig. The athlete in third was Jason Brunnock who is also an extremely accomplished obstacle racer (34th at OCRWC) and he struggled so much he didn't get across. In fact, the whole of the rest of the field behind the front two got to the rig and stopped… Unable to make it through easily. Andrew French was the next person to get the rig to take third place, and he was outside the top 15 until he got there. Inevitably, the lines at the obstacle started to grow, and before long there was a 20-minute wait for another go if you didn't get through. By this time what had started as a sunny day had turned cloudy, and the racers started to get very cold, which just made it harder to grip.
In the women's race. Freya Martin who has been the untouchable Queen of British OCR for a couple of years (5th at OCRWC this year) had one go, came off and knew then and there that she'd never make it so ran into the finish with only one wristband. The women in second and third followed suit and then the word got round to the ladies still at the rig that no woman had made it through, so technically, first place was up for grabs. Lilly Hunt was there, and she was the only woman to get through to the semi-finals in the most recent series of ITV's Ninja Warrior (our equivalent of ANW), and she didn't make it across after four attempts. Two other ladies who train hard on rigs stayed up there for around 3 hours, trying to get across. Only stopping when they were told that the time was up and they were about to be DNF'd.
In the end, fewer than 50 people out of a field of just over 600 completed that rig. It was a real shame because the rest of the event was amazing, but the rig left a bitter taste in the mouths of 95% of competitors there. We hope that it will serve as a wake-up call to all race directors across the world, that it's all very well trying to label yourselves as 'the toughest event' but the reality is that if you make it too tough, then you'll only serve to alienate and eventually put off many enthusiasts.
Despite Tristan and Ross being neck and neck with only 500m to go, Tristan Steed took the win meaning that he has won nearly all UK Spartan Races this year, the UK OCR Championship, AND the Mudstacle League. Hopefully, he'll be able to keep up this impressive run and place even higher at the world championships next year.
The Mudstacle League is an independent league of obstacle racers that we administer. Each season lasts six months and typically features 20-30 league points scoring races across the country. Scores are calculated based on where you finish as a percentage in the field, with bonus points available to the top few racers (the amount varies depending on how competitive the event is and the size of the field). The crucial part is, though, that only your top three scores count towards your total, so even if you can only get to three league races in any season, you're still in with the same chance as somebody who's been to ten.
It'll come as no surprise to you by now that this season has been an exciting battle between, yup, you guessed it – Tristan Steed and Ross Brackley. But the thing that was most exciting was that before Nuclear a couple of weeks ago, they had gone all season without racing head to head. So they had both scored wins at pretty much every event they'd been to. It was great therefore that the season came to such a climactic close with the showdown at the Championship Race.
In the ladies league, Freya started the season dominating as usual, but a new obstacle racer Dominique Searle scored huge points at the Survival of the Fittest series, being the women's winner in three of them which toppled Freya off the top. This is the first league season in the last five that Freya hasn't won and even more impressive is that Dom Searle is the first person over 40 to win a league championship title.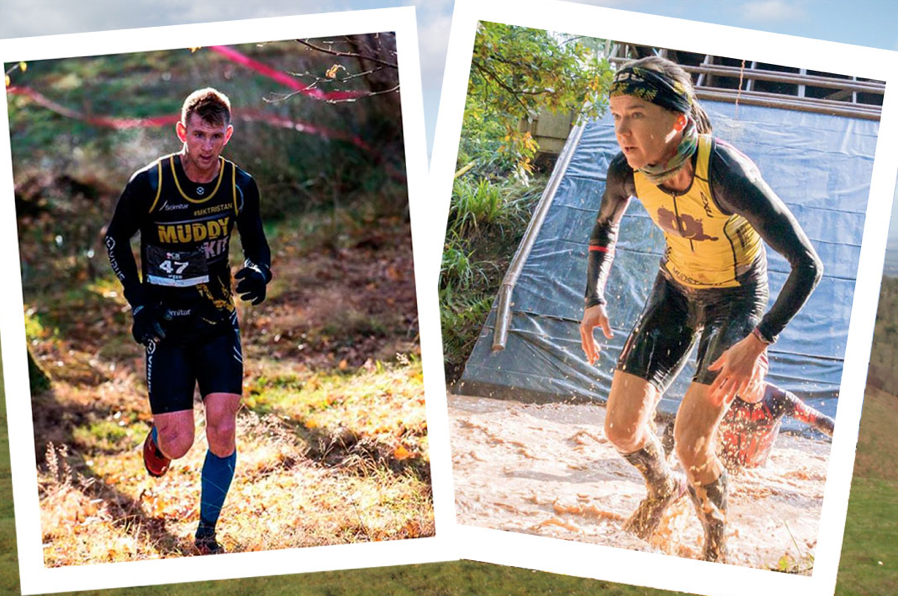 I hope you've enjoyed this month's recap. December is a much quieter month for OCR in the UK, but next time I'll report on the winners of the Mudstacle awards and the first ever Kitchen Sink Race – see you next time!