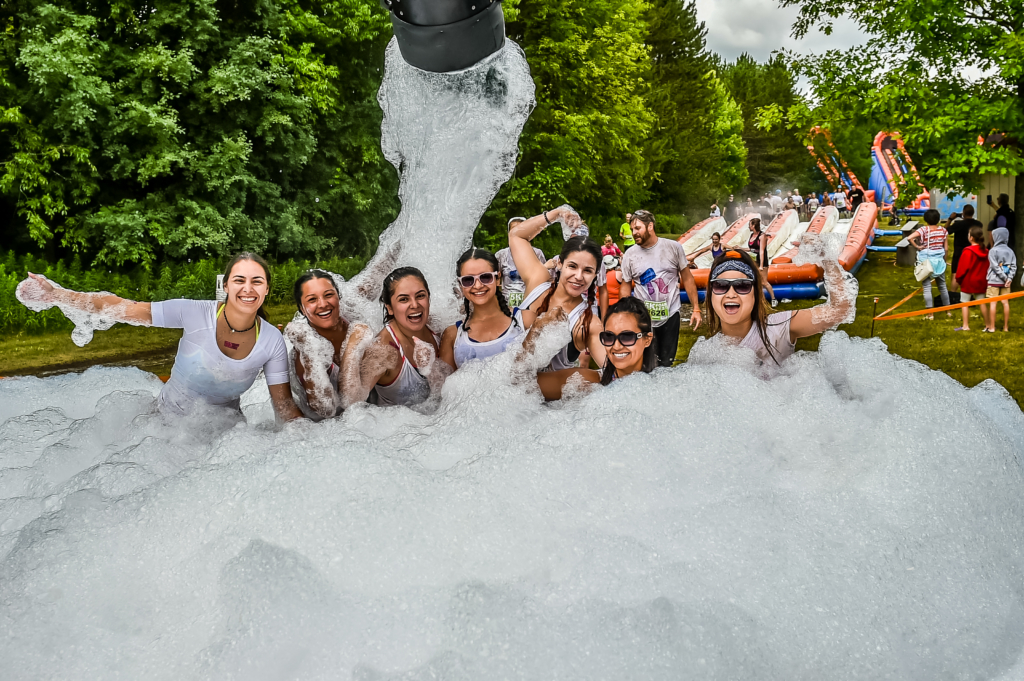 5K Foam Fest has become one of Canada's favorite themed runs. While the series in Canada has glowing reviews those who remember the series in the US may have a different memory. The team that originally brought 5K Foam Fest to the USA is no longer involved with the race series. After becoming a staple in Canadian obstacle racing under the management of 365 Sports. The company has now expanded to the states with 365 Sports USA Inc. With US staff and US location to handle the US Business side of things.
365 Sports is the same company that partnered with OCR World Championships when the championship moved to Blue Mountain, Canada. The series returns to the US and is slated to host events in nine different cities. See the full press release below. To watch our exclusive interview with Jesse Fulton, owner and president of 365 Sports, as he talks about the announcement.
.
---
In 2014, Utah-based Round House events who operated the American 5k Foam Fest went bankrupt. Days before their ticket holders were expecting to attend events. Ticket sales continued until the day of bankruptcy, and no one were issued a refund.
In a statement to the press, Round House pointed out that 5k Foam Fest Canada (owned and operated separately) would remain in business. With the immediate shuttering of Round House, all inquiries both press and angry customers were pushed to 365 Sports Inc., a small Canadian company based in the Blue Mountains, Ontario (2 hours north of Toronto).
After a phenomenally successful 3 years of bringing the foam fest to more than 150,000 people all across the country; the team at 365 Sports Inc. has decided to re-launch 5k Foam Fest in the USA. In order to sweeten what was soured by the acts of former Foam Fest owners, 365 Sports Inc. is honoring tickets purchased for 5k Foam Fest USA in 2014. Any person that was affected by the lost ticket price is invited to attend the event by showing proof of purchase and event cancellation.
"We decided to return to the USA because of an overwhelming amount of interest. We also felt that people needed to see and experience how fun this event truly was. In addition, it will raise money for Charity in the USA and the biggest reason was because every time we had US participants participate in the Canadian events they all made a point to let us know how much they loved it and suggested we come back down. The US events will run as its own entity with a great trusted staff down there! Looking forward to getting south of the border to see all our American friends and family!" – Jesse Fulton, President & Founder of 365 Sports Inc.
In addition to raving American fans, the 5k Foam Fest reviews prove that 365 Sports Inc. has captured the hearts of thousands.
"We had an amazing day and many many laughs. It was well organized and the run is set up for all fitness levels." – Lori, Moncton

"My boyfriend and I have done many runs, and so far this is our favourite, we are already signed up for 2017!" – Kenya, Vallee du Parc
The Foam Fest is a non-competitive, non-timed 5k obstacle course that is suitable for participants 8 years of age and up. Both participants and spectators are welcome to partake in the events activities, featuring a kids' zone, a 20-foot "sky fall" drop onto a stunt bag, bouncy castles, the world's tallest portable inflatable water slide, food and drink vendors, and an on-site DJ.