DryRobe has been a favorite among the Mud Run Guide crew for years. Since first wrapping ourselves in the warmth at Polar Bear Challenge a few years ago it's been a favorite. Gideon Bright is the founder of DryRobe and talks about how the company started in the surfing industry inspired in a way from his mother to how it is an obstacle racing staple.
DryRobe Interview with Gideon Bright
.
DryRobe is a company that grew out of a need that Bright saw when he was surfing the icy waters off the United Kingdom's coast. A friend convinced him that his robes were great for triathletes, and it was a triathlete/OCR racer Ross MacDonald in the UK that was the first to bring DryRobe to OCR.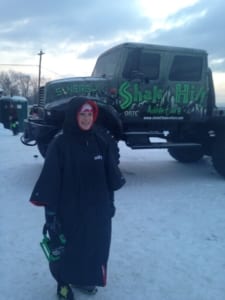 My first experience with DryRobe was a cold winter race in Vermont (pictured above) and was chronicled in this gear review. Other Mud Run Guide contributors have also shared their own experience including Evan Perperis who claimed DryRobe was like being hugged by a CareBear.
As soon as members of the OCR community try on a DryRobe most are hooked. In the interview with Mud Run Guide, Bright talks to us exclusively about some of the new product developments which include a lighter weight DryRobe for warmer climates (think spring and some summer OCRs) as well as a possible DryRobe pants which many of us will be interested to see what happens with that.
Additionally, Bright talks about some of the organizations outside of obstacle racing who are embracing the DryRobe revolution including rescue groups and surf organizations. DryRobes are much more than just an item for the obstacle enthusiast, surfer, or triathlete, today they are literally helping save lives when rescuing people from cold water conditions.
DryRobe has become a household name in many parts of the European OCR community and continues to rapidly gain traction in the United States. Recently the company launched a new US website. With the new website, new advancements, and innovations in their product they are a must have for any OCR enthusiast.
---
Learn More About DryRobe USA and how you can get your own DryRobe.
---