30 Days, 60 SmashPacks Eaten…
Back on January 10, I jumped headfirst into a fitness & nutrition program based around calorie restriction & exercises to drop 10 pounds. Before we jump to the results, let's go back and cover the goals and see how I did!
SmashPlan: My Goal
My 30-day goal kicked off on January 10 and ran through February 8. Starting weight was 168 lbs, and my target weight was 158 lbs. I was not concerned with BMI, BMR, lean muscle mass, or the size of my waist – my goal was simply to drop 10 pounds with a balanced diet including (2) SmashPacks a day and 30 minutes/day of bodyweight exercises, daily walks or bike rides, and a few short runs per week. No gym membership or complicated diet required. The bodyweight exercises took a backseat on 1/15 when I re-injured my left shoulder in a soccer collision, and on 1/16, my #5kaday run streak kicked off. I've logged at least 3.1 miles a day since then, totalling just over 79 miles. My goal is to hit 1000 miles by December 31, 2017, and keep my daily 1-mile-minimum running streak alive.
Losing Weight – The (simplest possible) Math
Let's go with the most basic weight reduction calculation; calories in, calories out. (Yes, there are far more precise methods to analyze body composition and nutritional needs, this is basic on purpose.)
3500 calories = 1lb of fat. Want to lose 5 pounds in a month? You'll need to drop 17,500 calories by dieting or activity, that averages out to upwards of 600 additional calories per day either burnt off through activity or removed from your caloric intake. Optimally, you'd split the calorie deficit between activity and caloric restriction, an equal split looks like:
5 pounds/month = 600/day calorie deficit (burn 300 calories/day exercise, intake 300 calories/day fewer)
My goal is double that at 10 pounds, but I'm not a first-timer at this. If you are doing this for the first time, 5 pounds/month can be a challenging but attainable goal, and I highly recommend you start between 1-5 based on your activity level & willpower.
My 30-day "SmashPlan" 10 pound weight reduction will require about 1200 additional calories/day either burned through activity or a reduced calorie diet.
A Few Obstacles to Test My Flexibility
Over the past year the term "pivot" was tossed around quite a bit; basically how quickly you can adapt & overcome and switch tracks to move forward. I failed this program before I even started back on January 2nd, when I realized there was no way I could start this program while in Florida on vacation and leading up to a marathon – it just didn't make sense to shoehorn it in. The '17 Disney Marathon itself was a bust, there was no way I was dragging my butt out at 4am to wait in a corral with the temperatures below freezing and without packing any cold weather gear. I've finished over a couple dozen marathons, and had absolutely no desire to freeze my ass off for this one. Luckily, realizing my pattern of quitting helped me to refocus – or make a mental pivot – and put all my effort into making the SmashPlan a success – and it really paid off.
Re-injuring my shoulder was a real bummer, as that knocked out any upper body exercises and even planks, hanging leg raises, and sliced my Ripped routine to ribbons. In turn, I pivoted to running at least 3.1 miles every day and actually burned off even more calories than I was originally intending.
Nutrition-wise, I was a bit stingier with my calories than I originally intended, and once I get really motivated to lose weight I can overdo it with restricting calories. I dropped the morning and afternoon snacks, and basically subsisted on (2) SmashPacks during the day, a salad, and a lean dinner. Yes, there were occasional rice cakes with peanut butter and a few ultra light beers, and even a couple Jack & Diets along the way – but I was pretty diligent about keeping my calories below 1200/day, and a few days it was as low as 900. I never felt like I was starving myself, and it really wasn't difficult once I started rolling, even though Kristen said I was no longer any fun to go out to dinner with.
SmashPack – the Secret to My Success!
Let me straighten something out that I read on the 'ol Facebooks – SmashPack did not pay me anything to perform this test – I actually reached out to them after taste-testing all three of their flavors, a simple email about "I bet someone could live off these things…" led to my new friends Kari & Rob Simpson hooking me up with a 30-day supply to give it a go.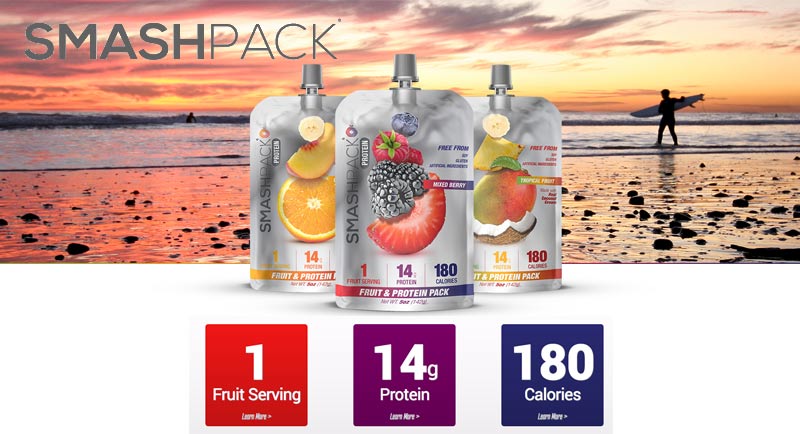 So, 60+ SmashPacks later, what do I think of the product?
If you ate four hard-boiled eggs every day for a month, there's probably a really good chance that you'd not even want to look at another one for a while, right? That's not to mention how incredibly inconvenient it would be to carry them around and refrigerate after cooking and peeling… well, my two SmashPack-a-day habit has roughly the same calories as four eggs, same protein, but the SP has a full serving of fruit too, no refrigeration needed (imagine how naaasty eggs would be sitting in your gym bag all day?) and are always good to go. Oh, and the whole "eat it every day and get sick of it" question I postulated earlier? Forget it. I still love the flavor, consistency, and extreme convenience and plan to keep eating SmashPacks for breakfast for some time to come.
Honest-to-Goodness Review
While I like it a lot, there are a few things you need to be aware of if you're trying SmashPack out for the first time: the consistency, and the tart flavor of the Tropical Fruit & Orange Peach.
The consistency is pretty close to toothpaste, and it requires a little effort to squeeze it out of the pack – I see this as a good thing, because even with the cap off it won't drip. SmashPack is made from real coconut cream, and that's the base that all the fruity goodness is added to. Personally, I love the taste of coconut, and you can notice it pretty clearly along with the fruit. One thing that I love about the thick consistency is it really fills me up and makes me feel like I've had an adequate "meal." For my breakfast SmashPack, I know I'm not eating again for another 3+ hours, and when I'm finished with a pack, I don't feel like I still need something else. As I mentioned in the first article, I had success with a Slim Fast diet in 2001, but I can honestly say I never felt completely satiated after drinking a shake like I do after a SmashPack.
The flavors are great, and I love that all three are pretty different, this made it very easy for me to mix it up each day (honestly, I just grabbed one from the fridge and didn't care what flavor it was) and not get sick of the same taste over and over. As I mentioned above, the mango flavor in the Tropical Fruit hits your tongue pretty quickly on the first taste, and if you're not a mango fan (Kristen isn't) then maybe this flavor isn't for you. Personally, it became my favorite because the intense fruit flavor is distinctly different than anything you're going to have in the day; and reminds me of a really fresh fruit smoothie. While I like the Orange Peach, it's my least favorite, with Mixed Berry right in the middle with a relatively predictable flavor.
At 180 calories and 14g of protein, great flavor, and wildly convenient, I sincerely recommend SmashPack to anyone looking for a meal replacement, pre-workout snack, or endurance fuel. While one SmashPack has less calories than an energy gel, the fiber will last with you a little longer than the simple sugars of an energy gel.
My Results
Let me start out by saying., "yeah, I had plenty of things in my favor for this to work out right." I know I went into this program with the knowledge that I've done it before, coached other people through it, and written over a dozen books published worldwide on these very subjects. I've also leaned down to the 140's and got ripped for photo shoots before, so I know the formula pretty well – but I didn't expect the results that I got from this SmashPlan, and today was a bit of a shock.
My goal was to drop from 168 lbs to around 158 lbs (I really like 159, it's a line from a Refreshments song, Broken Record: "…cuz I'm a healthy hundred and fifty-nine pound American Boy") and I was pretty blown away to hop on the same scale at my gym and see the dial swing almost halfway up the the max of 300, to one notch shy of due north and land at 149 lbs. Really. I wasn't dehydrated, I'd just drank over 20oz. of water on my 5k run, and I even had my sweat-logged clothes still on. I stepped off to make sure it went back to zero and it still read 149. Wow.
How'd I overshoot my goal by a whopping 9 pounds? I already told you that I skimped on calories at anywhere from 900 – 1200 total/day, and my Garmin fitness tracker fills in the rest of the puzzle, my running and activity easily burned an extra 300 calories/day on top of what I had budgeted for, so I was operating well into the red for 30 days. While it's a bit extreme for a plan that I'd suggest for a beginner, but if you have strong willpower and can exercise even when your body is pretty depleted of energy, it's doable. Realistically, cutting 500 calories/day and adding some exercise is the best balance for losing weight and staying active. Remember, I don't go to an office everyday as Mud Run Guide, Mud & Adventure, and ADV.FIT are my full-time jobs, so "running on fumes" a few days wasn't much of a problem. Maybe I even snuck in a few afternoon post-run naps too.
Now, the reality of it is that I am barely carrying any muscle on me right now as I haven't worked out in months and have only been running. As you can see by the photo below, I'm still even a little puffy and could really use a 14-day shred cycle to get into swimsuit shape – that's probably my next goal in a few weeks. For now, I'm going to enjoy running a lot more at 19lbs lighter and keep up with my #5kaday streak and mix back in a 3-day a week Ripped workout and see where that goes!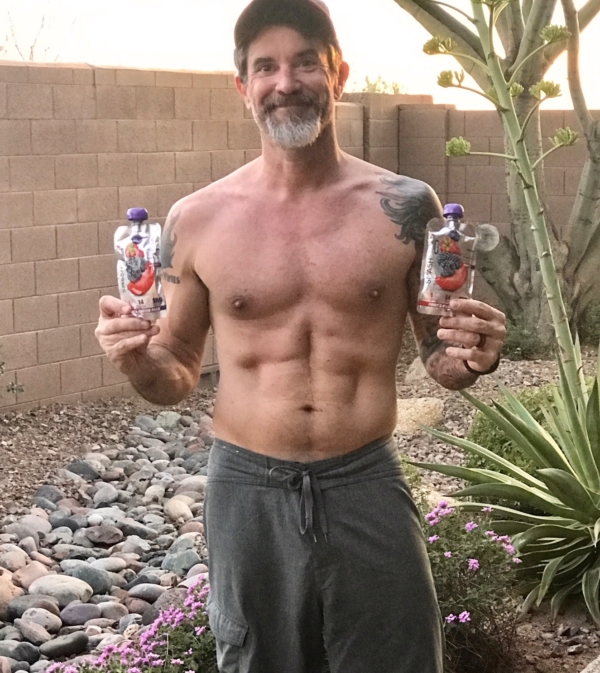 About SmashPack
PERFORMANCE & RECOVERY FOOD EVOLVED! SmashPacks are the next evolution of specifically designed performance and recovery nutrition made from real foods – not chemicals. Professional athletes, at the pinnacle of physical fitness, fuel their performance with real food and so should you.
15% OFF SmashPack! – Click HERE to visit SMASHPACK's Amazon store and receive 15% off your entire SMASHPACK purchase just enter the promo code: MUDRUN16 at checkout.
(Terms: One redemption per customer.  Does not apply to orders placed with 1-Click.  Promo code expires on 2/15/17 at 11:59pm PST.)