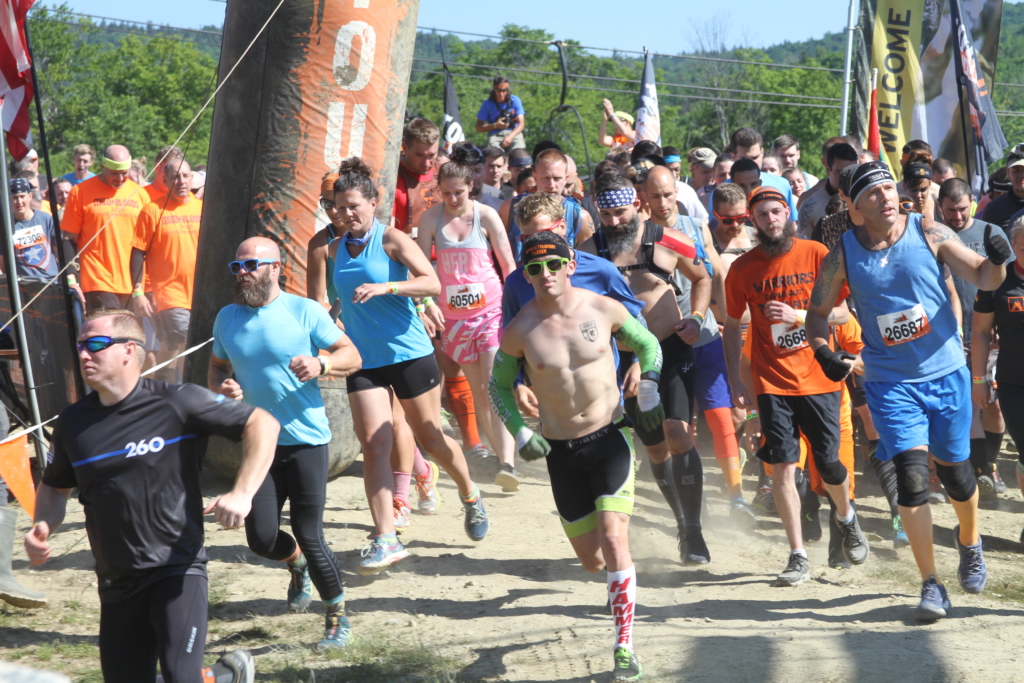 More Tough Mudder 2017 Updates: Tougher Mudder
Earlier this year, Tough Mudder announced Tougher Mudder, a timed, competitive heat added to select 2017 TM venues. Today, Tough Mudder HQ officially released more information and dates regarding where you can participate in this new, competitive heat as well as some insight into the $350,000 prize purse that will be won this year at Tougher Mudder. Mud Run Guide sat down with members from TMHQ to learn more about the new offering, but before we get into these newest updates, let's recap all the different offerings that Tough Mudder has on-tap for athletes of all types throughout the 2017 season:
TM's of All Types: Tough Mudder 101
Launched in 2010, the first Tough Mudder in Pennsylvania was technically "timed" as there was a running clock at the finish, but very quickly TM's brand's differentiator from events like Spartan Race and Warrior Dash was their lack of timing, Tough Mudder moved forward as a challenge, not a race with great success. Over the next few years, the brand exploded internationally, as did Spartan and WD with the former adding specialization of distances in the form of Sprint, Super, and Beast (as well as Stadium Sprint, Ultra Beast, etc.) while Warrior Dash dropped their timing entirely, while still offering a competitive heat in the morning.
Tough Mudder has continued their brand dominance both inside and outside of the world of OCR; the best test is starting a conversation about the sport with anyone who's never participated in a mud run: "What, do you mean those Tough Mudders?"

Tough Mudder 2017 Lineup:
Tough Mudder 5k: (currently Nashville only in 2017) 3.1 miles, 10 collaborative obstacles seen at other Tough Mudder events, untimed, obstacle completion is not required, no points, prize money, or awards. Finishers receive a TM5k headband & beer.
Tough Mudder Half: (available at every 2017 TM venue except New England) 5 miles, 13 obstacles (no ice, no electricity) untimed, obstacle completion is not required, no points, prize money, or awards. Finishers receive a Tough Mudder Half headband & beer.
"Full" Tough Mudder: 10-12 miles, 20+ obstacles, untimed, obstacle completion is not required, no points, prize money, or awards. Finishers receive a distinctive Tough Mudder headband & beer. Finishers of more than one Tough Mudder can become a member of Mudder Legion, see info below.
Tougher Mudder: (available at "almost" every 2017 event) A timed, competitive heat held at select Tough Mudder venues. Athletes must complete all obstacles to retain their wristband in order to be in the running for prizes and bring home a special Toughest Mudder headband. The top 3 male/female finishers receive their piece of $1700 in prize money and also snag a free beer. Those who finish without their wristband by not completing an obstacle will receive the standard TM headband… and they get a beer too.
Toughest Mudder: A timed 8 hour competition held at (5) Tough Mudder venues in 2017, cash prizes for top 5 men/women finishers starting at $5k, top $10,000 grand prize to the top male & female with the most annual miles completed. Finishers receive a bib and TM headband, athletes that complete more than 25 miles receive a 25 MIle Toughest Mudder patch, and qualify for "Contender" status at World's Toughest Mudder. The first athlete to complete more than 50 miles will receive a $5000 bonus, all 50+ mile finishers receive a 50 mile patch and free entry into World's Toughest Mudder.
World's Toughest Mudder: A timed 24 hour competition held in Las Vegas on November 11 & 12, 2017, cash prizes for top 5 men's, women's, and team finishers, starting at $20k for the team category and $10k for male & female. 25, 50, 75, and 100 mile finishers will receive a special patch commemorating each accomplishment, 50, 75, and 100 miles receive a commemorative bib, athletes who complete a final lap when the event ends, receive a commemorative 24 hour headband.
A Mudder of Another Color: Mudder Legion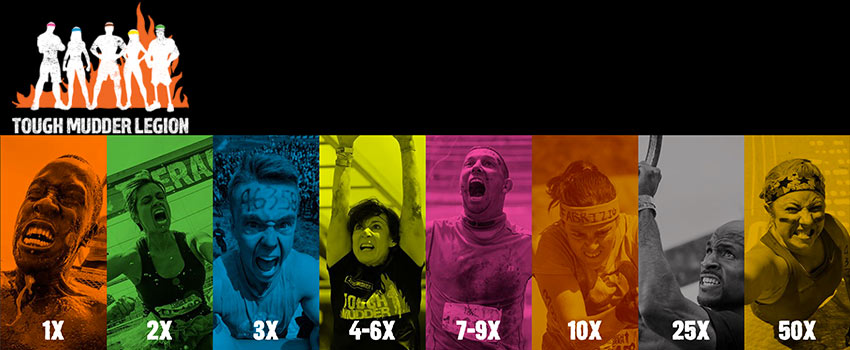 Aside from picking up some new, colorful headband options for multiple TM's under your belt, Legionnaires get other on-course perks:
Amass a full wardrobe of brightly colored Tough Mudder headbands, sure to match any outfit!
Kong, your exclusive finisher's obstacle
A "Geo-out-of-Electroshock-Therapy-free" bypass only for Mudder Legion members
Special Legion-only lanes at obstacles – kinda like the express lane in the grocery store, minus the bologna.
Special digital badges that are unlocked for your accomplishments that can be battled like Pokemon. (OK, we made that last part up)
You are automatically entered into the Mudder Legion after completing your first Tough Mudder, but will need to check in at registration (or wear your last TM headband) to receive your next level/color. Mudder Legion is for life, and TM finishes continue to accumulate on a lifetime basis.
The Holy Grail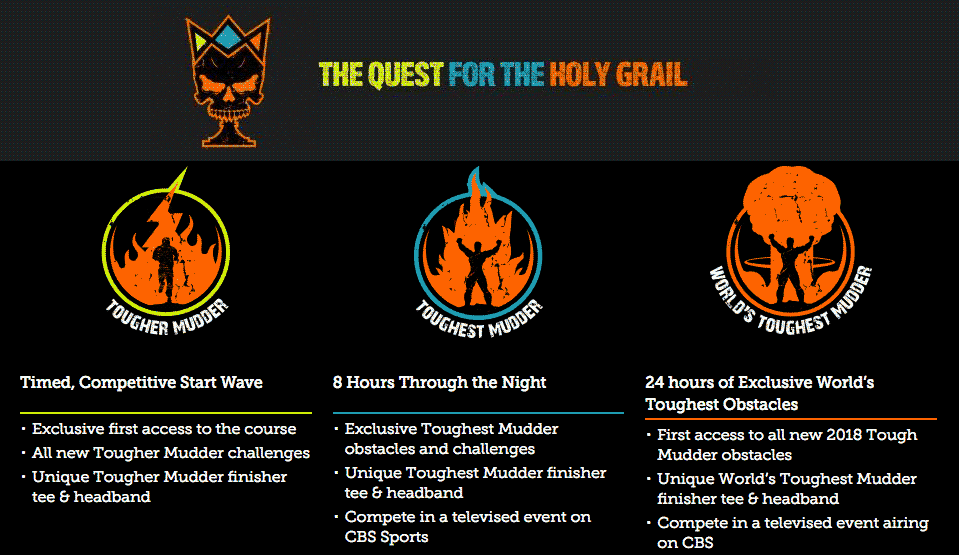 The Holy Grail honors those who are tough enough to complete a Tougher Mudder, Toughest Mudder and World's Toughest Mudder within the 2017 calendar year.
Along with the ultimate bragging rights, achieve the Holy Grail and you'll get:
Official Tough Mudder Holy Grail (yes, an actual grail)
Unique tee
Holy Grail patch
Digital badge to share.
MRG's Chat With TMHQ
I got to (virtually) sit down with two of Tough Mudder's Senior Directors of Product Design, Nolan Kombol and Eli Hutchison. During the Skype-challenged conference call (yes, it would have been a video to watch, had our mutual technology cooperated) both remarked that the Tough Mudder HQ team created Tougher Mudder based on the success of the CBS specials featuring the 2016 World's Toughest Mudder and the groundbreaking, record-setting streaming online. Hutchison said they have received a flood of interest from new and existing athletes looking for the competitive side of the sport. By adding Tougher Mudder to their lineup, they can offers a 'stepping stone' to Toughest Mudder and ultimately World's Toughest Mudder.
Below are a few highlights from the call along with some additional information regarding the rules. For the full press release see below.
Tougher Mudder Heat:
Tougher Mudder will be a heat at the beginning of the day of the Tough Mudder events. Unlike the rest of the heats for the day, Tougher Mudder is actually a competitive, timed race. This gives athletes looking to test themselves beyond just the initial challenge and offers those with a racing mindset to take on a Tough Mudder course, for time, placing, and money.
Mandatory Obstacle Completion:
Want the cash & prizes? You must complete all obstacles. Tougher Mudder will feature mandatory obstacle completion for podium placement. Much like other race series, participants will be given a wristband at the start of the heat which will be taken if participants cannot complete an obstacle. Speaking with Nolan Kombol, he confirmed "participants will be able to retry obstacles multiple times".
Kombol also noted that Tougher Mudder participants will face some unique challenges in addition to the obstacles along the course. In order to receive a Tougher Mudder headband, you must complete all the obstacles, and retain your wristband. For those who lose their wristband, they will receive a regular Tough Mudder headband. The course will be marshaled by Tough Mudder staff and volunteers.
Prize Money:
Prize money totaling $1,700 will be split equally for both men and women for Tougher Mudder races:
$500
$250
$100
OCR World Championships Qualification:
In advance of the announcement, we reached out to the team at OCR World Championships. They confirmed that Tougher Mudder will be a qualifier for the OCR World Championships. The OCRWC team will evaluate the exact criteria for qualification following the first Tougher Mudder on March 18th and will announce via social media as well as on their website, and participants at the New Orleans 3/18 event will be retroactively qualified for the 2017 OCRWC after the final criteria is announced.
With the addition of this new heat (Tougher Mudder) added to regular Tough Mudder events competitive athletes now have a new way to test themselves on course. Additionally, this will allow Tough Mudder participants to catch a glimpse of the competitive side of the brand. It just might encourage more participants to take the leap into the Toughest Mudder events and ultimately World's Toughest Mudder.
Ultimately, this additional heat will open the door to new competitive athletes and can only help to be a feeder to their longer races.
---
Tough Mudder will debut its newest competitive event series, Tougher Mudder, at events worldwide beginning in New Orleans on March 18th. The next evolution of the company's event series, Tougher Mudder is a competitive start wave that will be held at every Tough Mudder Weekend in 2017, and the top three male and female winners will be awarded prize money. With the addition of the new event series, the leading active lifestyle brand will be offering more than $350,000 in prize money across its suite of competitive series in 2017.
At World's Toughest Mudder 2017, more than $150,000 will be awarded during the grueling 24-hour endurance competition, which is being held at Lake Las Vegas on Nov. 11-12, 2017. The Toughest Mudder series, six global, eight-hour, overnight competitive races, will bestow more than $100,000 in prize money during its inaugural season.
2017 marks the second year of the CBS Sports and Tough Mudder Inc., partnership bringing all the action to viewers across broadcast, cable and digital platforms on CBS Sports, CBS Sports Network, CBSSports.com and the CBS Sports app. Beginning in late spring, fans will be able to go behind-the-scenes as participants train and compete in Toughest Mudder events – the qualifying event series and the first step on the road to being crowned World's Toughest Mudder. The TV series will culminate with the broadcast of World's Toughest Mudder on CBS in December.
Tough Mudder, Inc. is also launching Tough Mudder 5K in Nashville on August 12 to meet the growing demand of metropolitan people who are attracted to mud runs, as well as to serve as an entry point to obstacle challenges. The 3.1-mile event will provide an accessible yet rewarding challenge within a city and will feature more than 10 signature Tough Mudder obstacles, excluding the more extreme elements, like ice and electricity found in the Tough Mudder signature event.
"Tough Mudder is thrilled to debut three new event series in 2017 – Tougher Mudder, Toughest Mudder and Tough Mudder 5K," said Will Dean, CEO and Co-founder of Tough Mudder, Inc. "We remain dedicated to innovation and the development of new products and entry points that enable millions of people around the world to be part of Mudder Nation, furthering our position as a global leader in the active lifestyle and endurance sports categories."
The competitive event series prizes:
World's Toughest Mudder – Competitors are eligible for more than $150,000 in total prize money. Individuals can win bonus prizes of $50,000 by being the first female who completes 100 miles or male who completes 110 miles during the 24-hour race.
Toughest Mudder – With $120,000 up for grabs in 2017, more than $22,000 will go to the top five male and female finishers, including bonus prize of $5,000 for the first person to reach 50 miles at each event. An additional $10,000 will be bestowed to the top male and female finishers with the most miles at the end of the Toughest Mudder events season,
Participants will be ranked, and the qualifying ranking, a minimum of 25 miles completed at Toughest Mudder, enables individuals to qualify for the "Contender Category" at World's Toughest Mudder and be eligible for additional prizes.
Tougher Mudder – $1,700 in prize money will be awarded at each event for top male and female finishers, totaling more than $75,000 for the year.