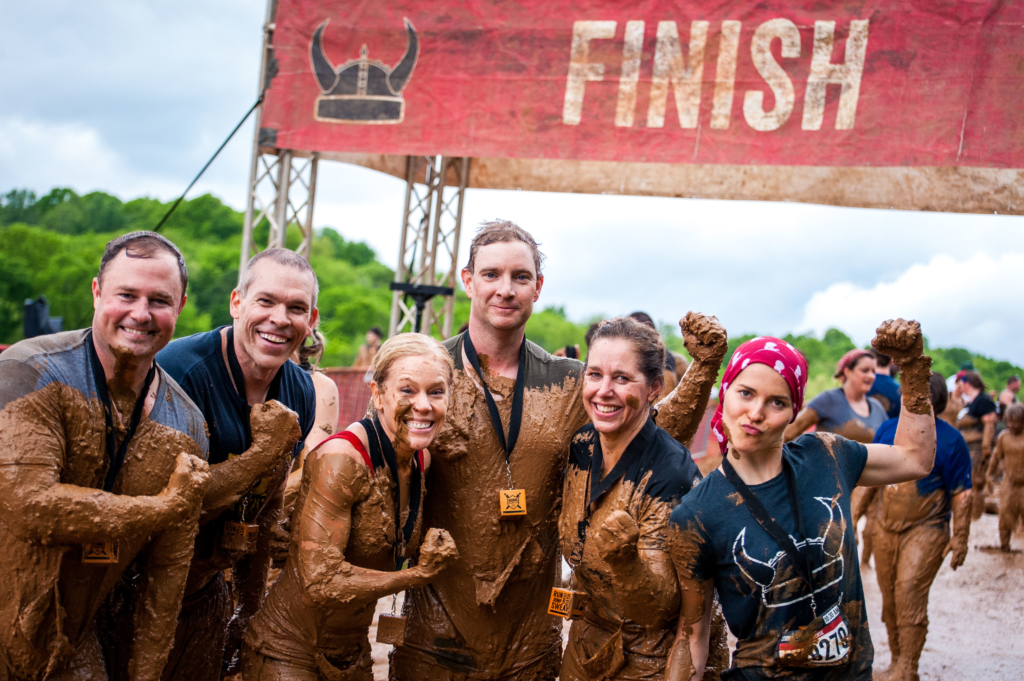 One of the most perplexing issues for those entering into the OCR world (Obstacle Course Racing) is figuring out what to wear to the first event! Most sports have a set standard, and yet many are stumped when it comes to race day wear for obstacle races and mud runs. For nearly a decade, I have written on this subject. My recommendations come from years of trial and error have led to a few key dos and don'ts on the day of an event.
Cardinal Rule of OCR: NO COTTON
Cotton and OCR are enemies. They really should never be seen in the same venue together. However, so many participants show up to their first event in cotton shirts, often with a team name included and end up wishing they has chosen differently by the finish line. Why? Cotton is an excellent product. However, it is also great at holding water once it is wet. OCRs you get wet and muddy! Cotton quickly loses its shape, and that form fitting shirt is now hanging at your knees. Cotton is great but to be left at home. So instead let us take a top-down approach to race day wear.
Hats, Sunglasses, iPods, etc…
A basic rule is don't run with anything you don't mind losing. Not all races but sometimes, a jump off a platform is an obstacle, or swim, or wading through murky mud pits, all possibilities to lose any items on or around your head. Leave the jewelry at home, or at least in the car, an earring can snag on a sandbag or bucket carry. Headbands are a great alternative for ladies and men with longer hair to keep it out of your face, just remember to hold on to it if you have to Walk the Plank in a Tough Mudder.
A good rule of thumb is to leave the electronics at home unless they are completely waterproof and attached to you, many participants enjoy running with GoPros just remember to hold on to them in the water otherwise you might be making a donation to the watery pits.
Tops
Many men especially in the elite or competitive heats ditch a shirt altogether. Another rule of OCR is less is more. The less you have one, the less you have to get wet, muddy or snag on some barbed wire. Many of the top women choose to run in just a sports bra. Not all people are this comfortable baring it all, or when the weather is cold, a shirt is a must. Wicking fabrics are the key to a good top; the water should wick away and not be held in the top. Also, a formfitting or compression top is preferable as it has less of a chance to get snagged on a wire, rope, or another obstacle. Many women also opt for a form fitting tank as another option. Your clothing should not be an additional obstacle. Some of the top manufacturers for good OCR gear are CW-X Compression Wear, 2XU, Under Armor, Reebok, or OCR specific brands like Legendborne. Check out our gear section for more advice.
Bottoms
Compression is the key to a great OCR bottom whether it is worn alone or under a pair of shorts nothing is better than a good pair of compression shorts for a race. The same as a compression top, compression bottoms will help wick away moisture, keep mud to a minimum in the more sensitive areas, and overall will not get caught on wires as badly as a loose pair of shorts or pants. Again a place to avoid cotton even in the underwear. Many men prefer to wear a pair of shorts over compression shorts. However, it is more and more common to see those racing in just compression shorts and forgoing the baggy stuff. Other men opt for shorter running shorts that do not like compression. Women do not fear the compression short! People at an OCR are not looking at how you look. Instead, they are looking at what you can accomplish. Clothing should help your race. If you are questioning whether to wear underwear or not on race day, check out our article, Should I go Commando?
Socks
Again leave the cotton at home, your feet will be wet possibly from a couple feet into the race and continue to get wet until the end of the race. Instead choose a well made, wool or wicking sock. Great companies include Injinji (toe socks), Smart Wool, Darn Tough, and Drymax.
Shoes
While many are tempted to wear an old pair of sneakers to their first event, this will end most of the time in misery. Instead, opt for a pair of shoes with good tread, drainage, and support. Traditionally, most trail shoes have been good for OCR. A key is to find a shoe with good drainage, and not GORE-TEX. Gore-Tex is a popular material to help repel water from shoes, but it also locks in the water and doesn't allow for it to drain out. Inov-8, Icebug, Salomon, Reebok, and Merrel are popular brands in the obstacle racing community. To learn more about some of the top shoes for OCR check out our shoe recommendations.
Other Gear
A few other items are worth considering; many opt for compression sleeves on either the lower legs or arms. These sleeves help to give a layer of protection against rocks and roots when crawling but also offer compression as well which helps with circulation and can decrease cramping. If it is a long race or runs, hydration might be an option as well. There are many ways to carry race fuel on the course. Gloves are another item many races like to have to help with climbing obstacles, they are not mandatory and depending on personal preference are used by competitors.
Overall, when headed out to race, leave your keys at home (or at least in bag check), make sure to wear waterproof sports sunscreen, and have fun. A little bit of preparation before the event will result in a great experience whether it is your first or hundredth. Finally, remember a full change of clothing or else you might have a muddy ride home.
---
What do you wear? 
Share your advice in the comments…