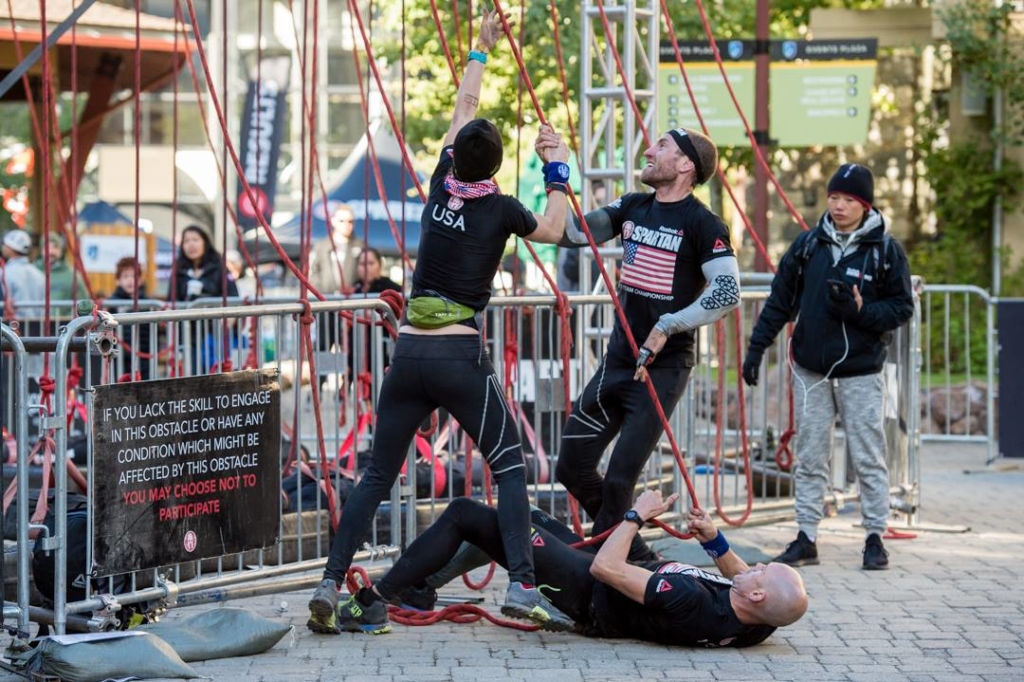 Sunday, October 1 marked the inaugural Spartan Race Team World Championship, with international co-ed teams comprised of three elite racers vying for the title on a demanding 8.5-mile "Super Course." Team USA (Robert Killian, Alyssa Hawley, and Ryan Woods) emerged victorious, outpacing 26 other tenacious teams to earn first place.
Team Canada (Mikhail Gerylo, Austin Azar, and Faye Stenning) was the second team to cross the finish line but after a penalty for a missed burpee was added to their time they officially finished third. The Czech team (Tomas Satinsky, Zuzana Kocumov, and Tomas Tvrdik) crossed the finish line third but ended up second because of the Team Canada missed burpee.  All World Team racers also qualified for and competed in Saturday's World Championship Beast event.
The rules were a bit different for the Team Race than a typical Spartan Race. The teams could help each other on many of the obstacles. If one team member missed their burpees, they as a team split up the burpees, tagging each other in and out. This made for extra strategy on the part of the racers and ultimately for Team Canada created a counting error.
2017 Spartan Race Team World Championship
2017 Spartan Race Team World Championships
Team
Athletes
Team USA
Robert Killian, Alyssa Hawley, Ryan Woods
Team Czech
Tomas Satinsky, Zuzana Kocumov, and Tomas Tvrdik
Team Canada
 Mikhail Gerylo, Austin Azar, and Faye Stenning