Disclosure: MRG's Kristen Stewart owns & operates ADV.FIT Kids! and this is a follow-up to a 7 Weeks to Fitness article written by Brett Stewart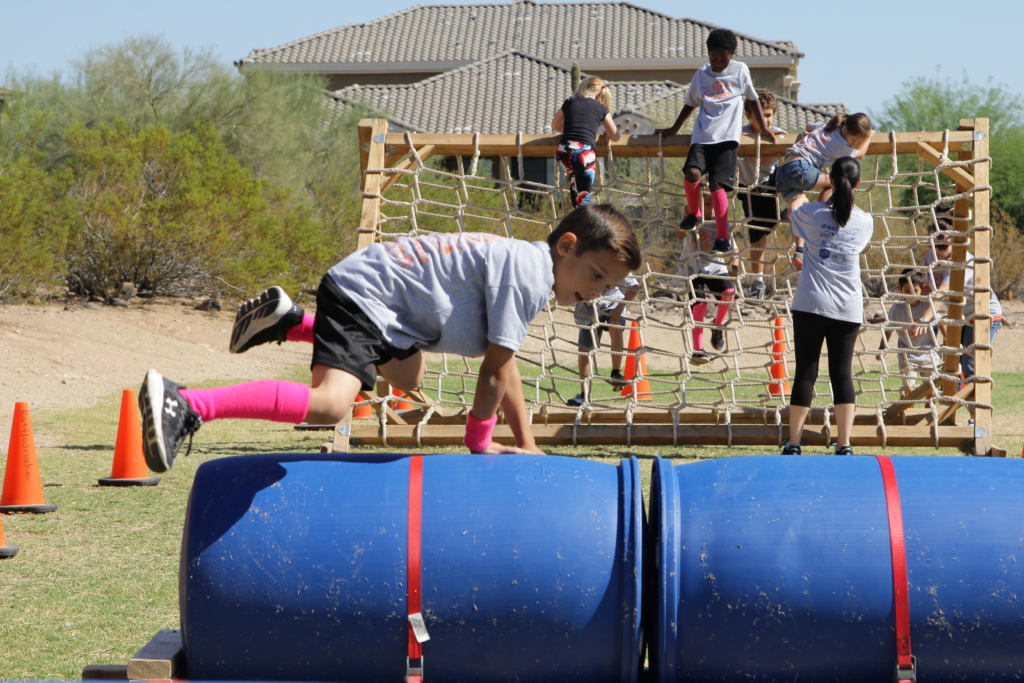 Less Sufferfest, More Kidfest
I finally got around to watching Rise of the Sufferfests while on vacation this summer, and while my scenes made the cutting room floor, at least I still have all the cholla scars on my calf to remember that shoot in the desert. As entertaining as the movie was, I walked away thinking about the present and the future of the sport of OCR; 8 years from the real "start" in the USA and 5 years after the explosion of new races, is the sport continuing to grow in 2017? What about three or five years from now?
As far as growth in 2017, the numbers look just fine. Participation in events is steady for the third year in a row without any major peaks or valleys. While participation numbers and event growth is nowhere near what it was in '14 – '15, there are some really bright spots, such as Rugged Maniac and Savage Race incremental growth, Terrain Racing exploding from 8 to 30 events (and an announcement soon for an estimated 60 locations in 2018), Warrior Dash with a rebound from a slightly "off" 2016, Tough Mudder creating about 30 different race formats (even this cheat sheet couldn't keep up!), and Spartan Race digging deeper into their Endurance branding, expanding their national and global championship events.
Some naysayers make it a yearly tradition to post "the sky is falling" articles about OCR this time of year, as negative stories are their cheap & easy way to get headlines. Actually, OCR is as healthy as it has ever been, and Phase III of the sport is starting to make strides…
Phase I: "The Wild West" of mud runs – 2010 – 2012 when everyone who could figure out how to dig a hole and nail together a few pallets hosted a "mud run"
Phase II: The Crazies bring friends & family: – 2013 – 2016 saw excellent growth in participation from all the early adopters dragging friends along, popularity with women increased exponentially to a near 50/50 male/female split
Phase III: OCR: The Next Generation – 2017 – 2020 teens that have been exposed to American Ninja Warrior (and TNW), Battlefrog, WTM/TMX, and Spartan: Ultimate Team Challenge TV shows begin to participate, and (hopefully) youth programs continue to develop the pre-teens to step up to OCR's once they reach the required age. Some event companies are slightly ahead of the curve such as Spartan Race, Tough Mudder, Terrain Racing who already feature a kid's race (below) as part of their event, while the real Phase III should feature stand-alone kid-only events & training similar to what PGA of America has done with their First Tee program for over the past 18 years, and what USA Triathlon is working on with their Youth & Junior Triathlon Series. To be viable 10 years down the road, OCR needs to have a breeding ground to continue to develop the athletes of the future and keep the fires stoked for participation, otherwise OCR will go the way of rollerblades.
Some good examples of kid's events as an add-on to the main adult event: 
Mini Mudder, ages 7-12, 1 mile
Spartan Kids:

Ages 4-8: Jr. Varsity Spartan, ½ mile
Ages 9-13: Varsity Spartan, 1 mile
Ages 11-14: Spartan Kids, 2 miles

Terrain Racing Mini Monkey, 2-7, 1/2 mile

Terrain Racing 5k, kids 7-12 can race with their parents

Goliathon, ages 10-14, 4 miles with tiered obstacles
The biggest thing that's missing right now is kids-only races – but how do we get the demand and funding to make it possible?
OCR: The Next Generation
Innovation in obstacles has been one of the hallmarks of the development of OCR from '12 – today; we've grown from rickety monkey bars and plywood walls to immense (and structurally sound) Kong at TM or Savage Race's huge investment in trussing to make Sawtooth 2.0 (or 3.0?) and complete one of the most impressive OCR kits in our sport. Race formats have surely morphed as well from the "standard" 5k distance which is locked in for WD & RM to pretty much fit all shapes & sizes: 1 mile TMX, TM's 12(ish), Spartan's Sprint, Super, Beast, UB, Savage's 5 mile, OCRWC's 3k & 15k, etc.
Event R&D budgets have smartly been allocated to grow and retain OCR's main demographic; guys and gals 25-45, but with the demise of female-only races (Diva Dash, Mudderella, Lozilu, Kiss Me Dirty, etc.) and Dirty Girl Mud Run only featuring (2) 2017 locations, and the extremely limited investment in kids-only mud runs such as PursuEVENTS and most of the big events adding a kid's course as an afterthought, the long-term future of OCR seems to be taking a backseat to present profits. Yes, the market for a kids-only race hasn't shown to be profitable (yet), but aren't there new ways to reach kids now and start developing the next generation of OCR fanatics?
Obstacool and ADV.FIT Kids! are two of the companies working hard to fill that gap by providing OCR to schools as an option for fundraising, sports programs, field days, and even after school programs to build fitness, confidence, and strength.
In 2016 Obstacool went to primary schools all over New South Wales from Banora Point to Albury North where teachers have told us that it was the "best thing ever brought to the school" and the kids have asked us "can you come to every rewards day?"
ADV.FIT Kids! was born back in 2015 out of frustration that such a huge portion of their kid's school fundraiser money was being spent to the production company putting on events at their daughter's school instead of where it was intended – on the kids. With a decade of event production under their belts, Kristen and Brett Stewart began developing a program to get the kids motivated, have fun, and get introduced to the sport of OCR in a safe environment, right at their school.
Most fundraisers take a huge portion of your PTO's hard-earned fundraising amounts to put on a boring run-in-a-circle "fun run" – ADV.FIT Kids! delivers an impressive turn-key event featuring obstacles that you'd see at a Warrior Dash-type event: crawling tubes, monkey bars, cargo nets, balance beams, and even a warped wall like the kids see on American Ninja Warrior! We offer a complete experience with soundsystem, music, water stations, course, a professional fitness author to motivate the kids, and more!
From 7 Weeks to Fitness: When I wrote Ultimate Obstacle Race Training back in 2012, I sincerely had no idea what I was getting myself and my whole family into! Launching Mud Run Guide, creating OCR Warrior, and helping to develop the OCR World Championships has been a fanatical and fantastic blur over the last 5 years. (OMG it's been half a decade already!?) The very first race I helped to set up way back in late 2011 was a women's-only event called Lozilu Mud Run, and I was shocked how well an event could do that only catered to less than half (at that point) of the mud run market, and wondered aloud "why isn't there a kid's only event?"
A Real OCR Experience – Just Smaller!
Goliathon does a great job for kids 10 & up of providing a real OCR experience side-by-side with adults via their tiered "choose your own difficulty" obstacles, while all other kid's courses are their own loop away from all those pesky adults. Are younger kids missing out by not seeing their parents or even older kids tackling each challenge? What about giving kids multiple attempts at harder obstacles like monkey bars or a warped wall? ADV.FIT Kids! attempts to solve both of those issues by offering multiple laps through their kid's obstacle course while offering parents, teachers, aides, and mentors a loop around to provide encouragement, assistance, and even show some technique to help them master the more challenging obstacles. During their fall '17 event, teachers joined the principal and office staff to "show off" in front of the kids and provide a little humor along with a big dose of can-do attitude for students.
The Next Step?
Spinning up a new event is an extremely daunting task, especially with the knowledge of how many races have failed over the past few years. So, how do we get obstacle course racing ingrained with kids to participate in future kids-only events or become an OCR athlete when they get to the required age for most big events? Time, patience, and location.
Outreach programs through schools:

Fundraisers, fitness programs, sports cross-training or off-season events, or even replace the tradition of "field day" with an all-day obstacle course built for kids

Corporate Funding:

Sponsorship from health companies or other big corporations that have an interest in funding programs to develop healthier kids
Adding a kid's event onto an existing OCR is a great start, but you're only reaching those kids whose parents are already into the sport and who chose to bring them along. Reaching kids in schools, camps, or sports programs helps to bypass the bottleneck of parents that are disinterested and give the kids an exciting, health, and fun option!
PursuEVENTs at F.I.T. Challenge video: