Obstacle course racing and American Ninja Warrior, well, the fitness lifestyle in general, continues to explode throughout the world. Your typical athlete role model isn't just the 300 professional football player or seven-foot basketballer. Your neighborhood gym no longer exclusively offers grimy treadmills and bulky weights. We are at the cutting edge of a complete fitness shake-up, and to be completely honest, I love it!
One of those new facilities leading the way for healthy lifestyles and increased hopes for Ninja Warrior stardom is Urban Warrior – an obstacle course-inspired gym, providing motivational, positive and healthy excitement for ninjas, OCRers and fitness enthusiasts, located in the suburbs of Portland, Oregon.
To owners, Kris Dunlap and Jonah Elliott, starting a local business that was positive and healthy for the community was a top priority. They understood that obesity is a growing epidemic in our nation and traditional exercise isn't nearly as exciting to keep the average adult or child's attention long enough to be consistent and effective.
Urban Warrior's mission is to make exercise fun by offering the excitement of adventure training with an indoor obstacle training facility.  They certainly have the look and feel of the stage at American Ninja Warrior, with a unique infusion of obstacles found in your favorite OCRs, including Spartan Race, Tough Mudder and Warrior Dash.
When you walk into Urban Warrior, you're greeted by a huge screen, looping episodes of American Ninja Warrior. It's a true sign of what will follow when you get started. Once you're signed in, a process that is smooth thanks to the help of two tablets on the front desk, you are encouraged to enter, stretch and prepare yourself for what's to come.
The front area of Urban Warrior contains all the essential OCR-focused athletic equipment. Rowers and other cardio equipment line the walls, with free weights, kettlebells, medicine balls and a giant tire scattered about. You'll also find rope climbs, traverses, pull-up bars and a bouldering wall with safety harnesses within the space. Urban Warrior offers boot camp-type classes for those looking to get their heart rate up, obstacle-focused classes for technique and open gym sessions throughout the day. Kris and Jonah believe in "adventure training" utilizing plyometric, bodyweight resistance and endurance building techniques to kick patrons into shape or train for the upcoming season of ANW.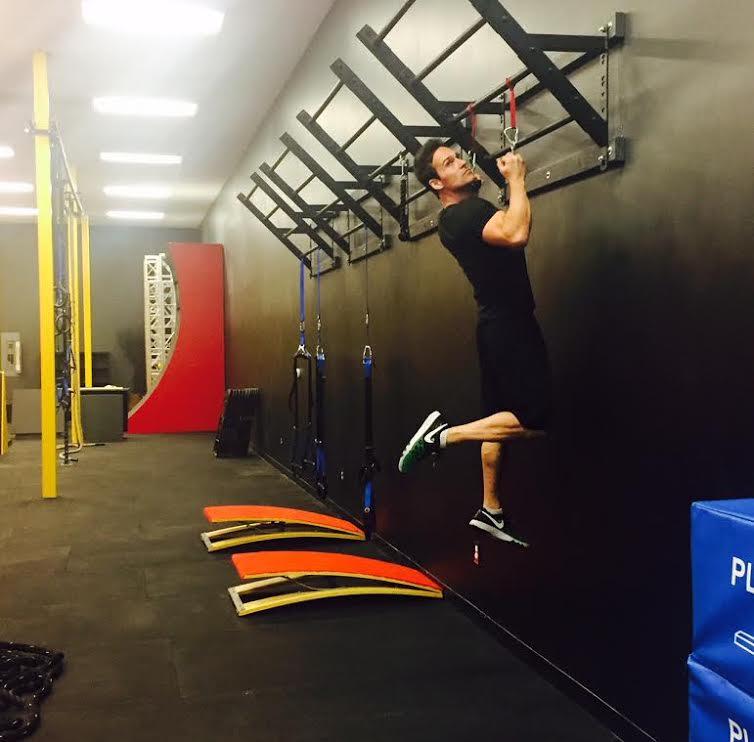 With a red, black and steel color scheme, plus exciting light fixtures, Urban Warrior gives off a playful, yet professional vibe that's built to challenge. Their module system is laid out in three courses, Phase 1, Phase 2 and Phase 3, each building confidence and strength in participants. Phase 1 is more focused on children, ages 7 and up, introducing new faces to balance, agility and strength move to conquer the course. It's lower to the ground for those who are working to ace their fear of falling. It ends with an 11'4" warped wall, with cut out handles at 7'6" and 9 feet.
Phase two offers a few more challenging options, including rings, floating boards, rope swings, and spider wall, among others. Whether you're new to these challenges, or a seasoned vet, the bright red pads below the entire rig will help build your confidence to face these more difficult challenges; escape your comfort zone.
Phase 3 is all about grip and upper body strength. You're attacking baseball-sized hang grips, the tilted ladder, salmon ladder, a wing nut and the 14-foot warped wall to finish the course.
For anyone that hesitates with OCR or Ninja Warrior training due to strength or fear, Urban Warrior has the tools and talent to help build your confidence and endurance. I've taken multiple classes and attended a few special events at the gym and I'm always impressed with the innovation and excitement Kris and Jonah bring to the industry. It's a great addition to the community, and sometimes, if you're lucky, you'll run into a former ANW contestant or your favorite Mud Run Guide Contributor…
Address: 6104 SE King Rd Milwaukie, OR 97222

Owners: Kristopher Dunlap and Jonah Elliott

Date opened 07/26/17

Membership pricing can be found here: http://www.urbanwarrior.fit/pricing.html