I like pushing my limits and finding boundaries so in 2016 I set out for OCR America a 7 day, 7 venues, Ultra-OCR spanning from Vermont to Oklahoma (read about it here).  In 2017, I decided I would try for what I called the "Ultra-OCR Grand Slam".  The plan was to do every 24 hour OCR In the world and not just finish but do well (either podium or top ten).
My plans derailed slightly as other venues added events and moved dates.  In the end, I would end up doing every 24 hr OCR in the world over 365 days stretching from November 12, 2016, to November 12, 2017, for a total of six events.  Results from the events are listed below, but more importantly, read the bottom section about lessons learned.  I think you will find many of these lessons transfer to you on your own personal fitness journey.  The Ultra-OCR Grand Slam (or World Tour might be more accurate since there are six events) results looked like this:
November 12, 2016: 8th at World's Toughest Mudder (WTM)
April 1, 2017: 2nd at Terrain Relay 24 hour
May 27, 2017: 1st at Dirt Runner Midwest Mayhem 24
June 10, 2017: 10th at True Grit Enduro 24
July 27, 2017: 1st* at Shale Hell 24
November 11, 2017: 2nd (2+ Team) as Team Merrell (with Wesley "Dr. Red Tights" Kerr) at World's Toughest Mudder (our results would have been good enough for a top 10 among the individual athletes)
More importantly than me sharing my results is to share are some lessons that I learned or re-enforced, which you may want to apply to your own fitness endeavors.
Avoiding Sickness: I get sick every year after WTM (including this year).  This was a major point of concern when I made this schedule.  I ended up taking Hammer Nutrition's Insurance Caps Supreme (multi-vitamin) and the occasional Emergen-C to try to keep sickness at bay.  This combined with eating healthy helped me avoid sickness for most of the year.  When I do get sick with a nagging cough I found that Mucinex clears me up better than anything a doctor could prescribe.  Not sure why, but after WTM 2015 I went to the doctor for all sorts of medicine and in the end, over the counter, Mucinex was the solution.  It is now in my bag for all Ultra-OCRs just in case.  I managed to avoid sickness all year in 2017 minus immediately after Toughest Mudder Midwest (late August) and post-WTM (late November).
Recovery: The above plan looks like a nightmare for a personal trainer.  Lots of Ultra-OCR not to mention I still raced three 8 hr Toughest Mudder (with three top 10 finishes) events and another 12 races that were 10 miles or less.  Without proper recovery I would have walked away mid-season with injuries and being over-trained.  While I was probably still over-trained, I was still able to do well at most of my other races and remained injury free finishing in the top 10 of all non-championship races (five podium finishes).  I can't stress the importance of recovery periods following really hard efforts.  For example, after True Grit Enduro 24, I took two weeks completely off as I vacationed in Australia.  By the end of two weeks I was anxious to get back on the trail and in the gym.  While I was far from 100% potential I felt good enough to put out some solid race efforts for the rest of the year.  I could have rushed back into light training but I would not have bounced back as fast.  So if you just raced WTM, take some time completely off.  Your fitness won't disappear, but you will save time in the long run as you can ramp back up to solid training sooner.
Traveling for 24 hr OCRs: If you are reading this and planning on going to WTM (from the Eastern hemisphere) or planning on going to OCRWC True Grit Enduro 24 (from the Western hemisphere), read this carefully.  Get to the new time zone at least a week in advance.  I tried to only do three full days and even though I was sleeping 8-10 hrs a night, jet lag still hit me hard.  You can get away with not being time zone adjusted for a 15km race, but it doesn't work for a 24-hour race.  True Grit remains the only 24 hr OCR I have ever felt sleepy during and the only one I was falling asleep while walking.  I felt fine on the start line and for the first 8+ hours of the race, but night time was when it hit me hard.  You won't realize the effect of jet lag until it is too late, basically, you go to put your body into it's "normal" pace and it just won't go there.
The Mind is Unbelievably Powerful: If you walk away from this article with anything, this is it:  You can pretty much will your body to do anything you want if you believe it strong enough.  I should caveat that with proper training and nutrition play a large role in preparation, but when it comes time to perform, if the mind is not right, the body will not follow.  Some even believe that you can will your body to recover or heal itself from sickness (reference "The Iceman" Wim Hof avoiding sickness after an E. Coli injection and perhaps me avoiding sickness most of the season?).  Whatever your goal is for 2018, plan for it now, not in six months.  Train hard, but more importantly stay consistent, recover and crush your goals.  If you get some time look at the results from WTM.  Often the athletes that simply refuse to give upbeat others who are physically superior to them in almost all other distances.  After all, hard work beats talent when talent doesn't work hard.
What about lessons learned for things like in race nutrition, training and how to be successful at Ultra-OCR?  Well, don't worry I have a book for you scheduled for release in 2018, "Mud Run Guide's Ultra-OCR Bible".  Just like my last book, "Strength & Speed's Guide to Elite OCR" (available now), it will include tips on training, recovery, obstacle technique, motivation, packing lists and interviews with the best Ultra-OCR athletes in the sport including:
-The Undefeated King of Ultra-OCR Ryan Atkins
-WTM Champion and WTM Podium Finisher at Every Las Vegas WTM Trevor Cichosz
-Multi-Time WTM Podium Finisher/ Toughest Mudder Series Champion Allison Tai
-2016 WTM Podium Finisher Morgan McKay
-WTM and OCRWC Overall Podium Finisher and American Ninja Warrior Amy "Magic" Pajcic
-2017 WTM 2+ Team Podium Finisher and Top 20 All Four Years at WTM Vegas Wesley Kerr
-Death Race Finisher and Conquer The Gauntlet Pro Christina "Honey Badger" Armstrong
-80+ Mile WTM Finisher/One of Four Finishers from The Selection #19 Logan Nagle
-Top 15 WTM Finisher and the Man That Ran Across The State of Michigan Jordan Smith
I may be biased, but I think this book is my best piece of work yet since I specialize in these ultra-long races.
With a hectic race schedule and a ton of abuse to my body, I'm done for 2017.  It was a great year and I'm already taking votes for what stupid Ultra-OCR type event(s) I should do for 2018.  Lots more content and poor decisions are coming at you in the future though, so stay tuned if you like suffering.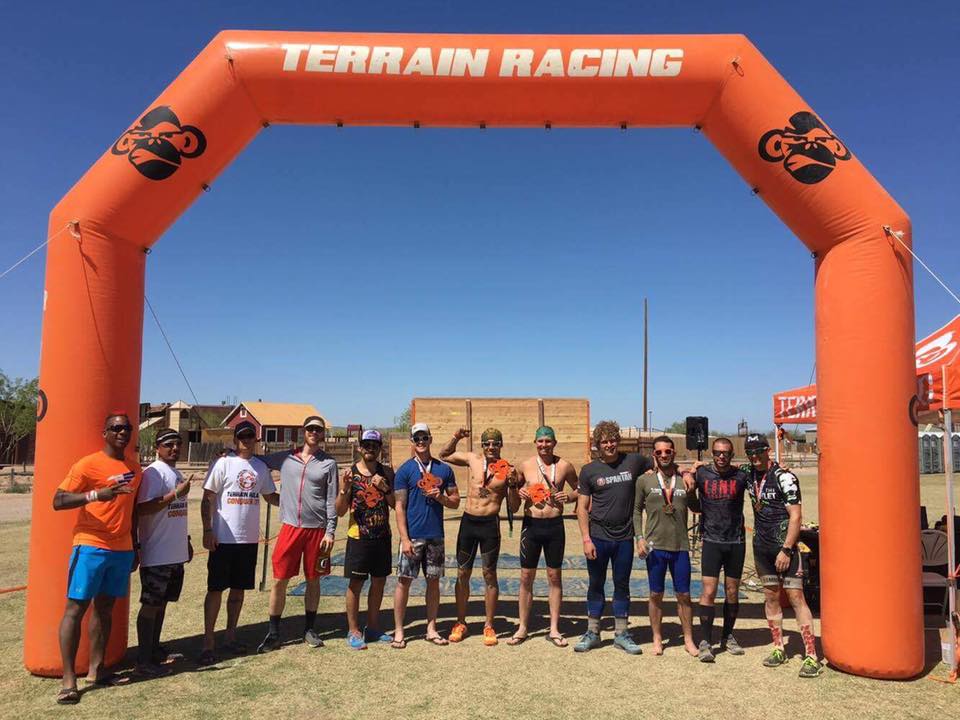 *1st Place at Shale Hell was done as a "shadow run".  Due to a date conflict with the CBS Televised Toughest Mudder Midwest, I ran Shale Hell by myself on a different date with the same set of rules.  I finished 9 laps in 21:21, which would have put me in first on the day of the event one month later, assuming my presence didn't affect others performance and vice versa.
---
Disclaimer: The viewpoints expressed by the authors do not necessarily reflect the opinions, viewpoints and official policies of Mud Run Guide LLC, or their staff. The comments posted on this Website are solely the opinions of the posters.