The average morning routine goes as follows:
Wake up, get dressed, drink coffee, rush to work, drive home, watch television, have dinner, relax, go to sleep. It's unfortunate, but many people these days struggle to find the time to exercise and keep active. Where I live, if you are not working two jobs, or at least one job paying a 60k salary, you cannot afford to live on your own. This really puts a damper on what the average person can handle throughout the day.
Could that be one of the reasons for the rise in obesity and other generalized health problems? The fact that more and more people these days are stuck working 12 hours a day just to put a roof over their heads?  I personally believe that the high cost of living is one of the major reasons so many people find it difficult to stay healthy. We all know gym memberships aren't cheap, and neither is high quality/organic food, not to mention the stress of being constantly on the go.
So how are so many people, especially those who work more than 8 hours a day, finding the time and energy to get healthy?
Not too long ago, I worked as a florist, often pulling 65 hour work weeks. My free time was spent watching movies and binging on fried or sugary foods. I was morbidly obese, diabetic, in constant joint pain, and drinking almost every night after work. It wasn't until I hit rock bottom that I started to grab a hold of my life and figure out what I needed to do to change. This was several years ago, but to this day, I still have people telling me that they are inspired and motivated by me. And to this day, I still find this silly. Yes, silly. A great compliment, yet one I don't feel worthy of.  I changed because I had no choice; my health and my life were deteriorating in front of my eyes. I just did what I needed to do to get by, and I am lucky enough to have a supportive family and access to clean foods. It was a no-brainer, as far as I'm concerned. However, what I am truly fascinated by are those people who make a conscious choice to improve their lives for the better, because they want to, not because they have to. Especially those who do so by adding a little OCR to their lifestyle.
The great thing about OCR  is that there is an abundance of dedicated runners (and walkers!) who have come together because of a struggle. I can't even begin to guess how many thousands of people have transformed their bodies, minds, and souls because of these events. I'm not just talking about weight loss and muscle gain, but amazing people who have overcome drugs addictions, alcohol dependencies, bulimia, anorexia, cancer, and other major health concerns. Brooke Kaplan Gloth, from Las Vegas, Nevada was a chronic smoker with an estrogen deficiency. After years of struggling to give up the nicotine and fight the cravings, she finally found something to distract her. Tough Mudder, in Big Bear of 2012.
"I was watching Bert the Conquerer on the travel channel and he was doing Tough Mudder Tri-State up in Jersey. I started researching at commercials and texted my trainer that this is what I wanted to do,"  She explained. Brooke took charge and decided that she wanted to be ready to face her biggest challenge yet. She trained 5-6 days a week, for months, until the big event. It's been nearly six years since her first obstacle race, and she is currently 150 lbs slimmer and 100% percent healthier. As like most, balancing training and home life isn't easy for Ms. Gloth. "I work 32 hours a week. The hardest thing to balance isn't work and training but FAMILY and training. God help me if the kids gym is closed!" Financial concerns were brought up, to which Gloth responded, "Cost effective food is my challenge! It's expensive, but if I break it down to a daily dollar amount, it's only a tiny bit daunting." And while many people will argue that healthy, locally grown produce, meats and cheeses are out of their budgets, I think we can all agree that it is only a small investment to pay considering the hundreds of thousands you may be saving on medical costs in the future.
It's not fake news that these races aren't cheap. They are plenty costly, and according to Spartan Race polls, price is the number one deterring factor for new and repeating racers.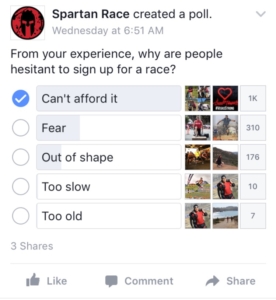 For Hamilton County resident, Victoria Graham, cost of living and home life situations were looking bleak. "It started when my husband quit his job. The very next day our house burned down, destroying everything. A week later our dog died of old age, and two more weeks later my grandmother died. I felt like I had lost my world. A friend told me I needed a hobby to take my mind off everything, so I started running with her while our daughters were at swim team practice." Graham completed her first Tough Mudder with only two weeks of intermittent training. Although she agrees she does not have much time or extra money to dedicate to training, a newfound love for OCR was sparked in the midst of such a widespread disaster.
"It's hard to balance working out with two kids and working two jobs. I can only go for a run Monday through Friday, and only if my husband gets home early enough. I'm a newbie, I don't and I can't train much, but I use what running and training I can, and I have now completed America's Toughest, the Nashville 5k Mudder, followed by World's Toughest Mudder."
While Spartan Race and Tough Mudder costs range from $120 to $300+ is is easy for someone new to the fitness realm to quickly dismiss the idea of racing (if the mud, sweat and barbed wire don't derail them first) but it is important to remind new competitors that racing does not have to bankrupt you, because there are plenty of opportunities to volunteer and in return, race for free. On the other hand, I have friends and family constantly impeding my request to run a race out of fear of not being able to keep up, or be in 'good enough' shape. While there is always room for improvement with any athlete or average joe, I can confidently tell you all that there is no such thing as not being in good enough shape to complete an obstacle course race.
"I have some advice for first time mudders. Let your guard down. Nobody is cool upside down in mud, but we're all cool smiling afterwards," expressed David Tyson Perry; aka Superman.  "If someone tells me that they aren't in physical shape, I'll laugh and say look at my physical shape. Mental strength will crush that physical strength." Perry (the prime member of Team Go Hard) lost the use of his legs after a near fatal accident in 2003. He is a permanent T4 paraplegic and has been in a wheelchair since the accident. While Perry cannot walk, he is still committed to completing as many obstacles as he can and challenging his upper body. He has finished over 10 Tough Mudders and doesn't plan on stopping anytime soon. He claims to be in the best physical shape since the accident, and devotes all of his progress to his teammates and friends.
Teamwork is everything in a Mud Run, and with lots of love, dedication, and communication, anything is possible.Whether you lost your house, lost your legs, or lost over 100 pounds, if you have the mental grit to finish, you can and you will. Excuses are for suckers, and whining is for kids, and if you don't put your body, mind and spirit to the test, then you will never know what you could have accomplished. We can either lower our heads in despair and complain that our finances, health and jobs are crippling us, or we can decide to go out there and make a change.
For more information on how to complete an obstacle course race for the first time, stay connected with us and follow @mudrunguide on Instagram and Facebook. Happy trails!
---
Disclaimer: The viewpoints expressed by the authors do not necessarily reflect the opinions, viewpoints and official policies of Mud Run Guide LLC, or their staff. The comments posted on this Website are solely the opinions of the posters.