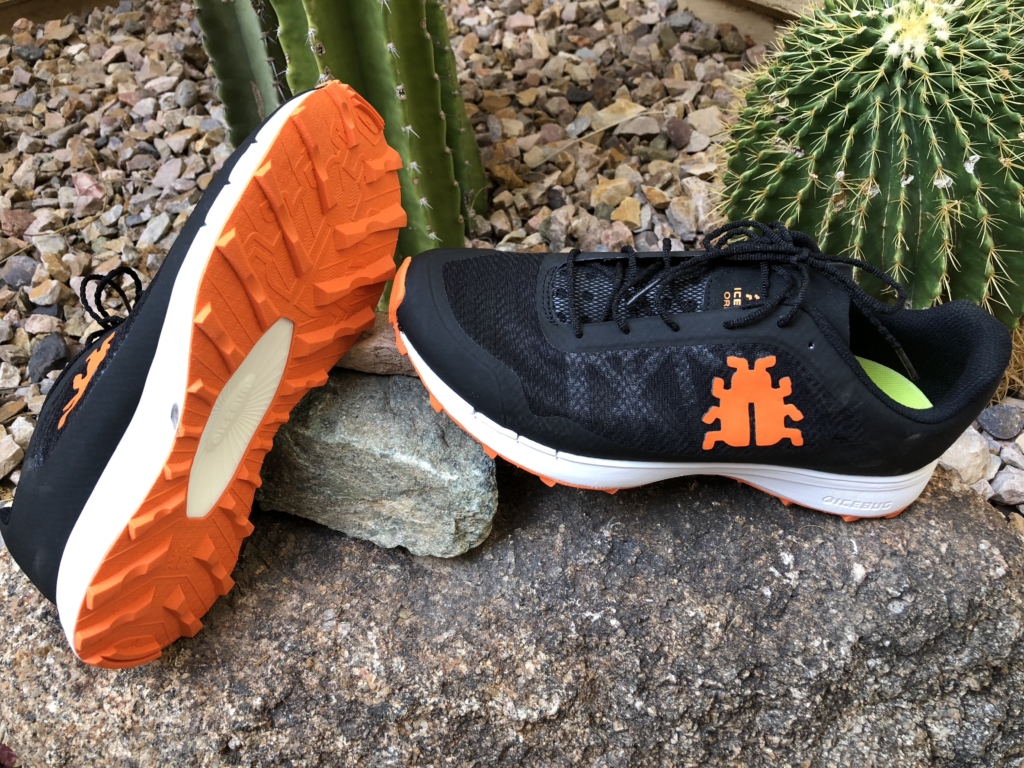 Icebug has released an update to their all-conditions running shoe for 2018, the Oribi3. I've been running in the original Oribi for over a year now after reviewing them last March and have been quite interested to see how they follow up such a terrific all-around running shoe.
Don't let this shoe fool you, it is an absolute technological marvel: Light, very responsive, weather-resistant yet breathable, and suitable for hard & fast running in any conditions – on road & off. While not as flexible or neutral as the Acceleritas, the Oribi has just enough cushioning to soften the ride over rough conditions without too much cushion to make you feel disconnected from the trails – or roads. The Oribi is surprisingly nimble on sidewalks and roads as an everyday running or a weekend racer, with the sticky RB9X rubber tread providing plenty of grip on the trails without tripping you up on the roads. Don't sleep on great little features like the laces or breathable tongue, Icebug spent plenty of time in R&D to find the sweet spot for a trial/road runner/racer, and the Oribi absolutely smothers it. – 2017 Oribi Review
Jumping numbers aside, the updates to Oribi 3 are not immediately noticeable and require closeup inspection, or better yet, a good old-fashioned trail run to test 'em out.
Oribi3 First Test
As with my original Oribi test last year, the first run in these shoes was a quick 5k on the pavement. I could immediately tell the difference that the softer midsole makes in cushioning, especially in the forefoot. While the stats from Icebug show this year's model to be a couple grams heavier, they actually feel a little lighter and more responsive than last year's model. The toebox feels as roomy as last year's model, and I didn't notice any difference at all in the tongue, heel cup, or collar that would affect fit or comfort.
The Best All-Around OCR Racer/Trainer?
It's really to underestimate these shoes, they just don't look like aggressive trail shoes at all. When you line up the Oribi3 next to Icebug's other OCR shoes – Zeal and Acceleritas – they look rather tame by comparison. While I may sound like a broken record, don't let the Oribi3's mild-mannered appearance distract you from the performance-driven shoe packed into just over 8oz of comfy, responsive, traction trail shoes.
Hiding inside the medium-soft sole is a torsion plate to return some of your downward force into a more powerful toe-off, the rock plate in the midsole and instep protect your feet on even the nastiest trails, and the grippy RB9X rubber sheds mud while providing plenty of stable traction in all conditions.
While no trail shoe I've ever tested can match the lateral stability of the Zeal due to its revolutionary midsole design, the Oribi3 seems to be the perfect blend between the flexible traction and positive ground feel of the Acceleritas and the stable cleat-like traction of the Zeal. With a slightly more generous toebox than the Zeal (and way wider than the narrow Acceleritas), Oribi3 provides comfort and wearability in all conditions without sacrificing traction or confidence on any surface.
The Oribi3 is versatile enough to train in, wear to and from the event, with plenty of traction to race in any conditions. As a well-rounded, go-anywhere shoe, you don't need to choose between a model that excels in the mud, on loose rocks, slippery obstacles, grass, hills… when you've got one that works exceptionally well anywhere.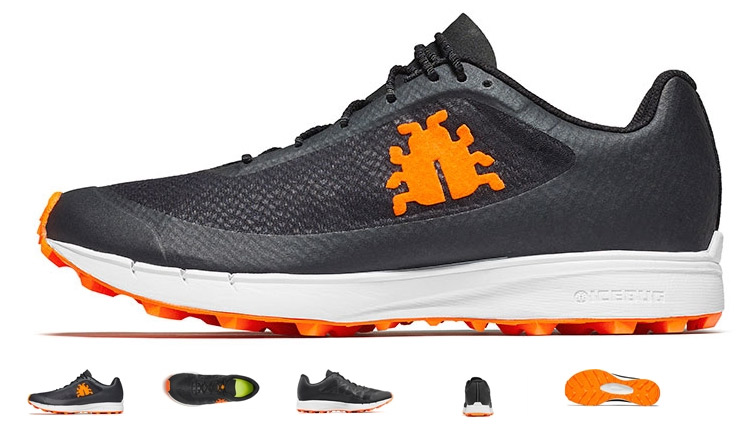 What Icebug Says:
Despite its low weight, it is packed full of features. The seamless polyester bluesign® mesh upper is light and non-absorbing and has a welded protective TPU mudguard. The lacing system with integrated laminated ribbons embraces the foot and keeps it in place, along with special laces that keep them from untying. The tongue has been updated and its thin construction gives a very direct feeling. The soft heel cup has a padded collar and firm heel grip, the height of the heel reinforcement is slightly lower in this version. The midsole has an integrated Rock Shield to protect the foot in rocky terrain. The midsole also adds torsional stability and is designed to provide a kick in the last phase of the stride. The midsole is a bit softer than before, changed from 58A to 54A, and in combination with the 7 mm drop it provides just the right level of support. The tractor tire patterned outsole and the RB9X rubber compound will keep trail runners and everyday users going in all kinds of conditions and terrain.
– Lightweight (8.2 oz), but yet full of features
– Rock Shield protecting the foot in rocky terrain
– Comfort, thanks to seamless upper medium last
– RB9X® rubber compound sole
– Non absorbing upper
Torsion: Medium flex
Drop: 7 mm
Cushioning: Medium
Last: Medium width
**UPDATE
Out of the box and in my first 2 runs I completely missed the additional toe cup protection in the Oribi3 (see photo below). Not only does the protection travel up farther over your big toe, there is also a second layer of welded TPU on top. How *did* I notice the update? During today's hot & dusty trail run I was totally smoked (my egg was fried) during the last mile, and my feet got awful lazy. On a rocky uphill jaunt, I stumbled a bit and drove my toe right in-between a couple of sharp rocks, and luckily caught myself before I went face-first into the hillside. When I looked down I half expected to see at least a scuff in the upper and possibly a small tear… to my surprise, not only was there no damage to the shoe, my toe wasn't even banged up (the only damage was to my pride).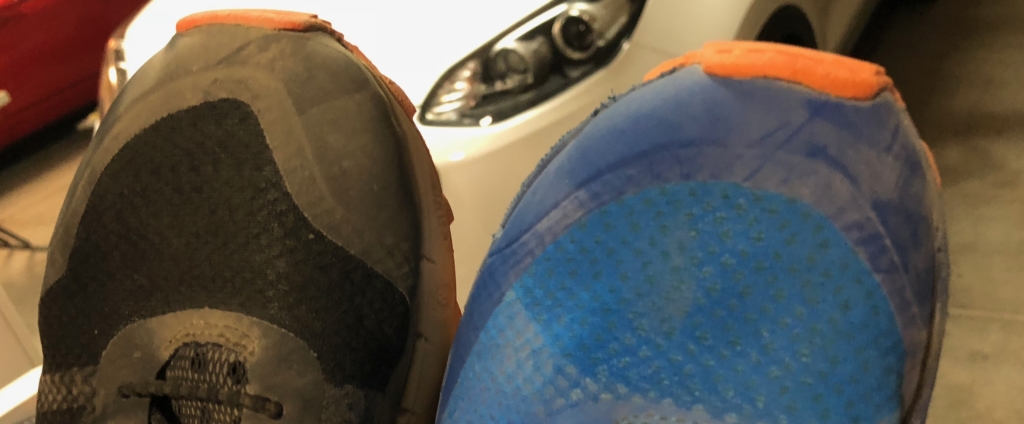 The Wrap-Up
The Icebug Oribi, Oribi2, and Oribi3 have not changed very much over the past 2 years, and that's a very good thing. Aside from a slight change in the density of midsole foam, all 3 models are excellent, relatively interchangeable, and provide additional color options. The Oribi2 GTX features the most water resistant upper and are less breathable than the Oribi or Oribi3.
If you're looking to buy one pair of lightweight, grippy, comfortable racers/trainers that can go anywhere, then the Oribi3 is for you!
Icebug Oribi, Oribi2, and Oribi3 available now from Icebug USA website.